Comrade Bala: How the brutal cult chief chronicled every detail of his tyranny
From bowel movements to beatings, his band of brainwashed female followers wrote down every detail of life
Paul Peachey
Crime Correspondent
Friday 04 December 2015 22:34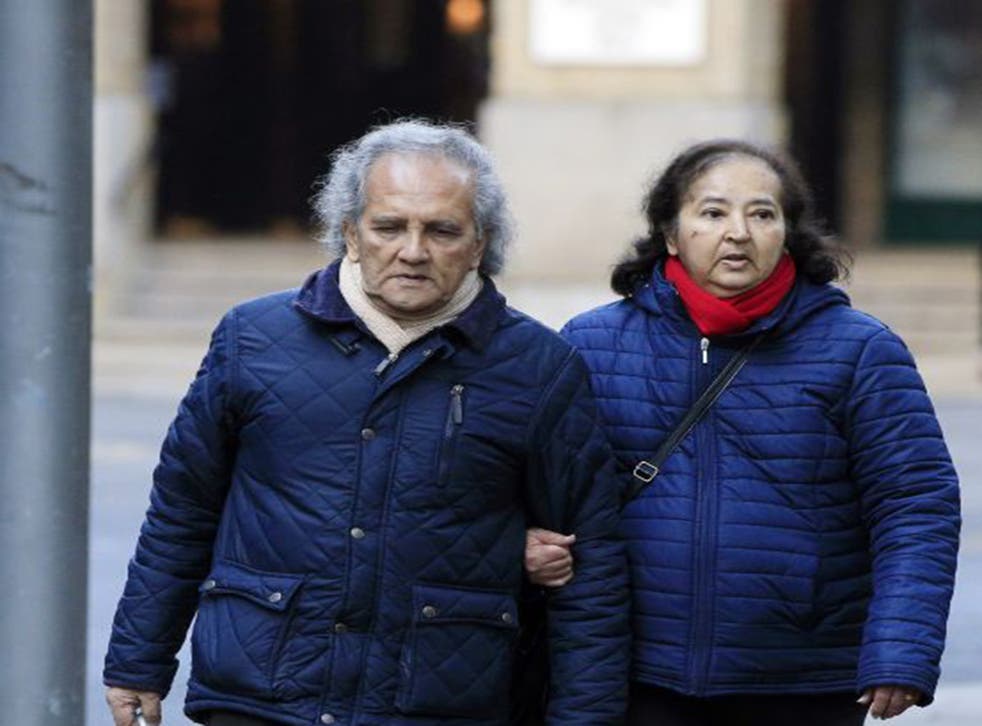 In the bizarrely skewed and sexually depraved world of Comrade Aravindan Balakrishnan, the revolution was to be fully documented.
From bowel movements to beatings, along with pages of self-criticism, his small band of brainwashed female followers wrote down every detail of life in their Maoist commune and what they considered to be their leader's march towards global leadership.
When police searched the south London house following the eventual flight of Comrade Bala's daughter after 30 years of imprisonment, they were confronted with books stacked high on the floor and hoarded newspapers.
A lock-up revealed another 3,000 items, and only as they began the long and often difficult task of reading the entries and descriptions were detectives able to unravel how the 75-year-old had been able to impose his will over a group of women for so long.
Even as Comrade Bala was found guilty of raping two women and imprisoning his own daughter, one of his dedicated followers yelled that an "innocent man" was being sent to prison.
Yet in thousands of entries, detailed evidence of his brutality emerged. One mentioned his daughter, aged then about four, being beaten 63 times, said Detective Sergeant Paul Wiggett, the investigating officer, who ploughed through the pages.
They showed, in graphic detail, how the charismatic Balakrishnan exploited his power to sexually abuse his followers, with the aid of a self-created "mind-controlling machine" and instilled such deep fear in the women that they feared they would self-combust if they fled.
The entries detailed how he regarded his daughter – borne of a commune affair – as a "project" to be brought up as an asexual human steeped in the theory of communism. She was encouraged to believe that her father was a Peruvian freedom fighter, such was his antipathy towards the traditional nuclear family which appears to have stemmed from his childhood.
The early years
Born in 1940 in Kerala, India, Bala moved to Singapore – where his father was already working – when he was nine. Bala entered a region of post-war upheaval and British colonial breakdown.
Communist insurgents seeking independence in Malaya were put down brutally by British forces seeking to cling on to their lucrative Southeast Asian possessions during a state of emergency.
By the time that Bala was at university in Singapore, he was a committed communist and believer in what his followers called the British Fascist State. "Britain back then was destroying so many people – not just in Malaya, but in so many parts of the world," he explained at his trial. "People in British colonies were being treated so badly.
"I came from a background of emergency in Singapore and Malaya that was completely unbelievable at that time, especially to people who had helped them against the Japanese. The cruelty, the killing, torturing, arresting, deporting their families, deported back to China – that's not something that anyone can like."
The London activist
He moved to Britain in 1963 to study at the London School of Economics, where he was involved in a two-month sit-in and began organising his own meetings, drawing people to him through his charisma and speeches.
Balakrishnan became a senior member of the Communist Party of Britain (Marxist-Leninist) but was expelled for "splittist" activities. He went on to form the Workers' Institute, a self-declared outpost of Chinese communism, drawing radicals and the disillusioned to his cause.
They included Sian Davies – a young woman from a wealthy background, and former student from Cheltenham Ladies' College – who paid the rent for Bala's Workers' Institute at Acre Lane in Brixton. It was decorated with 20ft posters of Mao and conferences began with a clenched fist salute to the Chinese revolutionary leader.
The charismatic Bala was in his element. "If Mao was God, then he was the Pope," said one activist. The membership was overwhelmingly overseas in origin, drawn from those who had struggled to adjust to life in the UK, according to researchers.
Comrade Bala – who married his wife Chandra in 1971 – imposed his own rules. He frowned on sexual activity, with men and women sleeping separately at the commune. He held court inside the centre and forecast that China's People's Liberation Army would invade Britain by 1980. People only left the collective in pairs, as Bala instilled a siege mentality among his followers against the "fascist agents" of the state bent on harassing them. "It was a life and death struggle," said one of the most loyal members of the collective, Josephine Herivel.
In Singapore, the government in 1977 took steps to remove his citizenship for "activities prejudicial to the security of Singapore" in a claimed attempt by European-based radicals to undermine the leadership of former prime minister, Lee Kuan Yew.
The centre was raided for drugs in 1978. None were found – Bala said he did not even drink or smoke – but members of the collective, including Bala, were jailed for offences including assault and contempt of court. When they were released, the workers' centre was boarded up and they were forced to move on.
Sex attacks
The centre in Acre Lane marked the high point of Balakrishnan's power. Things went quickly downhill and the remaining men were ousted as the collective evolved from the veneration of Mao, into the cult of Aravindan Balakrishnan.
They lived in 13 different homes as they moved around London – sometimes evicted for failure to pay rent – and the women were sent out to work to earn funds to put into a collective pot to keep the commune running. Members noticed a change in Comrade Bala in 1979 when his wife fell into a diabetic coma. He started wearing aftershave and was driven around in the car owned by Ms Davies to talks at teaching hospitals.
He summoned another one of the women – who cannot be named for legal reasons – to his room where he unexpectedly kissed her, the prelude to rapes and indecent assaults or, as he described them, acts of purification. He humiliated her by forcing her to write out her sexual history, which he shared with other members.
His control over her was so great, she was unable to leave the house for years, and even believed that the Americans were exerting mind control over her through her Levi jeans. She was one of at least three women other than his wife with whom he had sex at the commune.
The court was told women were summoned to his room, almost like an appointments system, for his sexual gratification. Some spoke of their disgust at what had happened, but felt powerless to leave.
The tedium
The public meetings organised by Bala ended in 1982, according to Ms Herivel. A year later his daughter was born to Ms Davies, the result of "electronic warfare", according to Comrade Bala, whose control grew ever more delusional.
He brainwashed the women – backed with violence – into believing that he was a God-like figure with the power of life and death, harnessing the power of Jackie, a mind control machine that he said was created by the China's People's Liberation Army.
His methods included four-hour lectures. Bala expounded on his theory of synchronicity – when someone spoke ill of Bala, then global disasters unfolded elsewhere. He used this theory to explain the Challenger Shuttle disaster in 1986 and the death of a Malaysian premier.
Members of the collective had to sing songs eulogising him and criticise themselves in group sessions. Those who made the tiniest transgression, such as not taking the bins out on time or folding the laundry in the wrong way, would be beaten. Mr Balakrishnan said he had to control people's minds and "scrub them clean of the bourgeois culture and lifestyle".
Not that he ever physically scrubbed. He never had a job, or even performed any household chores, as the women allowed him to focus on "ideological and political" work.
A day in the life of the commune "was boring and miserable," said his daughter. There was "always a fear of being bullied, a fear of violence and a fear of being powerless and degraded – just all wrong."
She became so lonely that she started to talk to the toilet and the taps. Clocks going forward or back an hour where a high point in her life.
"The day I leave the prison my father has created will be the day that my life really begins," she wrote in her diary while in the house.
Her eventual departure sparked the series of events that landed Balakrishnan in court for her imprisonment and the rape of other women in the commune. Balakrishnan was told that he faces a substantial period in prison when he is sentenced next month.
"It seems extraordinary that Balakrishnan could command such control over so many people, however all of the victims have told us in great detail that they very much believed his claims of power and greatness and the threats he made," said Detective Chief Superintendent Tom Manson, of Scotland Yard. "They all described feelings of fear.
"I hope that Balakrishnan's conviction today brings them some comfort and perhaps closure. I also hope that his conviction gives the confidence and strength to any other person who may be suffering this type of abuse to come forward."
Register for free to continue reading
Registration is a free and easy way to support our truly independent journalism
By registering, you will also enjoy limited access to Premium articles, exclusive newsletters, commenting, and virtual events with our leading journalists
Already have an account? sign in