'Courts are biased against blacks' with white offenders handed more lenient sentences, says official report
Average prison sentence given to Caucasian criminals is seven months shorter than those given to Afro-Caribbean offenders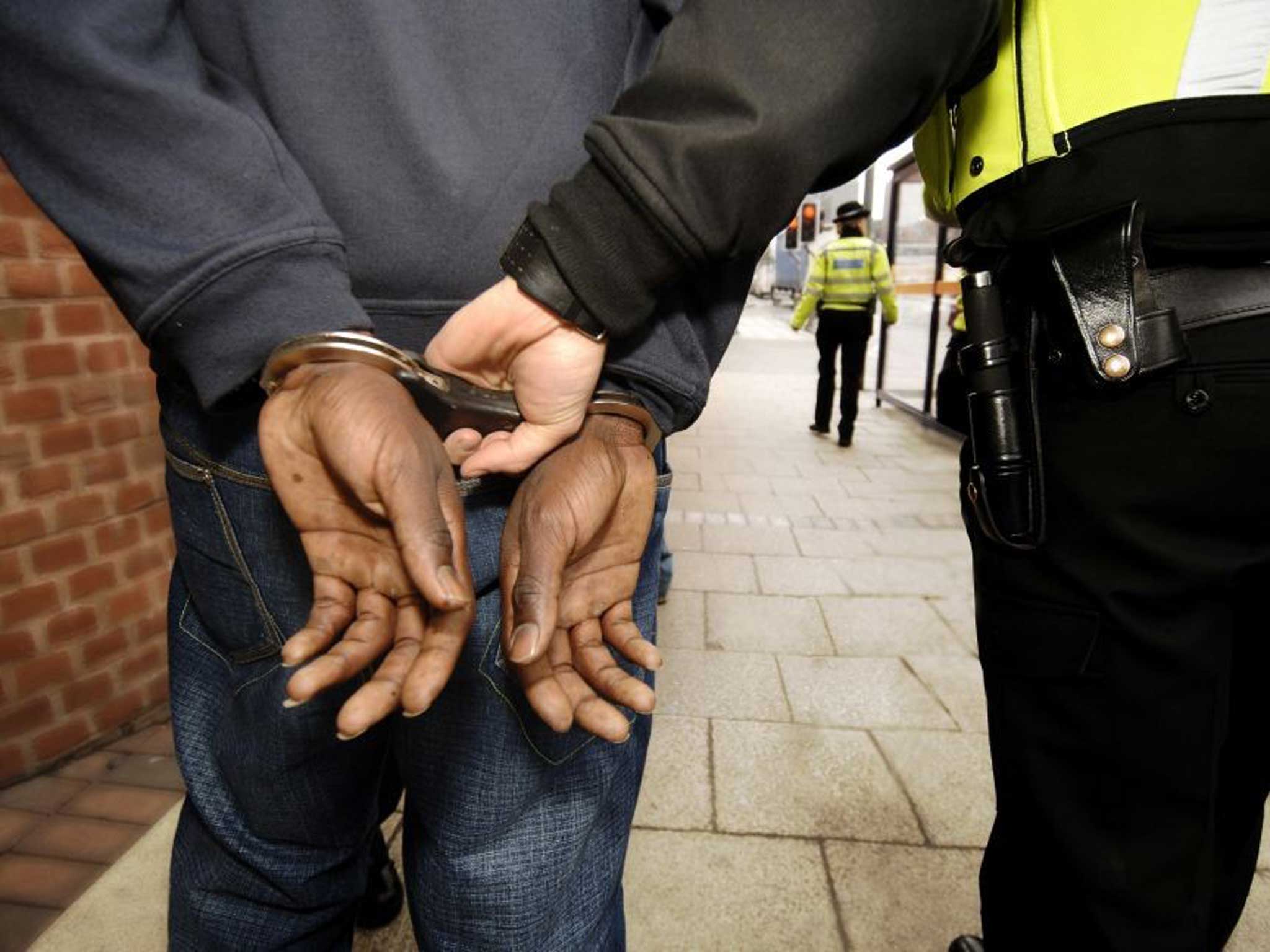 Judges and magistrates are institutionally racist, consistently handing down more lenient sentences to white criminals, an official Government study has revealed.
The disturbing report, produced by the Ministry of Justice (MoJ), shows that black and Asian defendants are almost 20 per cent more likely to be sent to jail than those who are white. At the same time, the average prison sentence given to Caucasian criminals by courts in England and Wales is seven months shorter than those given to Afro-Caribbean offenders.
The report separates conviction and sentencing rates by comparable offences and pleas, excluding the possibility of the data being inaccurately skewed. The Ministry of Justice said yesterday that ministers were aware "without a shadow of a doubt" that there were problems with the system, and said work had begun to address it as an area of "increasing concern".
"The Criminal Justice System should work to promote equality, and should not discriminate against anyone because of their race," the Criminal Justice Minister Damian Green said. "Targeting a person or a group based on their race or religion is unacceptable, it is divisive and harmful to individuals and has no place in a civilised society."
However, Labour suggested the Equalities and Human Rights Commission (EHRC) should carry out its own investigation into racial bias in the judiciary, claiming work done under the last Government had "ground to a halt". One leading black barrister said the figures showed that the courts, like the police, were "institutionally racist".
A spokesman for the EHRC said it was "aware of the issues behind the report" and would "examine the concerns raised".
The MoJ document, Statistics on Race and the Criminal Justice System 2012, was published without fanfare on the department's website. It shows that over the past four years black criminals have been less likely to receive police cautions and more likely to have been proceeded against in court, than any other ethnic groups.
The most common outcome for a white criminal was a community sentence; for Black, Asian and Chinese offenders it was custody. The statistics are broken down by types of crime, ruling out the possibility that black defendants might be being proportionally found guilty of more serious offences.
Disturbingly, in every year studied, a higher proportion of white defendants had previous convictions – which would normally result in a greater number of prosecutions and harsher sentences. But this does not appear to be the case.
The proportion of white criminals sentenced to immediate custody by the courts was 26 per cent while the proportion of black criminals sent to prison was 31 per cent and Asians 32 per cent. The average custodial sentence for white offenders was 15.9 months; for black prisoners it was 23.4 months.
Different types of crime also show sentencing differences. A white person pleading guilty to burglary was sentenced to, on average, 25 months in prison compared with a black person who typically received a 28-month sentence. Of those pleading not guilty but convicted by the courts, the sentences were 40 months and 47 months respectively.
Similarly, 76 per cent of white people convicted of production or supply of a class A drug were sentenced to immediate custody compared with 84.8 per cent of black people.
One former prison governor said that he believed there was a degree of "establishment denial" about the problem. "When I worked in Brixton prison, of the 900 prisoners we had, between 60 and 65 per cent were non-white, which was completely disproportionate to the make-up of the community," said Paul McDowell, now chief executive of the crime reduction charity Nacro.
"This was a direct consequence of what was happening in the courts. But there is a degree of establishment denial. There seems to be a view that the judiciary are independent and cannot be interfered with. But that lack of challenge is at the root of the problem."
Peter Herbert, chairman of the Society of Black Lawyers and a crown court judge, said the figures represented "institutional racism". "I'm not sure what else you can call it," he said. "The effect is right across the criminal justice system. From stop and search, to arrest, to charge and to sentencing – every aspect of the process is stacked against defendants from ethnic minority backgrounds. It is not a pretty picture."
Mr Herbert said the figures needed to be broken down to individual court level, and judges confronted with their sentencing decisions. "It needs urgent attention," he said. "I don't believe that judges are sitting there consciously discriminating against black defendants, but if you look at the cumulative effect of sentencing decisions there is no rational explanation for the discrepancies.
"We need to drill down into the figures and ensure that they are examined on a court-by-court basis. Judges then need to ask themselves hard questions."
Richard Monkhouse, chairman of the Magistrates' Association, said a unit in the MoJ that had examined the issue under the Labour government had been disbanded. "I think that's a real pity because only by understanding what is going on can we begin to address the problem. Judges have to operate within tight sentencing guidelines. So, why is there still disproportionality?
"It's crucial that people know our system of open and transparent justice will deal with them fairly and equally, regardless of gender, class, age, race or religion."
Shadow Justice Secretary Sadiq Khan said: "If the colour of your skin means you are treated unfairly by our justice system then urgent action is required to address that."