Justice system in 'crisis' as only 8% of crimes prosecuted in England and Wales
Exclusive: 'We are facing a crisis within our justice system, we are starting to see it crumble around us'
Lizzie Dearden
Home Affairs Correspondent
Friday 25 January 2019 23:31 GMT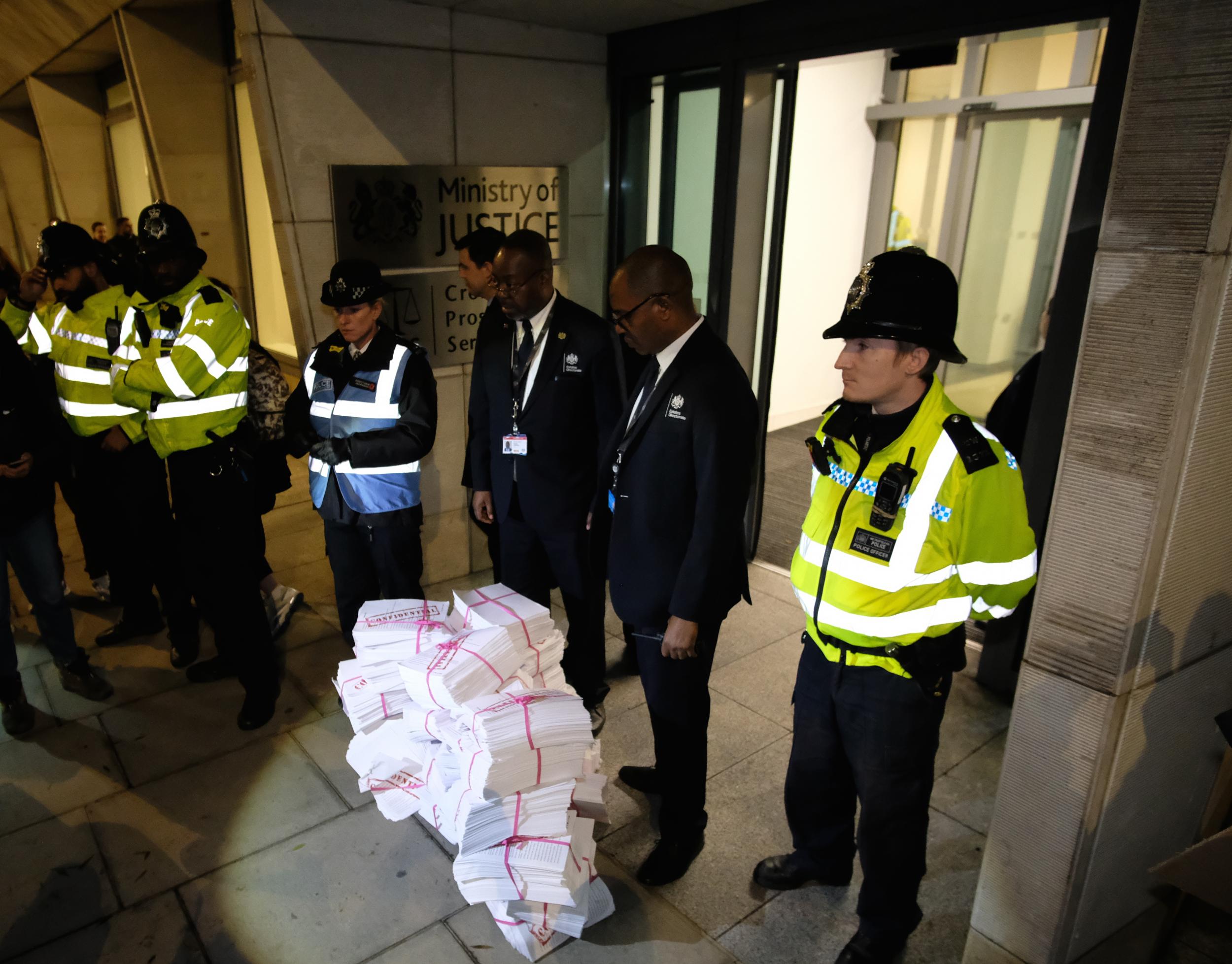 Tens of thousands more crimes are not being prosecuted amid warnings of a worsening "crisis" in Britain's criminal justice system.
Almost 92 per cent of offences do not result in perpetrators being charged or summonsed in England and Wales, with the number of offences taken to court dropping by almost 30,000 in a year.
Lawyers, police officers and victim support workers interviewed by The Independent blamed a perfect storm of police cuts, rising crime, rows over disclosure, falling confidence and the backlash to a series of collapsed rape cases.
Figures published by the Home Office show in the year ending September 2018 only 8.2 per cent of 5 million recorded crimes were prosecuted, down from 9.5 per cent the previous year.
The proportion of offences charged fell across all categories – from violence to drugs, robbery, weapons possession and theft.
The lowest figures were for sexual offences (4 per cent), with only 1.9 per cent of recorded rapes prosecuted – down from 2.4 per cent the previous year.
Nick Thomas-Symonds, Labour's shadow solicitor general, said the statistics made "very worrying reading".
"This is, sadly, no surprise given the swingeing government cuts to both police and Crown Prosecution Service budgets," he added.
"The government has to step up to the plate and provide the resources needed to properly support victims and ensure that no stone is left unturned in bringing people to justice."
Cressida Dick: 'Naive' to think cuts to police haven't had impact on rising crime
The reason for closing almost half of investigations was that no suspect had been identified, but almost a third were listed as "evidential difficulties".
There was a sharp rise in the proportion of cases recorded as "victim does not support action", increasing to 42 per cent for violence, 35 per cent with rapes and 29 per cent of sexual offences.
The victims' commissioner, Baroness Newlove, raised concern that lengthy delays, poor conviction rates, demands for phones and personal records, and the prospect of cross-examination were making women drop claims.
"The very low percentage of rape and sexual violence cases that result in a trial is a huge concern, as are the increasing number of victims who do not want to endure the criminal justice process," she said.
"I am often hearing from victims of sexual crime that their criminal justice journey is as harrowing as the crime itself. This is just not acceptable. I fear we are letting these victims down badly."
Baroness Newlove warned of a "breakdown in confidence" between victims of sexual violence and authorities, calling failures "systemic and widespread".
Alex Mayes, policy adviser at Victim Support, said falling prosecution rates could make people "reluctant to report crime if they feel that they're unlikely to achieve justice".
Lawyers describe waiting years for a decision on some cases, and accused successive governments of "total disregard of our justice system".
Richard Atkinson, co-chair of the Law Society's criminal law committee, said plummeting prosecutions were "just one symptom of underfunding".
"We are facing a crisis within our justice system, we are starting to see it crumble around us," he added.
A solicitor who works with victims of rape and domestic abuse raised fears for the safety of women who report crimes but see the perpetrator go free.
"A lot of women go through the system," said Kate Ellis, of the Centre for Women's Justice. "Offenders in these areas often reoffend."
Repeating allegations made by police officers and lawyers last year, she accused the Crown Prosecution Service (CPS) of "weeding weak cases out of the system" to raise conviction rates.
"The CPS is demanding a very high evidential standard," Ms Ellis added. "Women are coming in with compelling cases and CPS is dropping it. That means the victims are not getting justice at all, it's absolutely devastating."
The CPS insists it has not changed its code, which states that only cases with a "reasonable prospect of conviction" can progress.
But Nazir Afzal, a former chief prosecutor, said the fact conviction rates have risen for serious offences "suggests cherry picking of those cases most likely to lead to conviction, and less risk-taking, which of course leads to the conclusion that they are looking for a higher threshold of evidence".
Police say that bar is becoming harder to reach following the loss of more than 20,000 officers since 2010, an explosion in mobile phone data, and pressure to examine and disclose more messages following a scandal about collapsed rape cases.
Martin Plummer, chair of the Police Federation's national detectives' forum, said thousands of detectives' positions were unfilled.
"With violence, sexual assaults and serious crime on the increase, the workload is up but there are fewer detectives to pick up those jobs," he added.
"They are still being done to the very best of officers' ability, but unfortunately most forces now have got to prioritise.
"We need more money for more officers, and to rebuild the foundations of the British police services that have been dismantled by the government's funding cuts."
The National Police Chiefs' Council said it would be making its case at an upcoming spending review, while trying to make further efficiencies and respond to increasingly complex cases like grooming and historic sex abuse.
A CPS spokesperson said it only makes charging decisions for the most serious crimes, with 60 per cent left to police.
"The CPS can only prosecute cases which are passed to us by police to consider, and this drop reflects the overall fall in caseload numbers," they added.
"Charging decisions must be made based on the merits of each individual case. We are increasingly offering early investigative advice to police – especially in rape cases – to make sure they are robust and appropriate for prosecution."
A Home Office spokesperson said: "We are working closely with the police to look at ways to help forces better respond to reports of crime. We have also announced the biggest increase in police funding since 2010 and expect to see major progress in investigations as a result."