Customs police seize rare iguanas stuffed into socks at Heathrow Airport
Twelve out of thirteen of the 'incredibly rare' animals survived the journey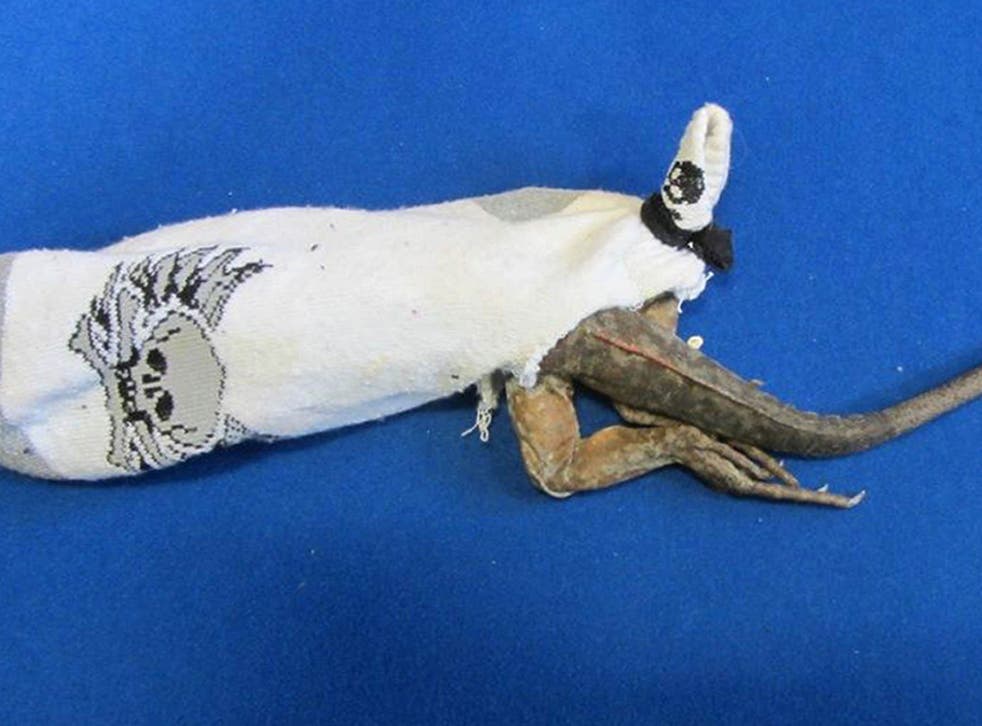 Thirteen "incredibly rare" iguanas that had been stashed in socks by smugglers have been seized by a customs team at Heathrow Airport.
The endangered lizards were discovered concealed in a suitcase yesterday at the airport's Terminal Five when officers stopped two Romanian women who had arrived in London from the Bahamas.
They were due to take the San Salvador rock iguanas on to Dusseldorf in Germany. The lizards are native to the Bahamas and classed as being under threat of extinction.
Twelve of the creatures, which were all wrapped in individual socks, survived the journey while one died.
Grant Miller, from the Border Force's endangered species team said there are only a few hundred of the iguanas believed to be left in existence and described the find as "a remarkable and very important seizure."
"Given the circumstances we found them in it seems incredible that all but one survived such a long flight", he said.
"The surviving animals were dehydrated and are now under the supervision of a specialist vet. We are also working with experts to find the best way to protect and safeguard these endangered creatures longer term."
The two women, aged 24 and 26, were arrested on suspicion of importation offences.
Additional reporting by Press Association
Register for free to continue reading
Registration is a free and easy way to support our truly independent journalism
By registering, you will also enjoy limited access to Premium articles, exclusive newsletters, commenting, and virtual events with our leading journalists
Already have an account? sign in