Dale Cregan: Gangland hard man with £50,000 reward on his head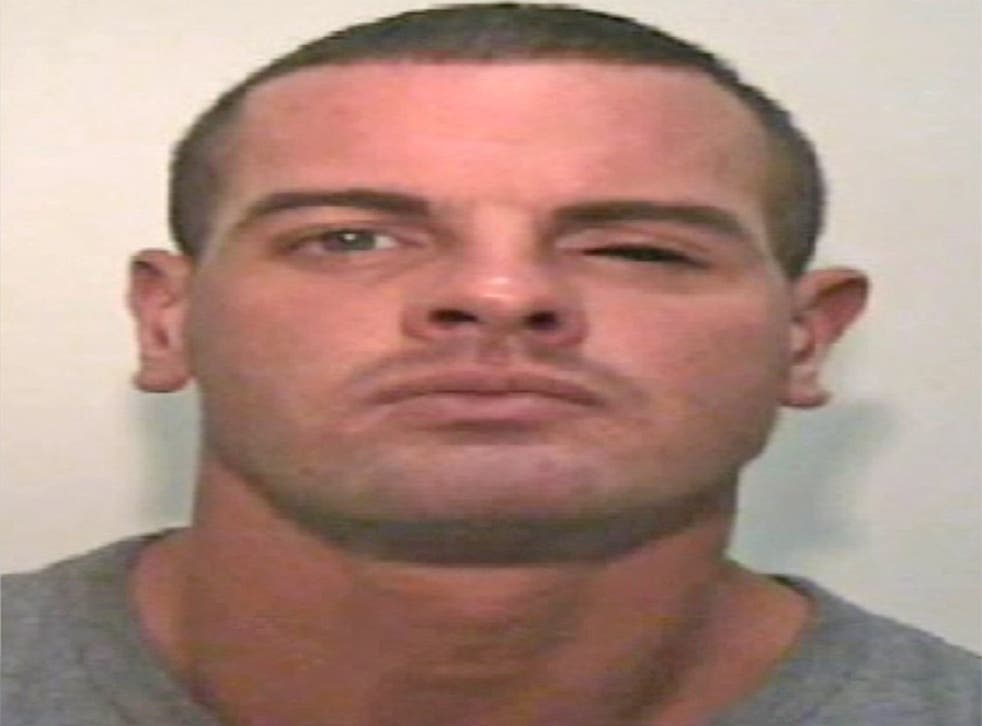 Despite the promise of a £50,000 reward for his capture, Dale Cregan eluded police for weeks thanks to his hardman reputation and a network of contacts in the east Manchester stronghold where he was regarded by some as a folk hero.
The face of the one-eyed Cregan – who claimed to have suffered his injury as a result of fracas with a Thai policeman with a knuckle-duster – had been plastered across billboards and beamed on to the screen at Manchester City's ground as police sought him in connection with two murders.
The public had been warned not to approach the 29-year-old whose attempted capture was described by Greater Manchester Police as their "top priority". The hunt led to dozens of armed raids in an attempt to arrest him although it was not clear if he was even in the country. The former roofer had previously lived in Tenerife.
Police said they were aware of the "particular danger" posed by Cregan, but said that before yesterday's shooting he had made no direct threat to any officers while he was on the run.
Cregan was arrested in June on suspicion of the murder of Mark Short.
Mr Short, 23, an amateur boxer with a police record of violence, was killed in May when he was shot in the neck at the Cotton Tree pub in Droylsden. Three other men were shot and injured during the attack. Mr Short, who had served time in prison, was known as a violent criminal who had been convicted of being part of a gang who carjacked a 60-year-old and he knocked a shopkeeper unconscious in 2009.
It is thought that Mr Short's father, David Short, had vowed retribution for his son's death at the hands of the "cowards" who killed him.
In a statement at the time, the family described him as a young man with a big heart. "He was no angel and it is not a secret he had been in trouble with the police, but that was all in the past. He was a loving son, brother, father and boyfriend to Naomi.
"Mark was only 23 years old and looking forward to a future with his son, Mark Junior. This has now all been taken away from him. He will be deeply missed by all of his family and friends the only ones that knew him the most."
Mr Short snr, who had a history of violence including gun possession and wounding, had been worried about threats on his life for some time and in recent years had taken to wearing a bulletproof vest, according to the Manchester Evening News. The newspaper reported that he had received a series of Osman rulings – warnings by the authorities when they receive intelligence that a person's life is at risk.
In what was being viewed as a pre-emptive attack before he could carry out his threat of revenge, Mr Short was killed in a gun and grenade attack on 10 August at his home in Clayton, Manchester. Two men were caught on CCTV tossing another grenade at a nearby house shortly after that attack and shots were also fired.
Earlier this month, police arrested a 33-year-old man in a park in Openshaw, east Manchester, and he was charged with the murder. Police stepped up the hunt for Cregan but, as the days went by, began to suspect that he was protected by a criminal conspiracy in a case that highlighted the "web of intimidation" woven by organised crime.
Cregan was recognisable from his billboard image: his mugshot showed him with a fake onyx eye, said to be one of a number that he could have chosen from his collection.
But Cregan only came into the open yesterday, when he chose to do so. Having been taken into custody, he is now under suspicion of claiming two further victims and causing the bloodiest day for police in almost 50 years.
Register for free to continue reading
Registration is a free and easy way to support our truly independent journalism
By registering, you will also enjoy limited access to Premium articles, exclusive newsletters, commenting, and virtual events with our leading journalists
Already have an account? sign in