Dark reach of global child sex ring uncovered in UK had spread from US to Philippines
The global child sex ring was uncovered by British police officers when they raided the home of a man in the Northamptonshire town of Kettering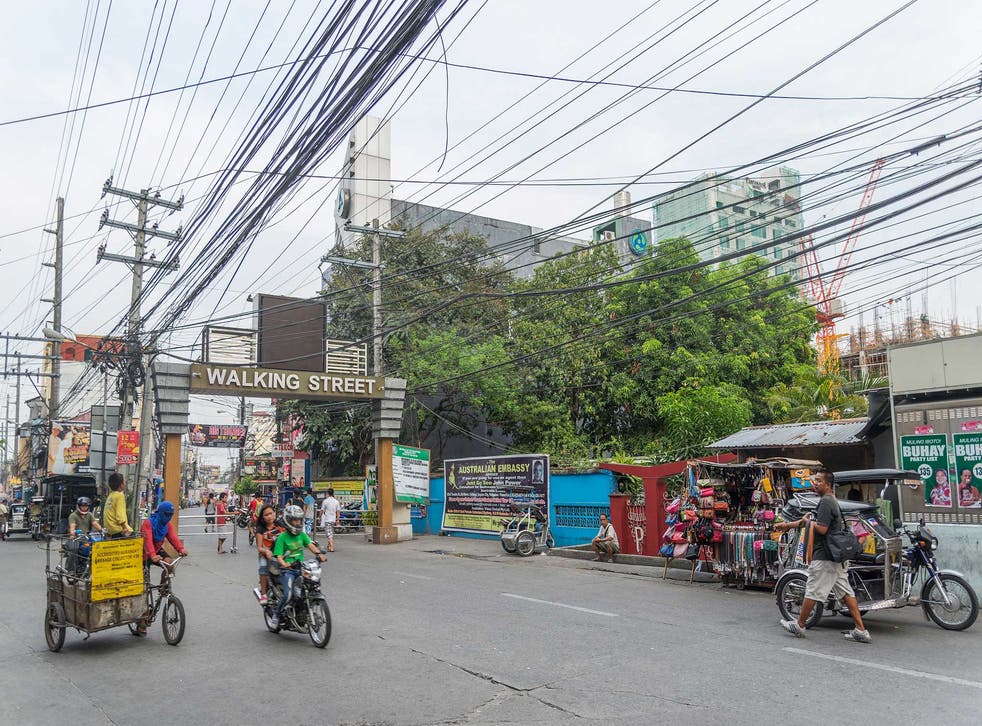 Inside the nondescript bungalow, police officers were met with the stale and acrid smell of urine. In the bedroom, packets and empty cartons covered the beds. Rubbish was strewn across the floor and was piled so high that it reached the window sills.
The previous 10 years had not been good for Timothy Ford, the man who lived alone in the small house in a tidy street in the Northamptonshire town of Kettering. It had started with a second jail sentence for possessing indecent images of children. After his release, he was hit by a bus, left paralysed from the waist down, and confined to a wheelchair. He was clearly struggling to look after himself.
Ford spent most of his time on his computer. That was what the police were looking for when they came knocking with a search warrant, after receiving a tip that he had been online talking to people who may have shared his obsession for children. What they found on the computer in June 2011 led to a dogged hunt which spanned continents, and delved into the darkest recesses of the internet.
It takes a long time to unravel the secrets of a computer, even one where little obvious attempt has been made to hide what was on it. The examination of Ford's revealed 600 images of children, both stills and videos. Some included adults conducting and orchestrating sexual acts.
It was clear that some of the children were foreign. Chat logs and emails talked of sending 2,000 to Carlos and 400 to Peter, although the currency was not specified. On some of the videos, the tapping of the keyboard could be heard in the background.
"It was clear he was bartering with older children and parents to get them to commit sexual acts that he could watch with a webcam," said Detective Sergeant Gan Thayanithy, from Northamptonshire police. "He'd say: 'I want you to do this,' which they would do after negotiations. This is how we first realised that it was a much bigger investigation than indecent images of children."
The force started to work with internet service providers to try to identify other people that Ford was in contact with, as he shared the images with paedophiles in the UK and abroad. Police retrieved his conversations with Porkchop91, aka Thomas Owen, a 34-year-old fellow paedophile from the Wirral.
Ford hello my friend, how are you?
Owen very good.
Ford what ages do you like?
Owen i love all boys... but especially 6-12... have you been lucky enough to have fun with boys in the flesh.
Ford not in this country. i am looking at the Philippines. i know a whole family of them ;-).
Owen can i ask what the boys you sponsor send you?
Ford i get some shows over the net.
Owen live shows?
Ford yes.
Owen awww that sounds great.
Ford, now aged 53, was on bail as police slowly built their case. Police knocked on his door again in April the following year to once more pick their way through the sodden papers and rubbish. Underneath the bed, they found a hidden laptop.
It was, according to detectives, a "goldmine" of information. Back at the lab, it revealed that Ford had spent his months on bail continuing to view child abuse images and plotting his escape to a new life abroad.
Documents on the laptop revealed that he was planning to buy land and build an "internet café" in Angeles City in the Philippines, a city described by local authorities as a hotbed for trafficked young women and children.
"It's like organised crime," said Det Sgt Thayanithy. "When you have a drug dealer and a drugs kingpin, he has people that he trusts to look after the commodity. We came in at a level where we didn't know who the lower down people were, but we had the people involved at the top."
As soon as he got the newest information, Det Sgt Thayanithy and a colleague met with officers at the Child Exploitation and Online Protection Centre (CEOP), part of the National Crime Agency. The investigation was getting bigger.
In July 2012, Special Agent Hoots Johnson (not his real name) was sitting at his desk at the offices of the Homeland Security Investigations team in Missouri when an advert on the online classified website Craigslist caught his eye, offering photography services from the Philippines.
Johnson, an expert in undercover operations and a 25-year crime-fighting veteran, guessed from the language that it was something far more sinister. He got in contact and received a swift response from a fellow American.
The agent clearly put the man at his ease because within 24 hours, Kenneth Stokes, now aged 69, allegedly sent through the first child abuse images. He had claimed that he had married a Filipino woman so he could get close to her daughter, according to the US authorities.
The agent kept reeling him in. Sixteen days later, Johnson received more images and a process was started quietly to revoke his passport to allow him to be brought back to the US for trial. But how to find him? Where Stokes lived, complaints inevitably followed. So he was constantly on the move. It would be months before they could track him down.
It was becoming apparent to the investigators that Ford was the linchpin of a loosely-connected international operation organised and run by like-minded paedophiles who had met through websites and chatrooms. The websites were thinly-disguised centres for paedophiles but were heavily moderated to avoid the attentions of the law. Through coded conversations and hints, users made their contacts and then went into private conversations.
CEOP senior investigator Kelvin Lay had previously been involved in a three-year investigation to infiltrate one such website – boylover.net – which had some 70,000 members and was taken down after police tracked down the owner of the site to Holland.
Now following the Ford leads, he engaged in the painstaking work to trace the victims in the Philippines and the men that had abused them – both online and in person. "Most adults tend to put pictures with their children on social networking sites and we were able to pair up and identify them," said Lay. They were left with some others who they could not identify. "It was obviously children who lived in the vicinity."
Other computers were also being scrutinised as the network expanded, suspects were arrested and the equipment seized. Thomas Owen had been arrested by Merseyside police and was found to have nearly four million indecent images on his computer. Those further tests revealed that he had been in contact for some months with the American, Kenneth Stokes, according to police.
When Kelvin Lay finally flew out to the Philippines, he had a dossier of intelligence on victims and suspects that formed Operation Endeavour. For several months, he worked with his counterparts from Australia and the US, whose historical and geographical ties provided them with stronger networks in the country.
A surveillance operation started among the shacks in a shanty town in Angeles City and it was soon obvious they had found the right place. Children, without shoes, queued up first thing in the morning and at lunchtime at the houses where webcams were set up to service the paedophile market in the US, Britain and the Netherlands.
"We think of a Mr Big with his millions of pounds – but these guys are living in absolute poverty," said Lay. "There were several locations all within 30 seconds' walk. It would appear that, speaking to the locals, everyone knew what was going on."
The chat logs showed that Ford demanded a form of abuse, the adults – some of whom were relatives of the abused – haggled over a price, and the child waited for their instruction. The messages range from the teasing to the mundane, including requests for money to play electricity bills.
Police discovered that more than £37,000 was spent by the customer network for the live abuse, more than £5,000 spent by people in Britain. The Filipino children – aged from six to 15, identified in the inquiry – received only a tiny fraction of the money.
To secure a search warrant in the Philippines, the court needed evidence from someone who had witnessed the sexual assaults. That left the investigation with a problem, as nobody in the Philippines had been a witness and could go before a judge. In what was believed to have been a first for the country, Lay went before a judge to say he had seen it taking place from footage retrieved from the computers – and got the warrant. The operation was on.
There were no signs of wealth at the three one-bedroom shanty houses when the Filipino police moved in. Five or six people shared a bed and the computers they found inside were the most expensive things there. One of the homes had been set up with two rudimentary studios – one upstairs, one downstairs – with webcams and computers. Fifteen children were taken away for their protection and the identified adults were arrested.
Having worked for more than three years in the Philippines, Eric McLoughlin – the deputy attaché in Manila for US Homeland Security Investigations – was well aware of the grim reality of abuse via webcam. For the predatory paedophile, the country has the twin attractions of impoverishment and a broadband-enabled society providing for high-quality streamed footage.
"It doesn't take a lot of money. If you're going to exploit these children, you need access to children, a laptop with a webcam, a way of receiving money and you're in business," said McLoughlin. "Even when you take down one group, there might be one across the street."
Two forensic experts examined each of the computers discovered. It provided another breakthrough: among the names found on them was that of Kenneth Stokes.
Stokes – who had a previous conviction for raping a seven-year-old in the United States – had proved a challenge, but was tantalisingly within reach. Special Agent Johnson had proved convincing over the months.
"[Stokes] had wanted someone he could talk to and to show the ropes in the Philippines," said McLoughlin. "We were really able to take advantage of that, to the point where he would say 'Hey, if you're willing to come to the Philippines, let me meet up with you and show you the hot spots where you can procure children.'
"Some of these offenders are smarter than others. They keep their names off utilities and live a squatter lifestyle. They may go to certain areas, abuse children, then move to another area and make it harder for law enforcement to identify them."
Stokes had been careful not to reveal where he lived, even to the man that had successfully persuaded him that he was a like-minded child abuser. After months of careful conversation, he only gave up the address on the eve of Agent Johnson's flight from Missouri to the Philippines. The two Americans duly flew to Cebu, an hour's flight from the capital, Manila.
The house was not easy to find on the day of the operation. Stokes guided the agent to one of two old houses in a compound surrounded by barbed wire.
To the agent's dismay, Stokes welcomed him at the heavy iron gate and then padlocked it behind him. "Once I went into the compound, it was getting dark," he said. "I was thinking, one, how am I getting out and, two, how are they getting in to get him?"
He had two hours to get the evidence that he needed before Stokes's girlfriend arrived back home from work. "Once I showed up and he saw that I was for real, then he was very comfortable and talked openly," said Johnson. He says Stokes showed him images on the computer, and talked about his future plans.
The agent was satisfied but he needed to get out of the house. He asked his target for a beer, but there was none. Agent Johnson saw his opportunity and he persuaded Stokes to unlock the gate so he could go and buy some from the shop in a little shack up the road. Stokes was still standing at the gate awaiting the agent's return when the Filipino police swooped and he was arrested.
The impact of Operation Endeavour still has to unravel. Investigations into some of the people identified from the web of communications still continue, and the courts are still processing the results. In the immediate aftermath of the raids in the Philippines and the earlier work, police arrested 29 people in 12 countries. More than 100 more were identified in the UK, the US and Australia. Eleven people were held in the Philippines accused of arranging the abuse, and trials are due to start shortly.
Kenneth Stokes was extradited to the US where he is accused of using five separate child victims to produce images, as well as the initial charges of sending pictures to the agent following their initial Craigslist contact, according to the US authorities. He is in prison awaiting his trial. If convicted of all the charges he faces, he could face up to 380 years in prison.
In Britain, five people were jailed with other inquiries continuing. Two others are dead. Owen was jailed for seven years. In March last year, Ford received eight-and-a-half years for 23 sex offences, including paying for the sexual services of a child. After the case, police described him as a "voracious sex offender". Judge Rupert Mayo told Ford that he was "manipulative, obsessive and blinkered in your attitude towards prepubescent boys".
After he was jailed, detectives went to speak with him in prison to tie up some loose ends from the British end of the operation. Did he display any remorse? "Not particularly," said Lay.
Paul Peachey is The Independent's crime correspondent
Register for free to continue reading
Registration is a free and easy way to support our truly independent journalism
By registering, you will also enjoy limited access to Premium articles, exclusive newsletters, commenting, and virtual events with our leading journalists
Already have an account? sign in