Dave Lee Travis given suspended sentence for 'intentional and unpleasant' sexual assault
Disgraced Radio 1 DJ sentenced to three months suspended for two years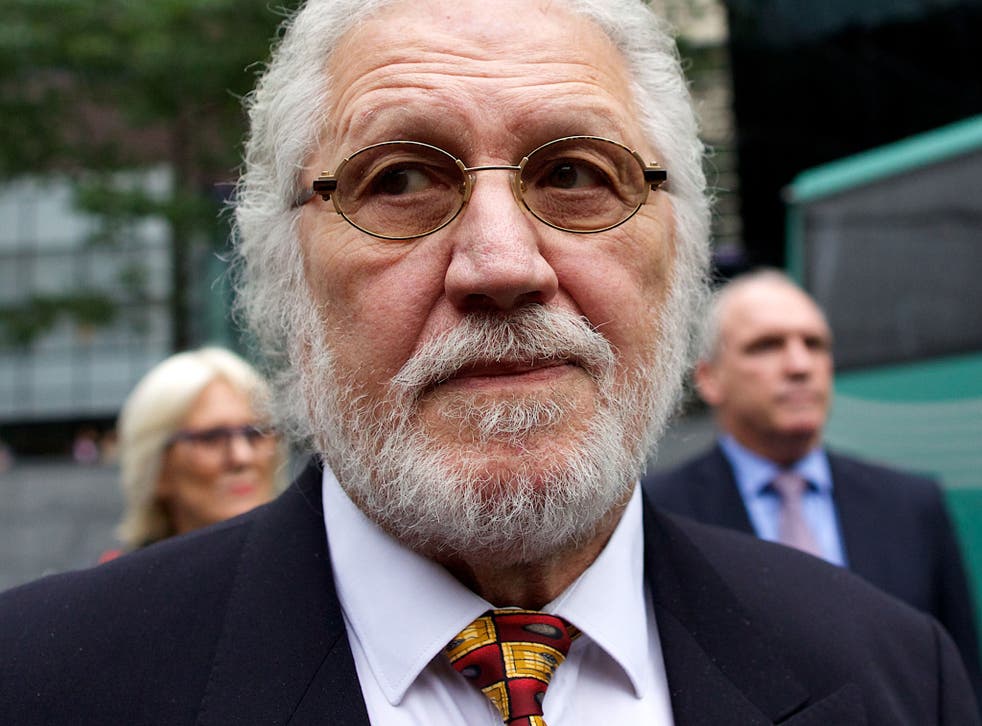 The DJ Dave Lee Travis avoided jail today when he was given a suspended three-month prison term for an "intentional and unpleasant" sexual assault on a young television researcher.
The former Radio 1 star was earlier this week convicted of groping the then 22-year-old woman by a majority verdict after his victim testified that he seemed to get a "weird sexual thrill" from the assault and maintained an "intense stare" throughout.
Despite walking free from London's Southwark Crown Court, the 69-year-old struck a defiant tone, saying that prosecutors had failed to prove their case that he was a sexual predator and he was "mortified" and "really disappointed" to have been convicted of a single count of indecent assault.
He made no apology to his victim, whom he had accused of being motivated by money.
The court heard that Travis, who is more than 6ft tall, used his stature to corner the young woman while she had been smoking in a dressing room corridor, commenting "your poor lungs" before pinning her against a wall and squeezing her breasts for 10 to 15 seconds during the assault in January 1995.
At a sentencing hearing, Judge Anthony Leonard QC told the former Top of the Pops presenter, who was in his late 40s at the time of the incident, that he had abused his fame to impose himself on a junior production worker and should face a custodial sentence.
The judge said: "It was an intentional and unpleasant sexual assault. You took advantage of a young woman in a vulnerable position whose job it was to look after you that day. I judge that you believed she would not make a fuss about what you did to her."
While his offence was "serious and reprehensible", the court was told that it was of a "different order of magnitude" to the multiple sexual assaults carried out by former television Stuart Hall and others convicted under Operation Yewtree, the Metropolitan Police investigation into sexual abuse allegations against public figures including Jimmy Savile.
Judge Leonard said that several mitigating factors, including the fact Travis had no previous convictions and had received character witnesses describing him as "warm hearted and a good friend" meant his three-month prison term should be suspended for two years.
As the sentence was passed, the grey-haired DJ glanced at the floor of the dock and said: "Thank you, your honour."
Travis had denied three charges of indecent assault against him, insisting to jurors that the women accusing him had been lying. As well as being convicted of one offence, he was acquitted of another and the jury was unable to reach a verdict on the remaining charge.
Those two latter charges were being retried after an earlier jury was unable to reach verdicts on these and other sexual assault allegations at a trial in February. The DJ, who was sentenced under his real name David Griffin, was acquitted of 14 out of 15 charges tried by both juries but convicted of one charge of indecent assualt.
His victim, who came forward after the initial trial, said she had been hurt by Travis's portrayal of her as a liar. In her victim impact statement, the woman, who had been working on the BBC's Mrs Merton Show, said she had been a "naive and trusting" 22-year-old at the time of the assault and had been subjected to an "unprovoked and terrifying" attack.
Jurors were told that she had made no complaint about the incident at the time and rationalised it as being part of showbiz but later became angry and took the decision to approach police. The woman gave evidence without a screen and said she had referred to the incident publicly but wished to retain her anonymity.
In her statement, she added: "Being called a liar and a fantasist and being forced to recall the evidence in court has been painful. I was particularly hurt by the defendant's claim that financial greed motivated me to come forward. I have preserved my anonymity and will not claim compensation now or in the future. I simply wanted to tell the truth."
Recalling the assault, she said: "I was too paralysed with fear to confront my assailant. I coped with it by using humour. But remembering the incident still takes me back to feeling like a scared, vulnerable young woman."
Flanked by his wife, Marianne, Travis emerged from court to complain that prosecutors had not proved their case against him that he was a serial sexual offender.
Addressing reporters and television cameras, he said: "Whilst I'm relieved I've been able to prove I'm not a sexual predator, I'm mortified and I'm really disappointed that I was convicted of one count."
He added: "I've always been worried, as have my close family and friends, that if the prosecution threw enough mud at me, some of it might stick. Those closest to me, including my wife Marianne, have been by my side all the time. We all know the truth and I'm grateful for that."