David Cameron: The fightback is under way
Sunday 23 October 2011 09:02
David Cameron: The fightback is under way

Show all 50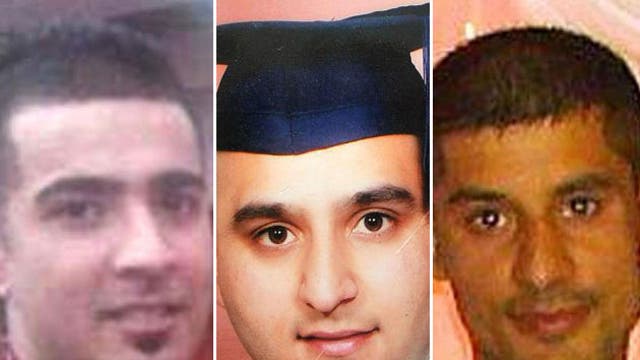 Prime Minister David Cameron declared a fightback against looters and rioters today as a community mourned the deaths of three men killed while trying to protect its shops and businesses.
Police forces across the country called in reinforcements tonight in an attempt to stop another night of the riots that have now claimed four lives.
As looting and mob violence spread from London to the North West and the Midlands three men - named as Haroon Jahan, 21, and brothers Shazad Ali, 30, and Abdul Musavir, 31 - were killed when a car was driven at them as they protected shops in Winson Green, Birmingham, at 1am, their families said.
Mr Cameron described the deaths as "truly dreadful". When asked what he would say to their families he said: "They have my deepest condolences. I think everyone in the country is going to be thinking about them and their families and what happened."
West Midlands Police have arrested a 32-year-old man on suspicion of murder.
The apparent hit-and-run killing follows the death of a 26-year-old man who was shot in a car during riots in Croydon, south London, on Monday night.
Politicians and police sought to return calm to the cities affected by the disorder by flooding the streets with officers.
Home Secretary Theresa May today ordered every police chief in the UK to cancel all staff leave to deal with the crisis.
Six forces - the Metropolitan Police, West Midlands, Nottinghamshire, Avon and Somerset, Greater Manchester and Gloucestershire - have drafted in extra officers from other constabularies amid fears of a fifth night of violence.
Speaking in Downing Street after chairing a meeting of the Government's Cobra emergency committee, Mr Cameron said: "We needed a fightback, and a fightback is under way.
"We have seen the worst of Britain, but I also believe we have seen some of the best of Britain - the million people who have signed up on Facebook to support the police, coming together in the clean-up operations."
He said officers would be given the resources and legal backing to use the tactics they felt were necessary to deal with the riots.
"Police are already authorised to use baton rounds and we agreed at Cobra that, while they are not currently needed, we now have in place contingency plans for water cannons to be available at 24 hours' notice," he said.
In a major break with the Government, the Tory London Mayor Boris Johnson today demanded a rethink of plans to slash police budgets by 20%.
The mayor, who is seeking re-election to City Hall next year, told the BBC: "That case was always pretty frail and it has been substantially weakened. This is not a time to think about making substantial cuts in police numbers."
But Mr Cameron brushed off Mr Johnson's concerns, insisting forces had all the resources they required.
Thousands of extra police officers in London helped quell trouble on the capital's streets last night, but ugly scenes of violence spread to other cities.
Elsewhere, hundreds of marauding thugs played cat and mouse with police in Manchester last night, smashing shops, looting goods and setting fire to one premises.
This afternoon police arrested an 18-year-old man on suspicion of arson over the blaze in the city's Miss Selfridge store.
And two of those arrested have already been jailed in what Greater Manchester Police said was "swift justice".
"Two men sentenced to 10 weeks and 16 weeks. First of many," the force warned.
Trouble also broke out in Nottingham, Leicester, Wolverhampton, Gloucester, Bristol and Toxteth in Liverpool.
Despite the spreading violence, senior police officers played down the prospect of using water cannons against rioters.
Sir Hugh Orde, president of the Association of Chief Police Officers, oversaw the use of the weapon when he was head of the Police Service of Northern Ireland.
He said: "They were vital in Northern Ireland. At the moment I don't see a need in the rest of the United Kingdom."
Meanwhile, magistrates' courts sat through the night to deal with the huge numbers of people charged over the disturbances.
The youngest alleged rioter to appear at Highbury Corner Youth Court in north London today was an 11-year-old boy from Romford, Essex, who pleaded guilty to stealing a £50 waste bin from the town's Debenhams store during the disorder on Monday night.
Also in the dock today was a learning mentor at Stockwell primary school in south London, who admitted taking part in looting.
Alexis Bailey, 31, from Battersea, south London, who was arrested in a Richer Sounds electrical goods store in Croydon, south London, pleaded guilty to burglary with intent to steal and was committed to Wood Green Crown Court for sentencing.
Lambeth Council, his employer, said in a statement: "In the event that any of our staff are convicted of criminal acts, we have robust internal processes in place to ensure that we deal with them in accordance with employment law."
PA