White supremacist behind 'Punish a Muslim Day' jailed for 12 years
David Parnham's campaign calling for Muslims to be 'butchered' sparked increase in hate crimes
Lizzie Dearden
Security Correspondent
Tuesday 03 September 2019 15:27 BST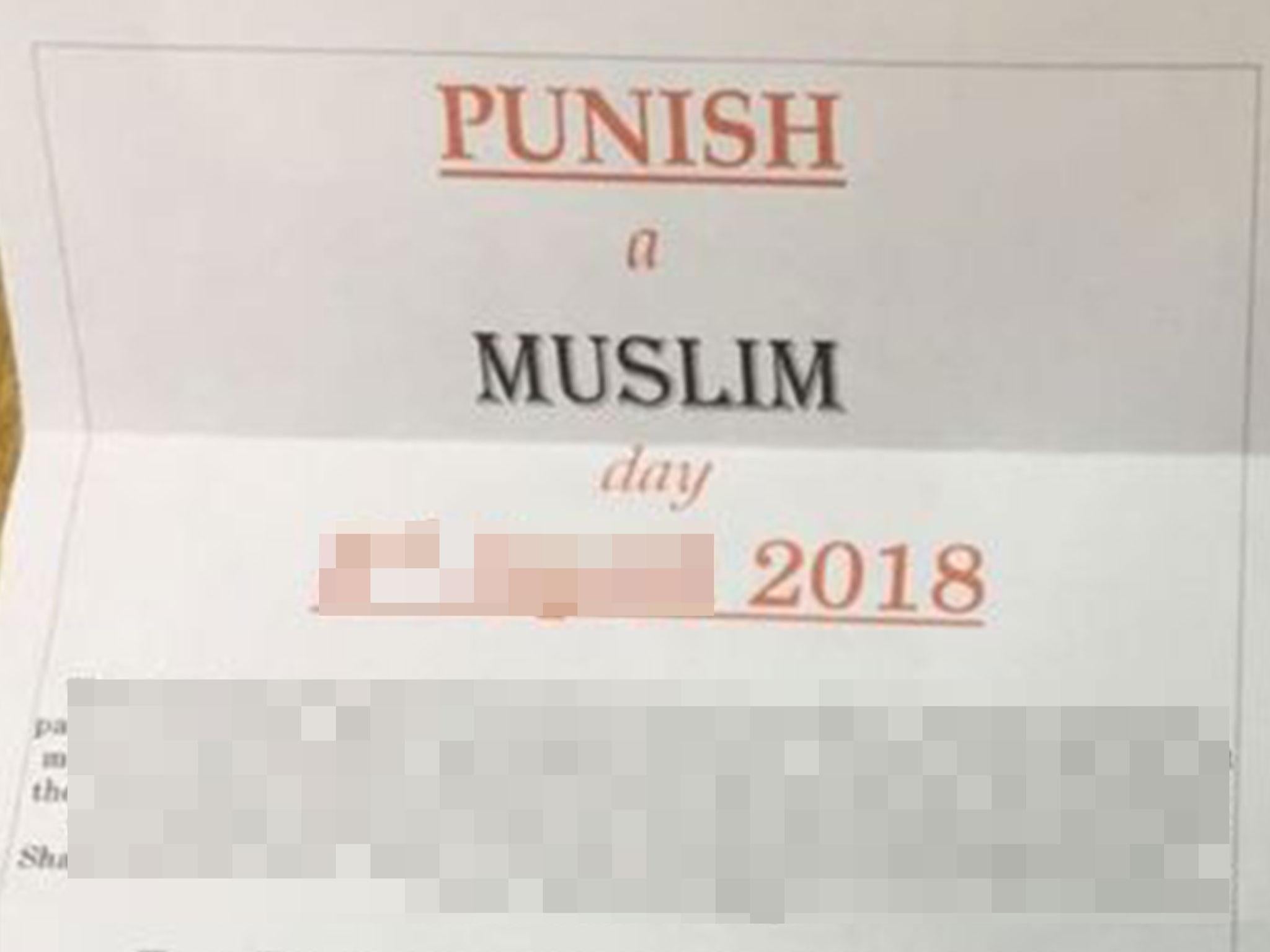 A white supremacist behind the "Punish a Muslim Day" campaign has been jailed for 12 and a half years.
David Parnham, who called himself "Muslim Slayer" and sent packages containing fake anthrax, is to serve his sentence in hospital until he is well enough to be transferred to prison.
The Old Bailey heard the 36-year-old had launched several waves of malicious letters targeting mosques, the Queen and politicians including David Cameron and Theresa May.
He admitted offences including soliciting murder, encouraging crime, bomb and noxious substance hoaxes and sending letters with intent to cause distress.
In early 2018, a series of typed "Punish A Muslim Day" letters were sent out to encourage violence on the date of an American white supremacist's birthday.
The letters claimed Europe and North America was being "overrun" by Muslims and contained a makeshift scorecard for attacks ranging from pulling off women's headscarves to acid attacks, torture, bombing a mosque and "butchering" Muslims with guns, knives and vehicles.
Judge Anthony Leonard QC said Parnham had been suffering from an autistic spectrum disorder but rejected the suggestion he was psychotic at the time of the offences.
"You have yet to appreciate the seriousness of what you have done and seem to want to return to the community at the earliest opportunity to live with your parents," he told the court on Tuesday.
Parnham's failure to appreciate the harm he caused to the Muslim and wider community meant the risk of reoffending was greater, the judge said.
The court heard that although no violence was linked to the campaign, it sparked widespread fear in Muslim communities across the UK after being received by politicians including the then home secretary, Sajid Javid.
Parnham, of St Andrew's Close in Lincoln, was caught through DNA, handwriting and fingerprints on the letters after an investigation by counterterror police.
Research by the Tell Mama monitoring group found that the "Punish a Muslim Day" campaign sparked an increase in Islamophobic attacks in Britain.
Its annual report found that 37 offline incidents "directly referenced" Parnham's letters, which gave rise to national debates over Muslims and Islam.
Iman Atta OBE, the director of Tell Mama, said: "His actions caused significant fear and distress for many Muslims, particularly Muslim women who contacted Tell Mama to find out whether they should stay at home on the date set."
Detective Chief Superintendent Martin Snowden, head of Counter Terrorism Policing North East, said: "This case has affected a substantial number of victims and its impact has been felt across the country and overseas.
Religious hate crime rises 40% in England and Wales - with more than half directed at Muslims
"Our investigation showed that Parnham acted alone and lacked both the ability and the means to carry out the threats he had made. Nevertheless, the abusive, racist and threatening language used in the letters was deeply concerning and created considerable distress which cannot be underestimated."
Parnham started his campaign in July 2016, when he sent a hoax letters containing white powder to targets including then prime minister Mr Cameron, saying "Allah is great".
Only 11 letters were delivered, while seven were intercepted at a postal depot in Sheffield and sparked a police investigation.
Four months later, Parnham posted more letters containing white powder to the Queen, Theresa May, bishops and the Home Office.
"The Clowns R Coming 4 You," they read, in an apparent reference to international reports of "evil clowns" attacking people.
A Chemical Biological Radiological Nuclear response was launched over fears the packages contained anthrax, causing some staff to be quarantined for hours as the substance was tested.
In December 2016, Parnham sent a fan letter to Dylann Roof, a white supremacist terrorist who murdered nine black victims at a church in Charleston, South Carolina.
He told Roof: "I just wanted to thank you for opening my eyes. Ever since you carried out what I'd call the 'cleansing' I've felt differently about what you'd call 'racial awareness'."
Parnham wrote: "My main reason for disgust is Muslims. I hate these animals with a passion. I sent letters with white powder to some mosques in London they had to close down parliament because of it."
The date of "Punish a Muslim Day" corresponds with Roof's birthday.
Parnham sent letters to mosques and Islamic centres around Britain in February 2017, featuring an image of a beheading using a sword emblazoned with a Nazi swastika.
"You are going to be slaughtered very soon," the author wrote, before signing off as "Muslim Slayer".
In March 2017, letters were sent to homes around the University of Sheffield campus calling for the extermination of people from minority groups including Jews, Asians and Afro-Caribbean people.
They included suggested methods and an offer to donate £100 to charity for each murder.
In August 2017 a mosque in Sheffield received a bomb hoax letter saying: "I have left a little present for you. It will go off in a short period of time."
When Parnham was arrested in June 2018, he refused to answer any questions
He later pleaded guilty to 15 offences relating to hundreds of letters penned between June 2016 and June 2018.
A psychiatrist told the court that Parnham did not regret what he had done and did not consider it "particularly serious".
While Parnham was on the autistic spectrum, Dr Martin Lock said he was not psychotic and expressed concern that the defendant had attempted to "mislead" medical professionals.
Another psychiatrist said Parnham was suffering a psychotic illness and had felt "paranoia and suspiciousness", particularly towards religious groups and prominent individuals.
Jenny Hopkins, of the Crown Prosecution Service, described Parnham as a "white supremacist with a particular hatred for Muslims".
"He launched a two-year terror campaign to create fear and social division between Muslims and non-Muslims," she added.
"This successful prosecution means he is no longer a danger to the public and communities are safer with him in custody."
Additional reporting by PA