Cabinet minister Sajid Javid becomes latest MP to receive abusive 'Punish a Muslim' letter
Threatening letters have also been sent to Westminster offices of four Labour MPs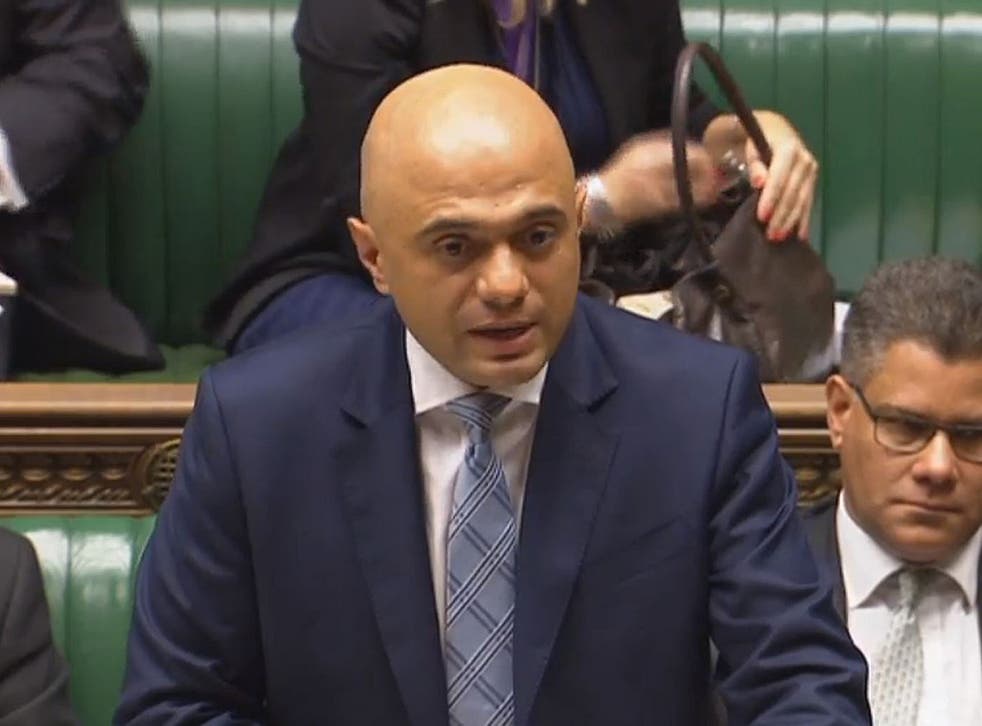 Cabinet minister Sajid Javid has become the latest MP to receive a threatening "Punish a Muslim" letter to his parliamentary office, as police mount an investigation into Islamophobic hate mail.
The Housing Secretary is the fifth politician to be targeted with menacing letters in the last week, which offer "rewards" for those who attack and abuse Muslims on a single day of coordinated nationwide violence.
It comes as police cordoned off part of the parliamentary estate on Thursday following reports of a suspicious package containing an unnamed "substance", and two people were taken to hospital as a precautionary measure.
Mr Javid posted a picture of the letter on Twitter using the hashtag "fanmail", and when asked whether he had been sent the letter by "scumbags", he replied, "yes". It is unclear whether he also received a package with a suspicious substance.
Threatening letters were sent to the Westminster offices of four Muslim Labour MPs this week, as well as packages containing a suspicious substance that prompted a police response and several staffers needing to be taken to hospital to be assessed.
A parliamentary staffer to Rupa Huq, Ealing Central and Acton MP, was taken to hospital after opening a package containing an "irritant substance" on Tuesday, while the parliamentary office of Manchester Gorton's MP, Afzhal Khan, was also evacuated.
Two people were also taken to hospital after a package was sent to the office of Mohammad Yasin, MP for Bedford and Kempston, on Monday.
Rushanara Ali, MP for Bethnal Green and Bow, also revealed that she had opened a threatening letter on Monday.
Several police forces are investigating instances of "Punish a Muslim" letters across the country, which were also condemned by Theresa May and Jeremy Corbyn in Parliament this week.
The Prime Minister said: "I am sure that the whole House will join me in condemning this unacceptable and abhorrent behaviour, which has no place in our society.
"An investigation is under way and steps are being taken to bring the perpetrators to justice."
The Labour leader hit out at the "disgusting hate-filled letters sent to Muslim fellow citizens and colleagues in Parliament", describing the missives as "utterly contemptible".
UK news in pictures

Show all 50
A parliamentary spokesperson said: "Yesterday a suspicious item of mail in the Palace of Westminster was investigated by the Met Police and was found not to be harmful. The immediate area was evacuated as a precaution but access to the building was otherwise unaffected.
"Two people attended hospital as a precaution. We cannot provide any further details while the Met Police investigation is ongoing."
A police spokesperson said specialist officers were sent to assess the package in Parliament but the "substance contained in it was deemed not to be hazardous".
Register for free to continue reading
Registration is a free and easy way to support our truly independent journalism
By registering, you will also enjoy limited access to Premium articles, exclusive newsletters, commenting, and virtual events with our leading journalists
Already have an account? sign in
Register for free to continue reading
Registration is a free and easy way to support our truly independent journalism
By registering, you will also enjoy limited access to Premium articles, exclusive newsletters, commenting, and virtual events with our leading journalists
Already have an account? sign in
Join our new commenting forum
Join thought-provoking conversations, follow other Independent readers and see their replies