Deliveroo driver murder: Calls for more protection for delivery workers after deadly London stabbing
'More members of public are treating delivery drivers with utter contempt,' union says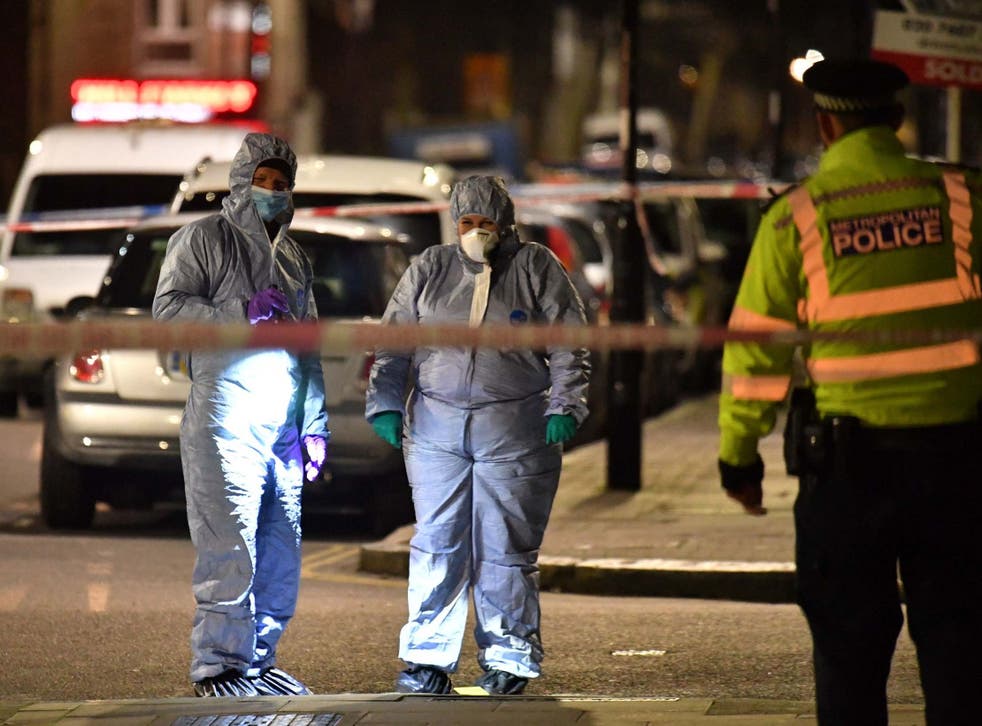 The fatal stabbing of a man in London has prompted calls for better protection for delivery drivers.
The 30-year-old victim – who is believed to have worked as a delivery rider for UberEats and Deliveroo – was found in the Finsbury Park area on Friday night after reports of a knife attack.
The Metropolitan Police said the incident appears to have occurred as a result of an isolated traffic altercation.
But Labour leader Jeremy Corbyn and delivery drivers have called for greater protection from attacks following the death of the delivery driver from Algeria.
Speaking from the scene of the knife attack on Saturday, Mr Corbyn, whose Islington North constituency includes Finsbury Park, said: "There are a lot of people working as delivery drivers, they must have better conditions of employment and employers must take more responsibility for their safety too."
UK news in pictures

Show all 50
"Police cuts have meant fewer officers on the streets and this raises issues of safety in the community in general," he added. "Delivery drivers do a great job in London all of the time. Yet they are vulnerable."
Alex Marshall, chair of the couriers and logistics branch of the Independent Workers' Union of Great Britain (IWGB), said the union had noticed a rise in delivery drivers facing abuse when out on the road.
He told The Independent: "More members of the public are treating delivery drivers with utter contempt. The companies they work for treat them awfully.
"If the companies, who are supposed to be the ones looking after them, are treating riders with a lack of respect then it sets an example to so many other people to treat them in exactly the same way."
Mr Marshall believes employers could do more to improve the safety of drivers – such as providing onboard cameras and cars rather than bikes – and the police could provide more support.
"When it comes to keeping them safe, a lot of the time the police are nowhere to be seen," he added.
Some of the delivery drivers gathered at the scene of the fatal stabbing criticised the companies they worked for and the police for not doing enough to protect them from attacks.
Deliveroo and Uber driver Zakaria Gherabi, who knew the victim as "Taki", said he has been attacked on multiple occasions while working as a delivery driver and says he no longer feels safe.
In October last year, Mr Gherabi said an attacker punched him in the eye and dislocated his socket. "My attackers are still on the streets. The police do nothing. It happens. Nobody is going to save you. The company does not care, we are self-employed, but the food we are carrying is insured," he said.
Mr Gherabi added: "I knew the victim. He did not do anything, he was a good guy. He was stabbed to death on these busy streets. The job is not safe. I don't feel safe doing it."
One driver said they felt unsafe "100 per cent" of the time. Another said: "I was attacked here by people with a big machete and now this man has been killed for no reason. The police do nothing.
"They just come, take a statement and then they go."
Gulcin Ozdemir, a Labour councillor in Islington, north London, tweeted: "The lack of protection delivery drivers have where many of them have been physically abused, mugged at knifepoint and feel like easy targets. They shouldn't be going to work in a constant state of fear.
"My condolences to the family and Algerian community who are so heartbroken."
Detective Chief Inspector Neil John, who is leading the investigation, confirmed the victim's next of kin have been informed, but that a post-mortem and formal identification have yet to take place.
DCI John said: "The investigation is at a very early stage. It would appear at this time that an altercation has taken place between the victim, who was riding a motorcycle, and the driver of another vehicle in the vicinity of Lennox Road and Charteris Road, Finsbury Park."
He added: "The incident itself appears at this early stage to have been spontaneous and not connected to, or as a result of, anything other than a traffic altercation.
"Specialist officers are working extremely hard to build a clear picture of what happened and I would encourage anyone who may have seen the incident or has information to come forward.
"A forensic examination of the scene has been undertaken and I expect the road to reopen very soon."
Additional reporting by Press Association