Police treated domestic abuse victim as 'attacker' and took her phone days before murder, reports find
Damning reports into death of Katrina O'Hara result in new national guidance for domestic abuse cases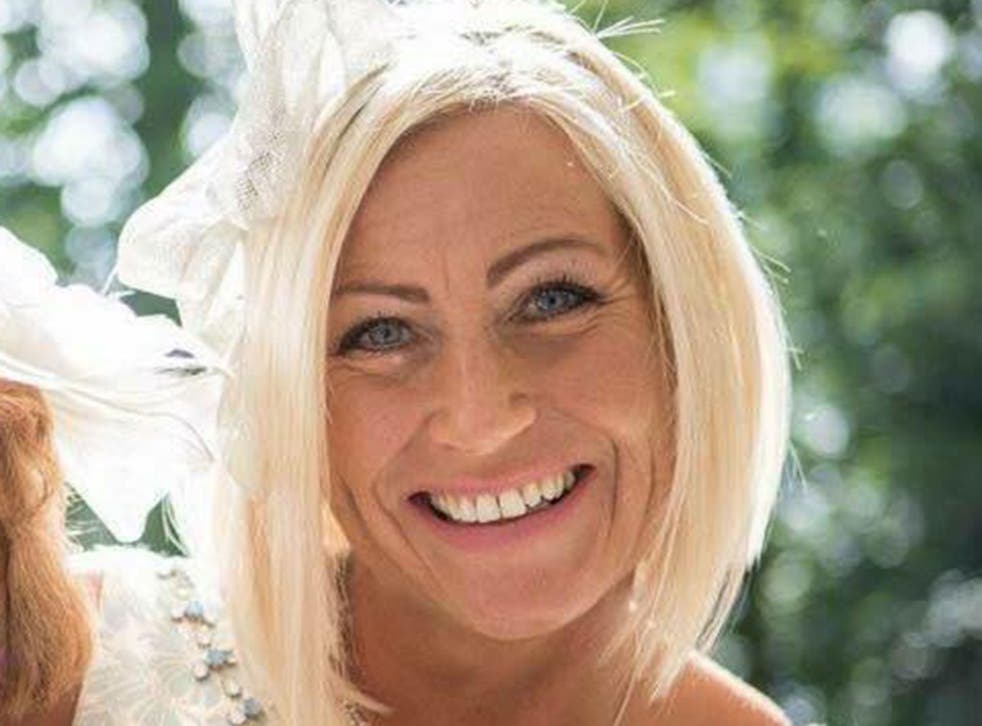 A man who told officials he wanted to kill his ex-girlfriend and had a history of domestic abuse was freed from police custody days before he carried out his violent intentions, a review has found.
Two damning reports into events leading up to the murder of Katrina O'Hara found police, mental health services and local authorities had "sufficient knowledge, opportunity and legal means" to stop her attacker but failed to recognise the risk he posed.
In the 58 days between the grandmother's first call to police and her death, officers were repeatedly told how Stuart Thomas was stalking and harassing her, even threatening to crash a car and kill them both.
But investigators classed Ms O'Hara, 44, as the attacker in one incident and were manipulated by Thomas as he sought revenge for her attempts to end their extra-marital relationship.
When police decided to seriously investigate her allegations they seized her mobile phone, leaving her "afraid, vulnerable" and without means of calling 999 while outside her home in the days leading up to her murder.
Two of the officers involved in the case were found guilty of misconduct by disciplinary panels, but remain in their jobs after being given a written warning and "management advice".
Ms O'Hara's three children said her death must "serve as a wake-up call to the Government and police forces across the country".
"Our mother's death could have been prevented, and this only makes our grief even harder to bear," said Kyle Stark, 27, Dean Stark, 25, and 18-year-old Morgan O'Hara in a joint statement.
"Our faith in policing has been shaken to the core, and of course we're disappointed that Dorset Police haven't taken stronger action against the officers involved, but we're speaking out not to criticise the police but to call for change in how all police forces and other agencies handle domestic abuse.
"We're victims of police cuts. Every force needs to have the funding to be able to deliver the right training to all officers and support staff, and to then assess how effective that training actually is – otherwise there will be more avoidable deaths."
Findings by a local watchdog in Dorset and the new Independent Office for Police Conduct (IOPC) have sparked a change in the national guidance for police.
All forces are being asked to ensure domestic abuse victims are provided with replacement phones if theirs are seized for investigations
The IOPC also called on Dorset Police to clarify their procedure for breaches of bail conditions, to improve training for call handlers, and ensure domestic violence victims have the means to contact police and relatives.
Graham Beesley, an operations manager at the watchdog, said: "On a number of occasions when Ms O'Hara's contacted Dorset Police, officers failed to take appropriate action in a timely manner and did not take her specific needs and vulnerabilities into account.
"We also found instances where police did not properly consider the seriousness of non-violent risk factors, including the escalating nature of the incidents between Ms O'Hara and Thomas in the months leading up to her murder."
An acting sergeant was formally disciplined for failing to investigate Ms O'Hara's report that Thomas had been harassing her, and for failing to put in protective measures.
A detective constable was served a written warning for failing to arrest Thomas for breaking his bail conditions days before he stabbed his victim to death at her hairdressing salon, and a detective inspector and police constable will be disciplined for unsatisfactory performance.
Ms O'Hara met Thomas while working at her salon in Blandford Forum, Jock's Barbers, and they became romantically involved in May 2015.
When Thomas, a father-of-four, failed to leave his wife as promised two months later, Ms O'Hara attempted to end the relationship and his behaviour became increasingly controlling and violent.
She did not know that he was already subject to a five-year restraining order imposed the year before to stop him contacting another woman he had an affair with.
In a pattern that would repeat, he had responded angrily to her attempts to end their relationship, turning up at her home and workplace, abusing her verbally and via text, physically assaulting her and blackmailing the woman by falsely accusing her of stealing from employers.
Ms O'Hara's first call about Thomas was on 10 November 2015, when he slapped her and repeatedly threw her on to a concrete floor during an argument at an industrial unit where he worked.
"The investigating officer initially recorded that Ms O'Hara was the victim in the incident," the IOPC report states, describing how Ms O'Hara had thrown his possessions during an argument.
"However, after Mr Thomas showed the police some CCTV footage, the investigating officer decided she was the suspect and Mr Thomas was the victim."
At around the same time, Thomas started making threats to kill himself, sending suicidal messages to friends and Ms O'Hara, who reported harassment to police again on 16 and 17 November.
Police were supposed to visit the grandmother's home on 20 November but they never arrived because the officer who viewed Thomas's CCTV footage decided to view her reports as "linked counter-allegations" and closed the investigation – a decision reviewers called a "critical failure".
The couple briefly reconciled until an argument on Christmas Eve, when Thomas attacked Ms O'Hara with a hairbrush, before pleading her to take him back at her home the next day.
New domestic abuse legislation
On Boxing Day, the grandmother awoke to find him standing at the end of her bed after climbing in through an open window – the second time he had broken in.
Fearing for her teenage daughter's safety, she persuaded Thomas to give her a lift to collect her car but he instead started driving at dangerous speeds down country lanes "threatening to crash and kill them both".
Thomas snatched Ms O'Hara's phone when she attempted to call the police, and she only escaped by pretending she needed the toilet and fleeing through a field.
On 27 December, Thomas was hospitalised after an apparent suicide attempt, after which he continued to bombard Ms O'Hara with text messages including pictures of nooses and threats to kill himself, causing the victim and her daughter to call police over the next two days.
Her son contacted police to seek help on 30 December, when checks finally brought together the catalogue of previous incidents and resulted in Thomas being arrested on suspicion of stalking and harassment.
But he "minimised his behaviour" and was granted police bail late the same day on the condition he had no direct or indirect contact with Ms O'Hara, whose phone was seized for the investigation.
While in custody Thomas told a liaison nurse he wanted to "kill his girlfriend" but the official concluded that he "posed a low risk to himself, others and the general public".
Ms O'Hara was not told of his release or the terms until she contacted police – who were unable to reach her because she had no mobile phone – for an update on 1 January, as one of Thomas's relatives texted her daughter to make her drop her witness statement.
The clear violation of bail conditions should have resulted in enforcement action by police but it did not and Thomas remained free, continuing to harass his victim and her family.
UK news in pictures

Show all 50
On 7 January, he lay in wait until she closed up her salon before stabbing her twice in the chest. Ms O'Hara died at the scene and Thomas was arrested nearby after cutting his wrist and taking an overdose of opiates.
In its domestic homicide review, the Dorset Community Safety Partnership said Thomas had most likely been using the suicide threats to "control" his victim and successfully "manipulated the police" over the incident on 10 November.
"Thomas expressed a desire to kill Sarah to practitioners on several separate occasions in the days prior to the murder," the report concluded, describing how a custody liaison nurse and consultant psychiatrist "accepted his word that he would not follow through on his threats".
The watchdog said the police's subsequent failure to arrest Thomas for breaching his bail conditions "emboldened him further", adding: "The failures should not have happened… a number of agencies had sufficient knowledge, opportunity and legal means to take action to reduce the likelihood of the fatal attack."
Thomas, 49, was found guilty of murder in July 2016 and jailed for life with a minimum term of 26 years.
Assistant Chief Constable Mark Callaghan said Dorset Police force had "taken careful account" of both the partnership and IOPC's recommendations, which are being incorporated into processes and training.
"Our thoughts very much remain with Katrina's family and friends," he added. "We would like to reassure the public that we are doing everything in our power to minimise the chance of this happening again.
"It has highlighted many improvements to our response to domestic abuse and we are truly sorry for any previous failings in our processes."
Ms O'Hara's family paid tribute to "a beautiful mum, daughter, sister and grandmother".
"We will always remember and be grateful for the care and love she showed us every day; her devotion to her three grandchildren and her warm and wonderful smile," her children said. "We love and miss you mum, and always will."
Register for free to continue reading
Registration is a free and easy way to support our truly independent journalism
By registering, you will also enjoy limited access to Premium articles, exclusive newsletters, commenting, and virtual events with our leading journalists
Already have an account? sign in
Register for free to continue reading
Registration is a free and easy way to support our truly independent journalism
By registering, you will also enjoy limited access to Premium articles, exclusive newsletters, commenting, and virtual events with our leading journalists
Already have an account? sign in