East London acid attack survivor dismisses Government crackdown as a 'joke' after two attacks in 30 minutes
New laws and restrictions have not yet come into effect as consultations continue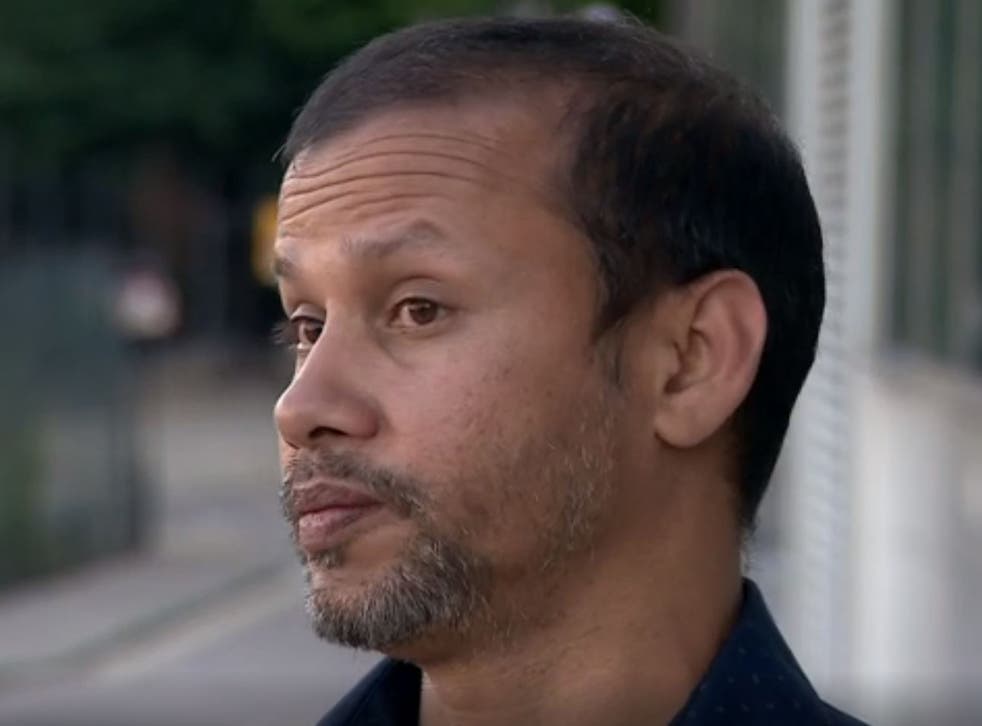 An acid attack survivor has branded Government efforts to crack down on the horrific crimes "a joke" after two assaults within just half an hour in London.
Jabed Hussain was the first of five delivery drivers attacked during a spate of assaults across east London in July and has since launched campaigns to increase protection for his colleagues.
He told The Independent that Home Office initiatives to restrict acid sales and increase punishments to deter offenders were proven "laughable" by continued attacks.
"This is kind of a joke it and it has disappointed us as victims," Mr Hussain said.
"We've got a lot of criminals who will do it again and again because nothing is being done about it."
The latest victim, Muhammed Nawshad Kamal, had just delivered a pizza to a home in Walthamstow when he was repeatedly doused with acid by two men who police say were attempting to steal his moped on Thursday.
They fled on a scooter and 30 minutes later, another takeaway driver was attacked with acid in Tottenham.
Mr Hussain said some areas have been labelled no-go zones by people working in the trade, who post updates in messaging groups.
"A lot of drivers have left their jobs and become minicab drivers because they don't feel safe," he added.
"It's like we're working in a jungle. This is my home where I live and I want my safety, everyone deserves their safety."
Mr Hussain was working for UberEats when he was attacked with acid by two assailants riding a moped, who were accused of carrying out four other acid attacks on the same night in July.
He credits his "melted" helmet for deflecting the corrosive fluid and saving him from serious injury, as he jumped off his scooter and fled for his life.
Mr Hussain was doused with water by police and members of the public before being taken to hospital to be treated for burns and shock.
He inhaled some of the water, leaving him with recurring chest pain, and said the mental impact has made him unable to return to work.
"I would love to go back to work but I am mentally totally shocked," the 32-year-old said.
"If anyone passes by or I hear a motorbike sound I get scared. I don't know how I broke down.
"I should be at work, I ask myself why I'm so scared. It's kind of like I had a bad dream and it's not going from my mind…but I'm a lucky person, I survived."
Hundreds of mopeds block road outside Parliament in protest over acid attacks
Mr Hussain, who lives in East London with his wife, joined hundreds of delivery drivers protesting to demand improved safety measures earlier this year and has met with MPs and police on the issue.
He is calling for more high-visibility police patrols and a boost in frontline policing, as officer numbers remain at their lowest level since 1985 despite a 13 per cent rise in recorded crime.
The Metropolitan Police have recorded more than 120 corrosive substance attacks so far this year in London, where incidents have so far been concentrated in eastern boroughs including Newham, Barking and Dagenham and Tower Hamlets.
Separate figures collated by the National Police Chiefs' Council (NPCC) found more than 400 acid or corrosive substance attacks were carried out in England and Wales in the six months up to April 2017.
Investigators have warned corrosive substances are being used as an alternative weapon by gang members and robbers, who have also used them on pedestrians to steal phones.
But delivery drivers are being overwhelmingly targeted by assailants attempting to steal their scooters, who have also deployed weapons including knives and hammers.
The Government has responded by proposing stricter controls on the sale of acid and a law making it illegal to carry the fluid in a public place without a good reason.
Anyone convicted of the offence for a second time will be jailed for six months – mirroring restrictions already targeting knives.
UK news in pictures

Show all 50
Sulphuric acid, one of the most powerful substances used in a series of attacks, could become a reportable substance under the Poisons Act, meaning anyone wanting to obtain it above a certain concentration will need a licence and be subjected to checks.
Anyone buying or selling banned acids in violation of regulations, which prohibits sales to under-18s, could be jailed for up to two years.
But consultations, including on increasing sentences by classifying acid as a "dangerous weapon" ,are still underway and the measures have not yet come into effect.
Mr Hussain said the response was "totally unacceptable", arguing it did not adequately punish the high proportion of offenders who are under 18.
"A lot of the street robbery and acid attacks are by under-18s," he added. "They know they are going to get away with it so they are doing it again and again."
Adding insult to injury, he said that many victims' stolen scooters or number plates are later used to commit crimes or rack up speeding tickets, adding: "You've the victim but they think you're a criminal."
In a statement to The Independent, Home Secretary Amber Rudd said: "All forms of violent crime are totally unacceptable, which is why we are taking action to restrict access to offensive weapons and crack down on those who carry acids with the intent to do harm.
"Acid attacks can devastate lives and leave victims with both emotional and physical scars.
The Home Secretary has previously vowed the Government would work to restrict access to offensive weapons and crack down on those who carry acids with the intent to do harm.
"Acid attacks can devastate lives and leave victims with both emotional and physical scars," she said.
"By banning the sale of the most harmful corrosive substances to under 18s and introducing minimum custodial sentences to those who repeatedly carry these substances to cause harm, we are sending a message that the cowards who use these as weapons will not escape the full force of the law."