Evacuation Squad: Pro-Putin online group claims responsibility for school bomb threats in England and France
The group has a Russia-based email address but claims it operates 'everywhere'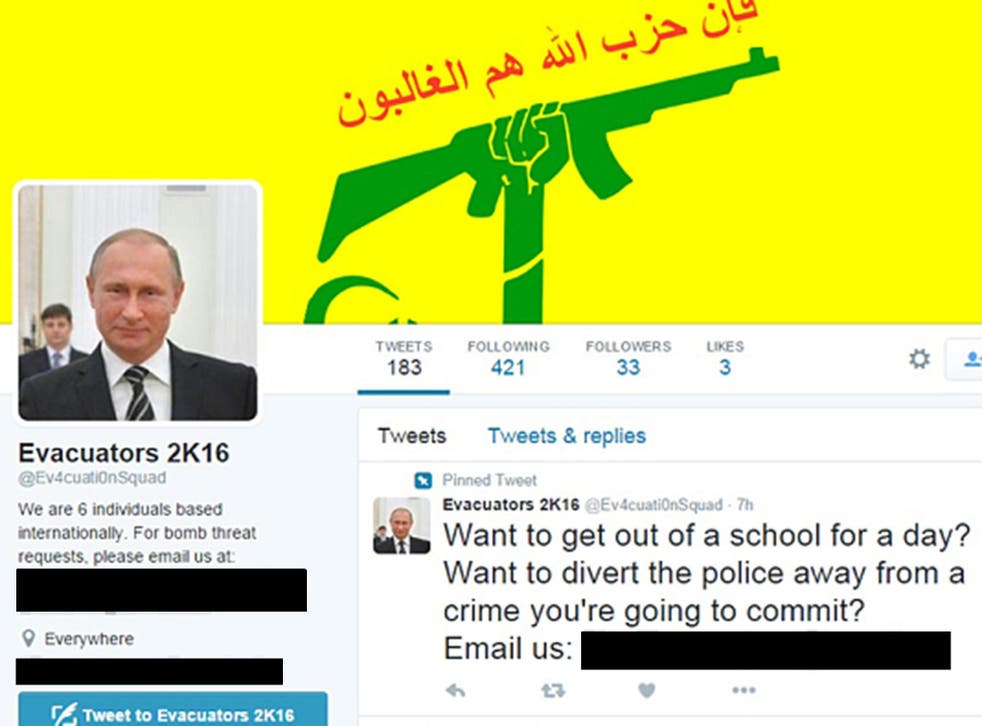 A group claiming to behind hoax bomb threats at dozens of schools in England and France is taking "requests" to cause evacuations at schools, offices, courts and sporting events across the world.
The "evacuators", as they have been calling themselves, have had their Twitter account suspended but continue to operate using online messaging and email.
A mission statement was posted on the internet shortly after 6am on Tuesday morning, inviting people to "send in requests for your school/work/business/etc to be sent a bomb threat".
"Hello, and we are EvacuationSquad," it read. "We do what we do for a few reasons: We hate the American government,we hate authority and we LOVE to cause mayhem."
The post gave contact details including an email address with a .ru Russian domain and XMPP messaging address ending .su – the country code assigned for the Soviet Union which has since become a "haven" for cyber criminals.
It went online hours before six prestigious schools in Paris and 14 across the West Midlands, London and Cornwall were evacuated after receiving threats.
Police found no evidence of suspicious devices and said the incidents were being treated as "malicious communications".
As security checks continued, gloating tweets were sent from the @Ev4cuati0nSquad Twitter profile, which carried a photo of a wryly smiling Vladimir Putin and part of a flag linked to Lebanese Islamist group Hezbollah.
"Schools in Paris dropping like flies," one said. "How's the West Midlands doing?" another asked.
Tweets used the hashtags #SWATTED and #SwatTheWorld in an apparent reference to a type of hoax known as "swatting" in the US, where emergency services are deliberately duped into deploying armed units or bomb squads.
The "Evacuators 2K16" account, which has since been suspended, also announced its support for Bashar al-Assad's Syrian regime and claimed it was controlled by "six individuals based internationally".
A pinned tweet read: "Want to get out of school for a day? Want to divert the police away from a crime you're going to commit? Email us."
A separate advert posted online contained a pricelist ranging from "$5 for a school" and "$50 for major sporting events".
Businesses, workplaces, courts and conventions were also on an optional list of targets, although the post said anything not listed would be "negotiable".
"Additionally, you may have a person of your choice framed for an extra $5 in Bitcoin," it added.
"If you wish to have this done, please send us their contact details and/or social media accounts. Thank you."
The post, ending "peace out", was still online advertising the group's supposed services on Thursday as police investigated the latest round of bomb threats around Birmingham.
West Midlands Police said its officers found there was no credible risk to the 14 affected schools after teachers raised the alarm when calls started rolling in at around 8am.
Detective Inspector Colin Mattinson said: "At this stage there is nothing to suggest there is any credible threat to any of the schools.
"Our response officers have been sent to the locations to ensure there is no threat to anyone's safety and support the schools.
UK news in pictures

Show all 50
"A police investigation is on-going to find the person responsible for these calls."
Several of the affected schools in Birmingham, Oldbury, Tipton and other parts of the county were evacuated on Tuesday after similar threats.
The Paris schools received "practically identical" calls for an hour starting at 10.20am (9.20am GMT), French police said.
Students at Charlemagne, Fenelon, Montaigne, Condorcet, Henri IV and Louis le Grand schools were moved to secure areas while police carried out searches, while schools in England were temporarily shut down.
Similar phone threats started with four schools in the Black Country, causing hundreds of pupils to be evacuated before police confirmed they were hoaxes.
Police could not confirm whether the threats were from the same source or part of a co-ordinated hoax and inquiries continue.