Exclusive: Calls for Greater Manchester Police chief to be suspended as inquiries into 'botched' rape cases begin
Sir Peter Fahy accused over botched operation that exposed teenager to sex offence suspect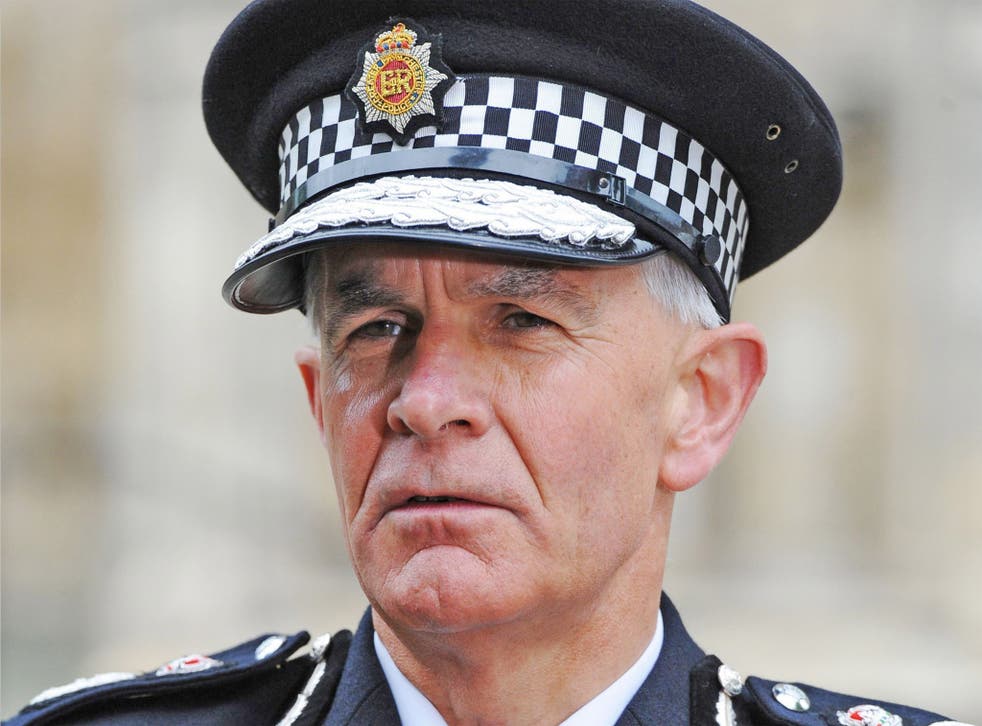 Ten investigations have been launched into alleged mishandling of sexual assault and rape cases by one of Britain's biggest police forces, The Independent can reveal – as its Chief Constable is at the centre of an inquiry into a botched surveillance operation in which a vulnerable teenager was allegedly allowed to enter the residence of a known criminal who was suspected of a sex offence.
Sir Peter Fahy was facing calls to resign as head of Greater Manchester Police (GMP) in the wake of the Independent Police Complaints Commission's (IPCC) announcement that he had been served with criminal and gross misconduct notices following a series of claims by a whistleblower.
Two other senior serving officers – a Detective Superintendent and a Detective Chief Inspector – are facing similar inquiries over their involvement in the same case. A retired officer is also being investigated.
The Independent understands that the IPCC inquiry will centre on claims that senior officers were so intent on gathering evidence against the known criminal that they apparently overruled calls for the covert surveillance operation to be cancelled to protect the child.
A fourth senior GMP officer, Assistant Chief Constable Terry Sweeney – the former deputy head of the new police investigation into the Hillsborough disaster – is also to be investigated for alleged misconduct over the disposal of body parts from victims of the serial killer Harold Shipman, the IPCC said.
The crisis facing some of the most senior figures at the force comes as an investigation by the Bureau of Investigative Journalism found that GMP was facing more IPCC inquiries into its response to sex crimes than any other force.
In the past two and a half years the watchdog has launched a total of 10 inquiries into alleged mishandling of sexual assault and rape complaints by officers in Greater Manchester. These 10 include the operation against the known criminal.
The Labour MP for Rochdale Simon Danczuk called for Sir Peter to be suspended – a demand that was rejected by the Police and Crime Commissioner Tony Lloyd. The MP said the failure to act put the vulnerable at continuing risk of rape and sexual abuse.
"If any frontline officer were facing serious allegations like this they would be suspended immediately," Mr Danczuk said.
"Several months ago I raised concerns about GMP's response to sexual violence complaints with the Chief Constable. My view is that this is a cultural problem – the culture needs to change, from the top. Because that hasn't happened, the force is not learning lessons from what has gone before," he added.
Sir Peter said he was faced with "making complex decisions on a daily basis" and that it was right that this should be held to account as part of the latest investigation. Mr Lloyd said there was no evidence to justify the Chief Constable's suspension.
The Bureau's investigation revealed that GMP accounts for more than a fifth of all inquiries relating to investigations of sexual assault and rape started by the police watchdog in England and Wales between 1 January 2012 and 17 June 2014. The data shows there have been more investigations into handling of sex crimes at GMP, which is responsible for the protection of 2.7 million people, than at the Metropolitan Police, the country's biggest force.
Among those cases currently being examined are those of Tracy Shelvey, who killed herself when her alleged attacker was cleared of rape after two trials involving seven victims, and Linzi Ashton. Ms Ashton was killed by her ex-partner who had a history of violence and even offered to give himself up to police shortly before her savage murder in 2013.
At the Met, which has repeatedly been criticised over the last decade for its management of sexual offence complaints, only six inquiries have begun since 2012. No similar investigations have taken place in that time at Merseyside Police, West Yorkshire or West Midlands Police.
Two of the 10 inquiries relate to the force's handling of rape allegations that were made as recently as November 2013. The publication of an internal inquiry, supervised by the IPCC, into the force's handling of the Rochdale investigation into grooming was due to be published last month but was postponed. This internal inquiry is not included in the 10 inquiries opened since 2012.
So far the 10 investigations have resulted in disciplinary action being taken against officers in two cases whilst a further eight are still active. The majority of the investigations into GMP since 2012 have been run by the police watchdog, meaning the complaints are considered particularly serious.
A report by published earlier this year found GMP had failed to record almost 30 per cent of crimes reported to it. The report, which focused on 13 forces, highlighted a failure to record rapes. However the report did not specify whether GMP was one of the forces which were falling short in this regard.
The force has also been heavily criticised by Her Majesty's Inspectorate of Constabulary this year for "serious weaknesses" in its response to the victims of domestic violence.
Chief Inspector Mike Dawson, of GMP's Professional Standards Branch, said in common with other forces there had been an increase in complaints in relation to sexual offences.
"Investigations into these serious sexual offences deal with difficult, serious and sensitive issues which can often lead to allegations of mishandling," he said.
He added: "GMP's approach to investigating sexual offences is victim-focused and we work extremely hard with our partners to provide care and support to those who come forward and report what has happened to them.
"We recognise that we do not always get things right and are constantly striving to improve what we do."
Chief suspects: Other top officers investigated
The investigation into Sir Peter Fahy is one of several into the top ranks of policing.
The Chief Constable of West Yorkshire is suspended on full pay as police in Northern Ireland investigate allegations of bribery and misconduct over the awarding of a vehicle contract. Mark Gilmore (pictured below), who spent more than 20 years in service in Northern Ireland, was suspended in June following the arrest of seven men. Mr Gilmore denies any wrongdoing. He was the successor at West Yorkshire to Sir Norman Bettison, who quit after he was referred to the police watchdog over claims he was involved in a cover-up over the Hillsborough disaster.
Nick Gargan, the Chief Constable of Avon and Somerset, was suspended in May for alleged inappropriate advances towards young women working on his force. While he was suspended, he was told that he faced a criminal investigation into claims that he leaked emails about police business.
In addition, the Crown Prosecution Service has been sent papers on two other serving chief constables, following an investigation into claims that their former force, Staffordshire, withheld details of activities by a corrupt unit. The police watchdog investigated 14 officers, including the current chiefs at Gloucestershire, Suzette Davenport, and Northamptonshire, Adrian Lee. Five junior officers have been cleared. A decision is pending on the remaining nine officers.
Only one chief officer has been sacked since the late 1970s. Sean Price, the former head of Cleveland police, was removed for gross misconduct in 2012 after lying about his role in the recruitment of the daughter of the head of the former police authority.
The force was at the centre of a long-running investigation into corruption led by the current head of the National Crime Agency but prosecutors ruled that no one should be charged.
Paul Peachey
Profile: Sir Peter Fahy
Sir Peter Fahy caused a stir this week when he called for police to have expanded powers to examine medical records without an individual's consent, to help officers deal with vulnerable people.
It was just the latest intervention by one of the senior officers most willing to confront publicly the thorny issues of modern policing.
The IPCC inquiry he now faces comes after a 33-year police career in five forces which included a spell as Chief Constable of Cheshire before he was promoted to become head of Greater Manchester Police.
Sir Peter, married with four children, was knighted in 2012 and has held a number of senior posts forming policy for the service.
His force was charged with breaching health and safety laws following the shooting by his officers of an unarmed man, Anthony Grainger, in 2012. Although Sir Peter was named on the charge sheet, he does not bear criminal responsibility for the shooting. His force has pleaded not guilty to the charge.
Paul Peachey