Exclusive: UK banks in row over Yulia Tymoshenko 'millions'
Report's claims of accounts across the world are 'lies', says ex-Ukraine PM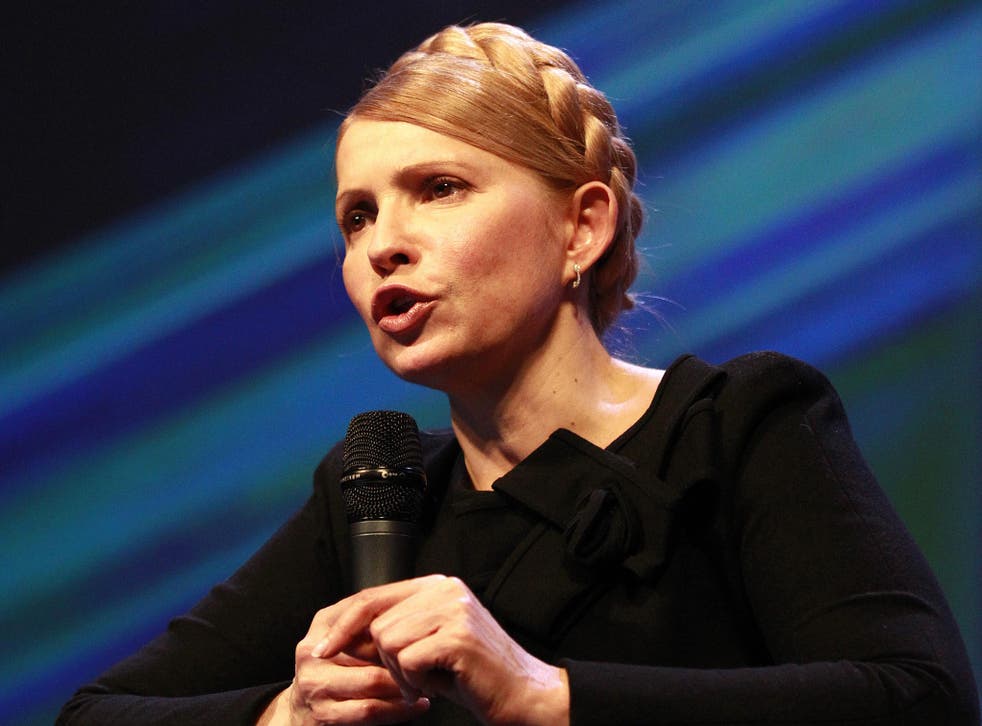 Prominent UK banks are at the centre of a dispute over allegations that numerous foreign accounts were set up in the name of former Ukrainian Prime Minister Yulia Tymoshenko and her family.

A leaked report, seen by The Independent, claims that 85 bank accounts containing millions of pounds were linked to Ms Tymoshenko and relatives.
This global review of Ms Tymoshenko's finances was carried out in parallel to a wider investigation by Lawrence Graham, the London law firm, which was commissioned last March by the then-Ukrainian Ministry of Revenues and Duties of toppled president Viktor Yanukovich to trace assets allegedly misappropriated by the former prime minister.
The new inquiry reviewed 278 bank accounts in 26 countries and claimed that Ms Tymoshenko or her family were either beneficiaries or signatories to accounts which included a number of UK banks although it says these are now closed. The report claimed that 13 bank accounts in countries all over the world remain open. But the Tymoshenko camp is adamant that she has not been involved in any commercial activity since she became a politician in early 1997.
Her lawyer, Sergey Vlasenko, said of the allegations of foreign accounts: "This is a direct lie and not true… She has had no property, no assets, no accounts in USA, UK and Switzerland."
He added: "We are absolutely pure and open to talk to anyone who wants to investigate us"
Mr Vlasenko argues that information given to the investigation "has been falsified and is part of a big dirty propaganda war" against the former prime minister who is expected to stand for president in May. "This [investigation] was sponsored by the Yanukovych regime to discredit Mrs Tymoshenko", he told The Independent.
The Yanukovich regime previously hired Lawrence Graham to trace more than $200 million which the former Ukrainian government alleged was siphoned off by Tymoshenko and another former Ukrainian Prime Minister Pavlo Lazarenko, among others. The funds allegedly disappeared from the mid-1990s onwards at a time when Tymoshenko ran United Energy Systems. UES was awarded the monopoly rights by Lazarenko, then Prime Minister, to import Russian gas into Ukraine. These allegations were entirely separate to those which much later saw Tymoshenko jailed, and which were widely criticised as politically-motivated.
The allegations in relation to UES and Tymoshenko were however rejected during a criminal investigation in the USA into Lazarenko. In 2004 Lazarenko was convicted of money laundering, theft and hiding the funds in foreign accounts. Most of his Appeal was rejected and he was sentenced to eight years in a California prison.
The indictment stated: "It was further part of the conspiracy that Lazerenko received money from companies owned or controlled by Tymoshenko, including United Energy Systems, in exchange for which Lazarenko exercised his official authority in favour of Tymoshenko's companies". The US Prosecutor, Martha Boersch, had claimed that she "had evidence that companies controlled by Tymoshenko took part in the schemes for transferring money to Lazarenko's accounts. There were bank statements". The new report, commissioned outside the Lawrence Graham investigation, claims that amongst these was an account at a London bank in the name of United Energy Systems which contained £40million. But Tymoshenko was not arrested or charged with any offence and in 2004 the US court dismissed all the allegations in the indictment concerning Lazarenko's relationship with UES and Tymoshenko, saying there was "insufficient evidence to confirm these schemes."
The US prosecutors found assets all over the world, notably a NatWest bank account based in London Bridge. The account contained £40 million and was in the name of United Energy Systems with the joint beneficiaries being Lazerenko and Tymoshenko's husband Oleksander.
Tymoshenko's lawyers deny that she has opened a bank account since she became a politician and that the US case exonerated her: "The US case was launched because Kuchma (president of Ukraine at the time) did his best to provide the US prosecutor with all the information, but the court ruled that there was not even small evidence of any corrupt activity by Mrs Tymoshenko."
Tymoshenko is a polarising but pivotal figure in the current crisis and turmoil in Ukraine. She is expected to be a contender in the forthcoming presidential election. But her track record as prime minister in 2005 and between 2007 until 2010 will be under scrutiny, because the demonstrators are demanding a zero tolerance of corruption after the demise of President Yanukovych. "Tymoshenko belongs to the old generation of Ukrainian politics", Orysia Lutsevych, a Ukrainian analyst based at Chatham House, told 'The Independent'. "After the Orange Revolution she did nothing to reform economy and establish rule of law. Instead, she focused her attention on infighting inside the Orange Coalition in order to prepare her presidential race. Most people on the [Maidan] square were not demanding her release."
But her supporters hail Tymoshenko as a hero for her role in the Orange revolution of 2004 and regarded her as a political prisoner when she was jailed during Yanukovych's rule over a gas deal with Russia which she arranged while she was prime minister. Her lawyer Geoffrey Robertson argued last week: "Tymoshenko was accused of abuse of office, because she made a deal with Putin when he stopped gas supplies to Ukraine in the winter of 2009...Her actions, taken to avoid a humanitarian disaster, cannot rationally be regarded as a crime. But for making what her enemies called a 'bad deal', she was jailed."
This article was amended on 24 March to make clear that the 'leaked report' to which it refers, while produced in parallel to a wider investigation by London law firm, Lawrence Graham, was not part of that investigation. Lawrence Graham have confirmed they did not commission the report and were not aware of its findings.
Representatives of Yulia Tymoshenko have asked us to reiterate her position that the report's allegations are without foundation. 
Register for free to continue reading
Registration is a free and easy way to support our truly independent journalism
By registering, you will also enjoy limited access to Premium articles, exclusive newsletters, commenting, and virtual events with our leading journalists
Already have an account? sign in