FGM cutters 'being flown into UK to mutilate girls to order', survivor warns
Exclusive: 'We need to open our eyes ... it could happen anywhere,' says campaigner amid programme to warn primary school children
Lizzie Dearden
Home Affairs Correspondent
Monday 01 October 2018 09:27 BST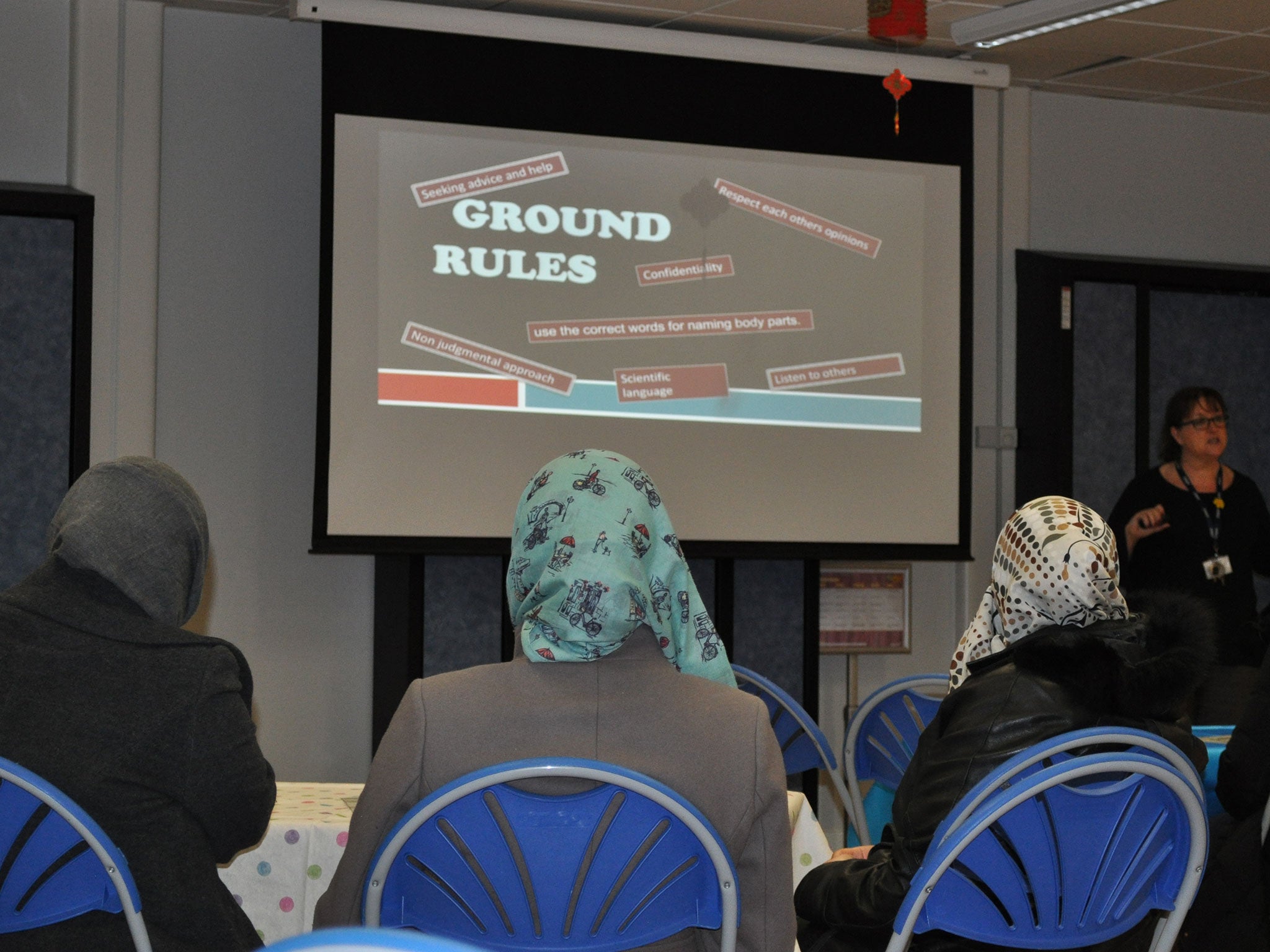 So-called cutters are being flown into the UK to perform female genital mutilation (FGM) on young girls, a campaigner has warned.
Hoda Ali, an FGM survivor and activist who works in safeguarding in Ealing in west London, said families were paying for the practice in the UK as well as taking children abroad.
"The practising community talk together, saying, 'My girl needs to be cut', and pay the cutters to come into the UK and cut the girls here," she told The Independent.
"The reality is we need to open our eyes. We don't need to think just about faraway countries because right now we have girls who are in their late teens or even early twenties who were cut in this country. They are British girls who were born here and they were cut here."
Ms Ali said that despite improvements in UK laws against FGM and awareness, data on the extent of procedures in Britain does not exist because of the secrecy still surrounding the practice.
"We know this is happening from talking to survivors who were cut in the UK ... it could be in Sheffield, in Birmingham, in London – it could be anywhere because if you believe something they are going to do it," she added.
"Things are changing but we know there are medical professionals from practising communities are for FGM and who will cut girls still, even here in the UK."
Both police and the National FGM Centre have received reports of cutters being brought into the UK from countries in Africa where mutilation is prevalent, but none have yet contained "actionable intelligence" that could lead to a prosecution.
Operation Limelight, which sees police, the Border Force officers and social workers intercept flights from countries in Africa and the Middle East where FGM is prevalent, aims to raise awareness and prevent girls being taken abroad to undergo the procedure.
Operation Limelight: The FGM unit operating in Heathrow Airport to intercept families taking their children to be mutiliated
Officers have previously been instructed to stop older women travelling alone and search luggage for potential cutting implements.
Commander Ivan Balhatchet, the National Police Chiefs Council lead for FGM, said it constitutes "child abuse, a crime and a human rights violation".
It is "a global issue that transcends our borders," he added. "There are over 30 communities that practice FGM in some way but there is real variation in how, why and where they commit it.
"This means we need as much information and intelligence from communities and professionals to help us understand the range of travel routes and target cutters.
"We do not have specific intelligence about cutters being brought to the UK but we urge anyone with information about female genital mutilation to share it with the police to help build our intelligence picture.
"A multi-agency and international response is needed to address this incredibly complex issue so that we can safeguard those who are vulnerable and help prevent FGM."
According to the most recent NHS statistics, 1,015 cases were newly recorded between January and March this year, although the procedures may have been performed many years before.
It brings the total number of survivors recorded in the UK to 17,330 since 2015 but Ms Ali believes that is a fraction of the true number, which has been estimated at 100,000.
The concern was echoed by an academic study published this week, which found the mandatory reporting procedures brought in for health workers, social care agencies and teachers have been "more symbolic than effective".
FGM victim and Dahlia Project founder on the culture of the practice within family groups
Researchers from The Pennine Acute Hospitals NHS Trust and University of Salford called for national data to be collected by a central authority, led by a dedicated FGM Commissioner.
Professor Andrew Rowland said a "huge mismatch" between health and police data "suggests that the medical reports are not being followed up and the true scale of FGM is not being properly investigated".
FGM, which refers to any procedure that intentionally alters female genital organs for non-medical reasons, can result in death, internal injuries, infection, long-term health problems and complications in childbirth.
It has been illegal in the UK since 1985 and the law was strengthened in 2003 to prevent girls travelling to undergo FGM abroad.
But there are yet to be convictions in Britain, with two prosecutions under specific FGM laws and a child-cruelty case related to FGM resulting in acquittals.
As well as prosecuting people for FGM, British authorities also use court-issued protection orders to prevent potential victims from being taken abroad.
Despite mounting awareness, police have said intelligence on the practice is "woeful", while prosecutions were frustrated by FGM happening abroad and victims being unwilling to give evidence against relatives.
Ms Ali, who underwent FGM at the age of seven in Somalia, believes education is a more effective tool against the practice than prison sentences.
"My mother was cut, my grandmother, my great-grandmother, all the women before me," she said.
FGM tribal circumcision ceremony in Baringo County
Show all 12
"Even though they knew the suffering and the pain, they were doing what they were doing so we could fit into society, we can go to school and not be bullied, we can be married. So a lot of the parents had that pressure on them, from society, from everywhere else."
She said that some first-generation immigrant communities are not aware of the law against FGM and she is working to educate parents in London.
Ms Ali said: "At the end of the day it's not good for anybody to put the mother and father in jail and put children in care. What is that bringing for them? What life is that child going to have? Instead of concentrating on breaking families we need to concentrate on the education so they know the law."
She is currently working on a programme teaching thousands of primary school children, teachers and parents about FGM and other welfare issues.
Three mothers from Africa and the Middle East have so far disclosed that they underwent the practice themselves and sought help as part of the training, and Ms Ali would like to see it spread across the UK.
"I was cut at seven years old, so if we are educating boys and girls in secondary school it might be too late," she added. "We need to educate parents, we need to educate children, we need to educate ourselves in order for this practice to end."
Yvonne Johnson, cabinet member for schools and children's services in Ealing council, said: "Despite being illegal since 1985, FGM remains far too common and we are determined to change this."