Female genital mutilation in England and Wales 'not being properly investigated' due to lack of data
'The improvements made in law and practice in 2013 have not been subject to meaningful evaluation which puts any progress towards the eradication of FGM at risk,' says researcher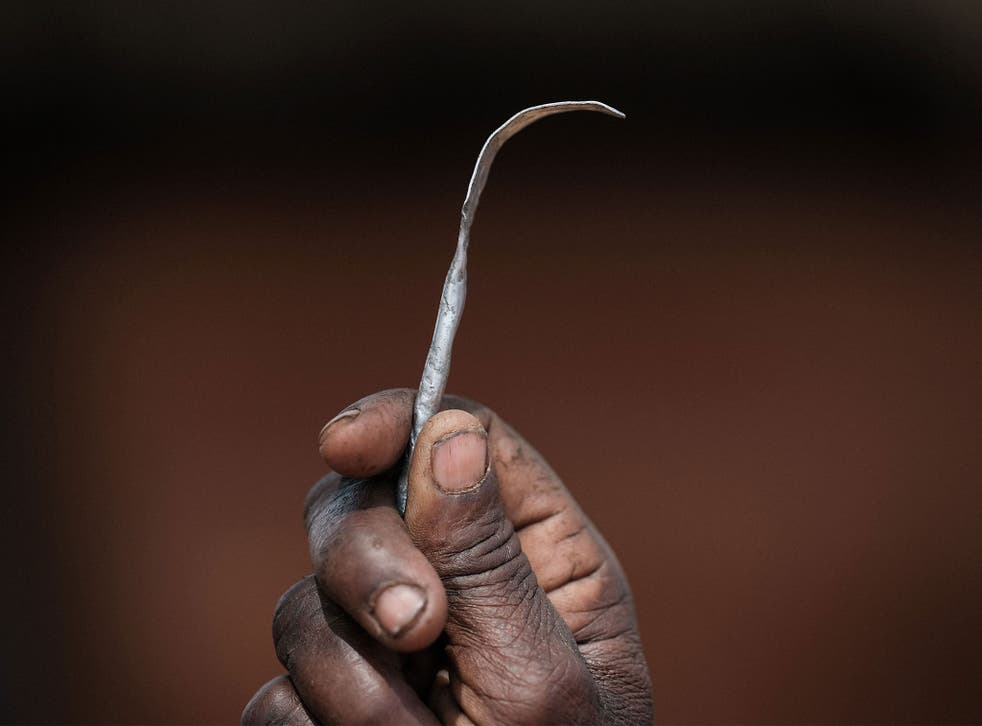 The scale of female genital mutilation (FGM) in England and Wales is not being properly investigated due to a lack of consistent high-quality data, according to new research.
FGM, a term which refers to any procedure that intentionally alters female genital organs for non-medical reasons, has been illegal in Britain since 1985 but the law was strengthened in 2003 to prevent girls travelling to undergo FGM abroad.
However, it is estimated that in 2015 there were more than 100,000 women and girls living in the UK who had endured female genital cutting, which is linked with severe long-term complications.
The new report - by experts from The Pennine Acute Hospitals NHS Trust, the University of Salford and a prominent barrister - suggested the mandatory reporting of FGM was "more symbolic" than genuinely effective.
Despite the fact health, social care and education professionals have had a mandatory duty since October 2015 to report any verified or suspected cases of FGM to police, their study discovered a significant disparity between FGM data gained from the Health and Social Care Information Centre (HSCIC) and data obtained from police authorities.
The researchers said national data should be gathered by a central authority fronted by an FGM commissioner.
The study examined the number of FGM cases reported to police before and after mandatory reporting of FGM was implemented, in an attempt to determine how the legislation had influenced the process.
Of 45 police authorities in the UK, just six responded initially to a Freedom of Information request, with three stating that no cases of FGM had been reported to them between October 2014 and February 2016.
Police Scotland and Greater Manchester Police provided a detailed response while the Metropolitan Police Service confirmed the number of cases of FGM reported to it. A further nine police authorities provided some data, either in an initial response or on appeal after initially rejecting the request.
"At the present time our study has identified that the mandatory reporting and recording of FGM is more symbolic than effective," Professor Andrew Rowland, who carried out the research among others, said.
"The law underpinning mandatory reporting of FGM requires full scientific evaluation so that improvements to processes can be made to guide implementation of meaningful evidence-based strategies to more effectively combat this terrible crime in the future," he added.
The Health and Social Care Information Centre has reported that there were on average 481 new reports of FGM each month across England between October 2014 and October 2015. In comparison, there were only 145 cases of FGM reported by Police Scotland, Greater Manchester Police and the Metropolitan Police Service combined for the entire period.
Professor Rowland said the disparity showed the actual scope of FGM was not being correctly investigated.
"This huge mismatch between HSCIC and police data suggests that the medical reports are not being followed up," he added.
"The HSCIC records the diagnosis of FGM in girls and women of any age but this only has to be reported to police if a girl is under the age of 18 at the time the concern is raised.
World news in pictures

Show all 50
"Reporting would be much more effective if there was a joint approach to data collection. Some of the police forces we contacted had concerns about sharing data in case it led to the impression that confidentiality had been broken, while others such as Greater Manchester Police quite properly gave us detailed and transparent data.
"We really need an effective system for linking recording and reporting with anonymised data available so that frontline professionals and policymakers can respond to the needs of affected women and children.
"This is a major issue of concern to all health professionals as the health consequences of FGM are potentially catastrophic."
The study also found that existing FGM data was not held in a format that helps policymakers and professionals to target preventative strategies towards specific age groups and their communities, while police forces were not gathering data or responding to requests for information about FGM in a consistent way.
The Home Office and Office for National Statistics were aggregating FGM data with other assaults up until April 2018 – meaning the value of recording the data was lost.
"FGM is a continuing violation of the rights of women and girls. Our research shows that the improvements made in law and practice in 2013 have not been subject to meaningful evaluation which puts any progress towards the eradication of FGM at risk," Professor Felicity Gerry QC, who carried out the research among others, said.
At least 16,265 women and girls living in the UK have told doctors they have suffered FGM but officials believe the figure is the tip of the iceberg as the practice continues to be underreported.
NHS figures show that almost 4,500 women and girls came forward for the first time in the year to March, although the procedure may have been carried out years before and occurs overseas in most instance.
According to the World Health Organisation, the proportion of women who have undergone the procedure in some countries is as high as 96 per cent, with the highest rates including Somalia, Guinea, Egypt and Sudan.
Register for free to continue reading
Registration is a free and easy way to support our truly independent journalism
By registering, you will also enjoy limited access to Premium articles, exclusive newsletters, commenting, and virtual events with our leading journalists
Already have an account? sign in
Register for free to continue reading
Registration is a free and easy way to support our truly independent journalism
By registering, you will also enjoy limited access to Premium articles, exclusive newsletters, commenting, and virtual events with our leading journalists
Already have an account? sign in
Join our new commenting forum
Join thought-provoking conversations, follow other Independent readers and see their replies