As it happened
ended
1517509843
Finsbury Park attack trial - as it happened: Darren Osborne faces life imprisonment after being found guilty of murder
Father-of-four from Cardiff had denied the offences
Lizzie Dearden
Home Affairs Correspondent
Thursday 01 February 2018 10:41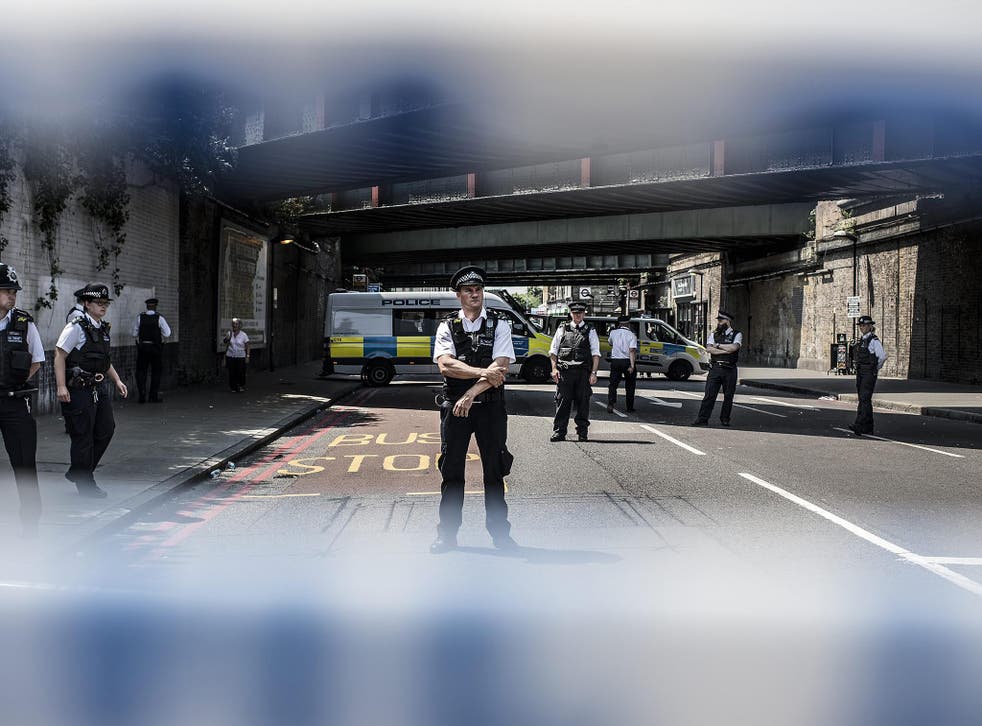 The Finsbury Park terror attacker faces life imprisonment of being convicted of murder and attempted murder.
A jury took just under an hour to reach the unanimous verdicts, disregarding Darren Osborne's unsubstantiated claim another man ploughed a van into Muslim worshippers leaving mosques after Ramadan prayers.
The atrocity, shortly after midnight on 19 June, killed one man and injured nine other victims.
Justice Cheema-Grubb said she would sentence Mr Osborne on Friday morning.
Thanking the jury for their service, she added: "These verdicts have an impact far wider than inside this courtroom...they are one of hte most important things you have done in your lives."
Scroll down to read how we covered today's proceedings.
Please allow a moment for the live blog to load
Prosecutors had accused Mr Osborne of conjuring his unexpected defence "out of thin air" and urged jurors to dismiss the "frankly absurd" account on Wednesday.
The father-of-four took to the stand for a second day to tell Woolwich Crown Court the deadly attack was carried out by a man called Dave, who was not seen by witnesses or recorded on CCTV.
"He's like Dynamo, he's an illusion, an illusionist, he can make himself vanish perhaps, I don't know," Mr Osborne told the jury.
The 48-year-old claims he, Dave and another man called Terry Jones planned to attack a pro-Palestinian march in London, hoping Jeremy Corbyn would attend, but were thwarted by road closures.
Mr Osborne told the court that he "wasn't interested" in finding a new target after driving from Cardiff on 18 June and did not plan to kill Muslims in Finsbury Park, instead believing they were going to a pub.
He claimed that Dave jumped into the van in the four seconds it was not filmed on CCTV and ploughed it into a group of Muslim worshippers helping a collapsed man.
Finsbury Park attack

Show all 14
Asking how Dave allegedly took over while the van was moving at speed, Mr Osborne said he put it in neutral and "shimmied over real quick".
He had "no answer" to a series of questions on why he supposedly decided to change his trousers in the footwell and did not pull over, adding: "We're a peculiar bunch of guys."
Prosecutor Jonathan Rees QC said the defendant's account was a "desperate attempt" to evade responsibility.
Closing the prosecution's case, Mr Rees said the involvement of Dave and Terry was a "fabrication" the defendant cobbled together after hearing days of evidence against him.
Body-worn camera footage shows Mr Osborne telling police he was the van's driver, initially claiming he lost control before later launching into a rant about Muslims, saying: "At least I had a proper go."
A police officer who interviewed the suspect in hospital recorded him saying he was "flying solo" and that no-one else was involved in the attack.
1517475542
Good morning and welcome to our live coverage from the Finsbury Park terror attack trial at Woolwich Crown Court.
This morning, the jury is due to hear the closing speech by the defence. The judge will then sum up the case and they will be sent out to consider their verdict.
Here is a summary of what the court heard yesterday:
Lizzie Dearden
1 February 2018 08:59
1517481689
The jury has filed in ready for proceedings to begin
Lizzie Dearden
1 February 2018 10:41
1517481866
The defence barrister, Lisa Wilding QC, is addressing the jury and urges them to use their "fairness and common sense".
"Your decision must not be influenced by emotion, but must be a purely rational one because you decide this case in your heads, and not your hearts," she says.
Lizzie Dearden
1 February 2018 10:44
1517482284
Ms Wilding says the "serious and troubling" case must be decided solely on the evidence and with "no pressure, no fear, no sense of what should be done to please and appease others."
Lizzie Dearden
1 February 2018 10:51
1517482508
Ms Wilding: "You are to decide whether the case has been proved on the evidence, you must not decide this case because you feel that the tragic and unnecessary death of Makram Ali should be marked - you must only decide this case on the evidence you hae seen and heard and read."
Lizzie Dearden
1 February 2018 10:55
1517482553
Ms Wilding says the jury must be convinced that Mr Osborne was driving the van and of what he intended - "not on speculation, not on guesswork, not on 'what if' but on the evidence."
Lizzie Dearden
1 February 2018 10:55
1517482702
Ms Wilding confirms Mr Osborne accepts his partner's account of him becoming "obsessed" with Muslims, does not deny calling them terrorists, admits hiring the van to attack the Al-Quds Day march and writing the note found inside it.
"It may be that you find those views repugnant, but you wil not try this case on those views."
Lizzie Dearden
1 February 2018 10:58
1517483005
Ms Wilding asks: "Why would a man so intent on killing, as he agrees he was, who appears to want to have his say and to proclaim his cause and views - why would he deny doing the thing he set out to do if in fact he had done it?"
Lizzie Dearden
1 February 2018 11:03
1517483321
Ms Wilding is closing her speech. She says: "There is no doubt that the death of Makram Ali andb  injury of others was unnecessary, unjust and tragic...has the prosecution made you sure or has the defendant raised a doubt?"
Lizzie Dearden
1 February 2018 11:08
1517483362
The defence's closing speech and the jury is beings sent out for a short break, after which the judge will sum up the case.
Lizzie Dearden
1 February 2018 11:09