Finsbury Park terror trial: Darren Osborne's claim another man was driving van dismissed as 'absurd'
'He's an illusion, an illusionist, he can make himself vanish perhaps, I don't know,' defendant tells court
Lizzie Dearden
Home Affairs Correspondent
Wednesday 31 January 2018 20:41 GMT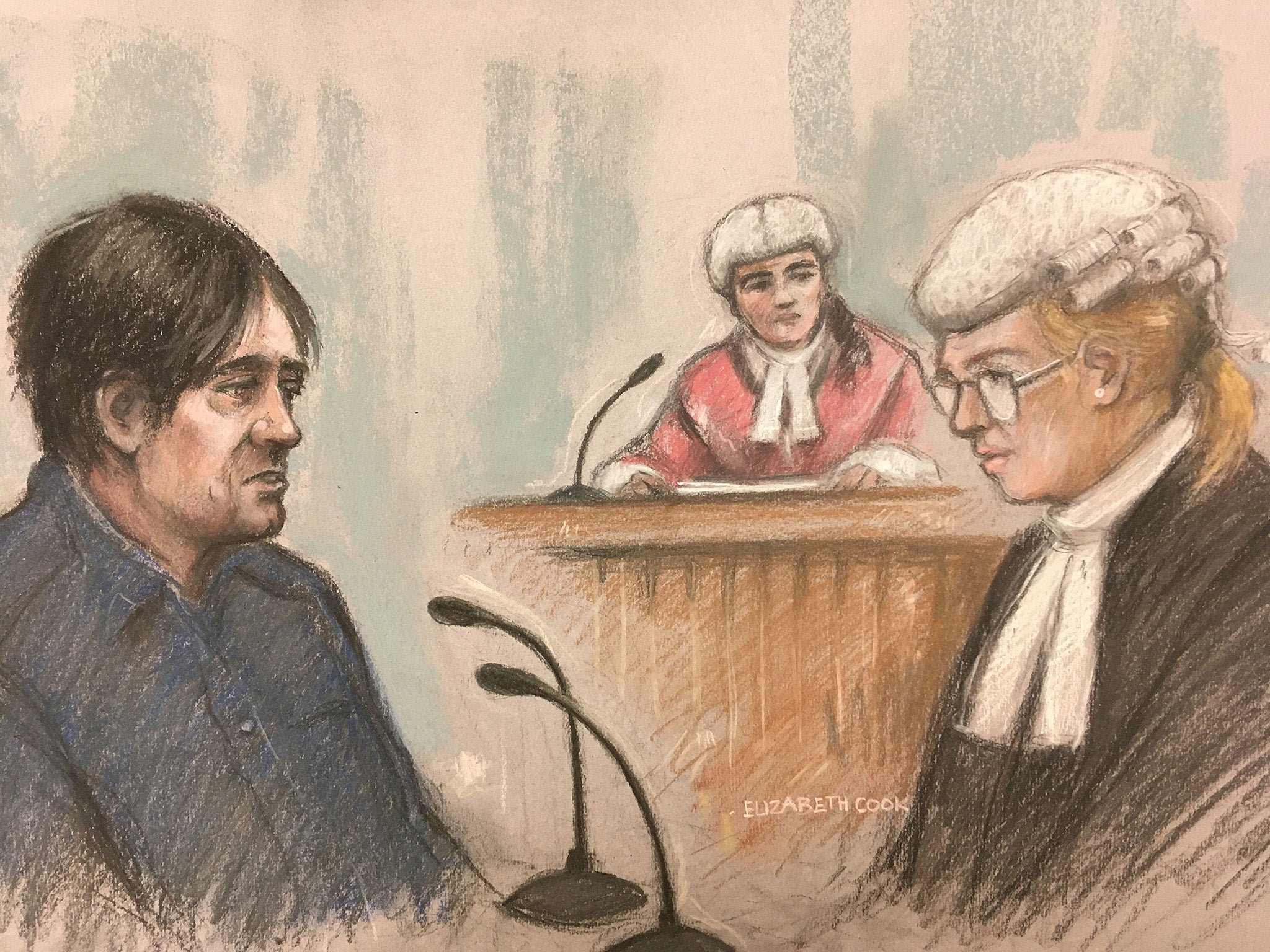 The alleged Finsbury Park attacker has claimed that another man was behind the wheel of a van that ploughed into a group of Muslims and that he then "vanished" like the famed illusionist Dynamo.
Darren Osborne told Woolwich Crown Court that a man called Dave was driving. The father-of-four denied knowing that he was going to drive into pedestrians.
"He's like Dynamo, he's an illusion, an illusionist, he can make himself vanish perhaps, I don't know," Mr Osborne told the jury.
Prosecutors accused Mr Osborne of conjuring his defence "out of thin air" and urged jurors to dismiss the "frankly absurd" account.
The 48-year-old denies charges of murder and attempted murder over the incident on 19 June, which left one man dead and injured nine others.
He admitted that along with Dave and another man called Terry Jones he planned to attack a pro-Palestinian march in London which he hoped Jeremy Corbyn would attend.
But he told the court that he "wasn't interested" in finding a new target after driving from Cardiff on 18 June and did not plan to kill Muslims in Finsbury Park. Instead he believed they were going to a pub.
He claimed that Dave jumped into the van in the four seconds it was not filmed on CCTV and ploughed it into a group of Muslim worshippers helping a collapsed man.
Asking how Dave allegedly took over while the van was moving at speed, Mr Osborne said he put it in neutral and "shimmied over real quick".
He had "no answer" to a series of questions on why he supposedly decided to change his trousers in the footwell and did not pull over, adding: "We're a peculiar bunch of guys."
Prosecutor Jonathan Rees QC said the defendant's account was a "desperate attempt" to evade responsibility.
Closing the prosecution's case, Mr Rees said the involvement of Dave and Terry was a "fabrication" the defendant cobbled together after hearing days of evidence against him.
The prosecutor told the court that no defence statement was submitted until Friday and that Mr Osborne then repeatedly contradicted it during cross-examination to further minimise his involvement.
"The defendant has conjured up the defence out of thin air," Mr Rees said. "If there was any truth that Dave was in any way responsible for the attack, the defendant would have chosen to tell police."
Earlier in the trial, the jury were shown body-worn camera footage of Mr Osborne telling police he was the van's driver, initially claiming he lost control before later launching into a rant about Muslims. "At least I had a proper go," he said.
A police officer who interviewed the suspect in hospital recorded him saying he was "flying solo" and that no-one else was involved in the attack.
"Dave didn't vanish into thin air – he was never there in the first place," Mr Rees said.
"In his mind, the defendant had cast all Muslims as criminals and decided to take matters into his own hands and punish them… the sad and depressing truth is that he intended to kill as many members of the group as possible."
Mr Osborne insisted that he did not carry out the attack himself but did not retract comments he admitted making in a written note and to police.
He repeated the sentiments in court, launching into a rant accusing Muslim men of raping white girls en masse and alluding to grooming gangs and the Quran.
"I wouldn't suggest I'm a madman, just angry," Mr Osborne added.
His wife, Sarah Andrews, previously told the court he was being treated for depression and had considered suicide in the weeks leading up to the attacks.
But Mr Rees said a psychiatric assessment found no illness that would have diminished responsibility.
He said the atrocity was inspired by a "hatred of all Muslims that had its roots in the material Mr Osborne had watched on television and viewed online".
The "catalyst" was a drama on grooming gangs in Rochdale, Mr Rees added, saying his hatred was fuelled by online research and the Isis-inspired attacks in Manchester and London Bridge.
"The evidence proves that the defendant set out alone, on a venture of his own and not with Terry and Dave, to kill Muslims," the prosecutor told the jury. "Don't let him pull the wool over your eyes."
The trial continues.