Forced marriage: One British woman's story shows how much it matters to step up the fight
One sentence reveals the shocking abuse - Malika was told: 'I just want to test you for my brother and see if you're good enough'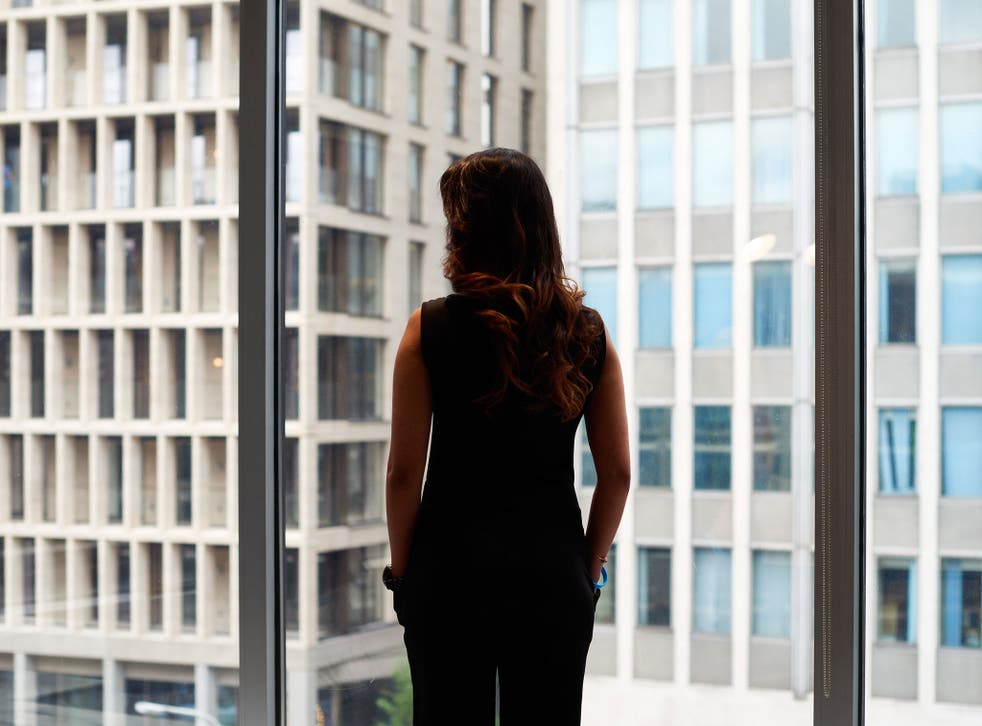 As part of The Independent's series of articles on the tradition, here is the story of a British woman who escaped forced marriage and sexual abuse.
Growing up in a London suburb with a close family, Malika* had a happy childhood. When her parents came to Britain from Pakistan several decades ago they brought some traditional views with them, but as their youngest child Malika enjoyed more freedom than her older siblings.
At 18 she qualified as a hairdresser – something she'd always wanted to do – and her parents were happy for her to work, despite reservations from others in the community that the job was of "low" status. But when Malika's oldest sister Rabia got married to their cousin Omar in Pakistan shortly afterwards, things changed.
Rabia was happy to go ahead with the arranged marriage and the whole family was excited to have a new brother. Malika, who is now 21, recalls: "My mum and dad welcomed him with open arms. Asian families like to keep everything very close and every day we'd have a get-together."
Origins of forced marriage cases

Show all 1
Malika was pleased too, and thought having another older brother around would be great. But she hadn't banked on him seeing her very differently. "He'd never been out of Pakistan before and everything was new to him, even the way I was. It was a big culture shock for him.
"As time went on he started to make small comments like, 'You look really pretty today', and I didn't think anything of it. I almost saw him as another brother," Malika recalls.
But he became more blatant – all the while saying his interest was because he was "checking she was good enough" to marry his younger brother, something the families were beginning to negotiate but which Malika didn't want.
He began to come to the house more often and when her parents weren't looking he'd take any chance to grab her. "If I was in the kitchen and my mum and dad were in the lounge he'd put his hands up my top or pinch my bum.
"I'd say 'stop' and that's when he started to say things like: 'What are you going to do, tell your mum and dad? They're not going to believe you. I'm a son, you're just a daughter'. That's what melted me down. By then, he'd made his way into my mum and dad's affections so I started believing it."
Then one day he offered to pick her up from work, telling her the whole family was going for a meal together. "I finished work and got in his car and asked: 'Where's everyone else?' When he said, 'There is nobody else,' I said 'No, I'm not coming with just you, I'm going to tell if you don't stop it.' But I didn't want to tell, I felt like I would bring shame upon myself because he'd manipulated me."
As they drove around she realised they had left the main road and she started to panic. "He said: 'Chill out, chill out, I just want to test you for my younger brother and see if you're good enough.' He was on the driver's side and he put his hand up my top and pushed himself over me. He was a grown man, a lot stronger. I can still remember biting into his arm. I literally ripped a chunk out of it. He still didn't scream and he didn't move. It was as if he was getting pleasure out of seeing me suffer.
"He said, 'You've probably done it before with other guys,' and I thought, 'How can you use me like that?' I'd never done anything sexual before. I pushed him off me and told him to stop. I was crying and said, 'I'm not going to marry your brother. How can you think so disgustingly that you want me to be with your brother, and you're doing this to me?' He said, 'He won't mind. He'll never find out because you're not going to tell a soul and I'm not. And if you do, no one will believe you. They'll always think you were the whore.'"
Eventually he drove her home and the next few days were impossible. "It mentally and physically broke me to pieces. I felt as if the loneliest place was at home because I couldn't talk to anybody. And I thought if I did talk, I'd bring shame to the family. A few days later my mum saw his arm, and he said, 'My car broke down and I hurt it on the car bonnet'. And I thought, 'My mum believes every single word that he's saying, without knowing that he's destroying her daughter.' My sister Rabia – his wife – was blinded too. She's a very innocent soul, she wouldn't see bad in anybody."
After Rabia fell pregnant with Omar's child he became more persistent towards Malika. "He'd tell me, 'I'm bored,' and I thought, 'I've got to go,'" Malika recalls.
At the same time, the pressure for her to marry Omar's brother increased from her parents. "My parents really wanted me to get married. They said: 'Omar's a good person so his brother's going to be good.' I was able to say, 'Not yet, I'm still working,' but towards the end, I was so emotionally drained I thought I'd go ahead with it."
Then one morning last autumn something snapped. "I just woke up and told my parents I was finishing at half six, and I wasn't, I was finishing at four. I didn't even take another pair of clothes with me. I just remember looking at my mum sleeping and thinking this might be the last time I ever see her."
Malika went to the police who helped her find a refuge and let her parents know she was safe but not coming back. It was more than a month before Malika had the courage to call them and tell them what had happened.
"I was always really close to my dad and told him, 'This is what Omar was doing to me but I couldn't tell you, because I didn't want to shame you.' He was so upset," Malika remembers. "He said: 'How could we not have seen our daughter getting almost destroyed?'"
Malika's family still want her to come home, but while Omar and her sister are still together – Rabia says that with children to think of she has no choice – Malika cannot imagine living there.
She has a new career and a new life in another town. "It still kills me to think he can have such an easy life when I'm suffering. My parents want me home and say they are so sorry. But after what happened I don't even think of it as home any more."
* Names have been changed
Register for free to continue reading
Registration is a free and easy way to support our truly independent journalism
By registering, you will also enjoy limited access to Premium articles, exclusive newsletters, commenting, and virtual events with our leading journalists
Already have an account? sign in
Register for free to continue reading
Registration is a free and easy way to support our truly independent journalism
By registering, you will also enjoy limited access to Premium articles, exclusive newsletters, commenting, and virtual events with our leading journalists
Already have an account? sign in