Gang members filmed themselves harassing rival's grandmother after she entered their 'strip'
Drill rap group face ban on making 'inflammatory' music videos after planning attack in revenge for footage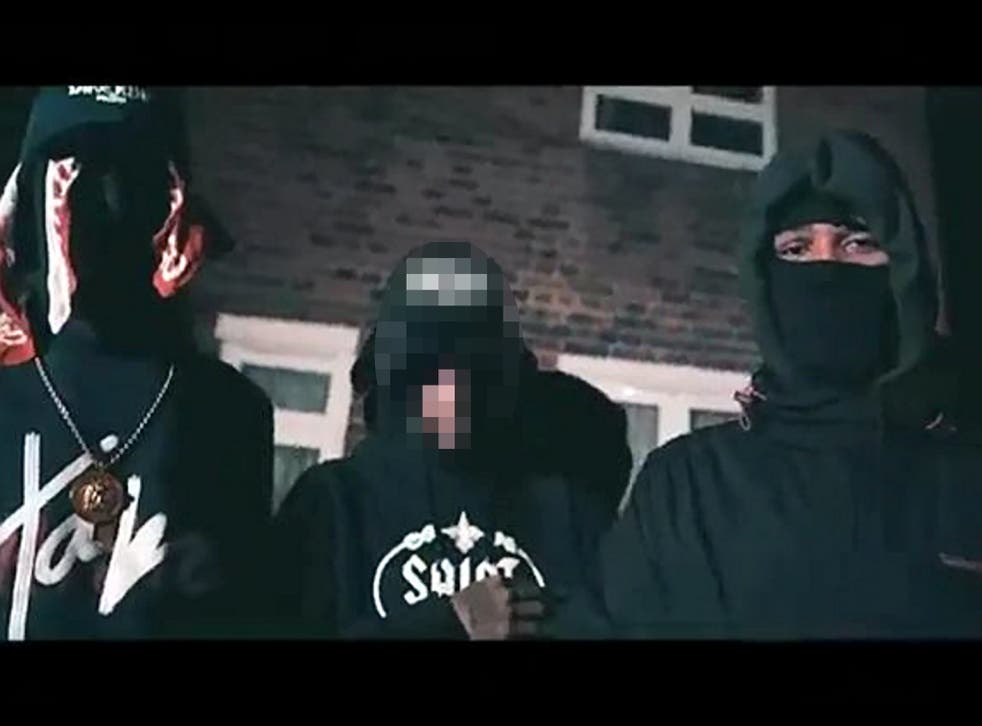 Five gang members who face a ban on making "inflammatory" rap videos planned a machete revenge attack on a rival gang who filmed themselves harassing one of the five's grandmothers, a court heard.
Micah Bedeau, 19, Yonas Girma, 21, Isaac Marshall, 18, and two 17-year-olds who cannot be identified recorded a music video in which they threatened violent retaliations over the incident.
The gang, from Ladbroke Grove, west London, make drill music videos that have been watched by millions on YouTube.
They face possible jail terms and an unprecedented court order preventing them from making drill, a confrontational genre of rap, after they were found with an array of weapons in November last year.
Kingston Crown Court heard they had planned a revenge attack on 12 World, a rival gang from Shepherd's Bush that harassed, abused and threatened Bedeau's grandmother for entering their area, the court heard.
Members of 12 World address Bedeu, who raps under the name Horrid1, in a Snapchat video of the incident which was later uploaded onto YouTube.
In the clip, played in court, they tell him: "Micah come get your grandma, she's lacking [without protection] on our strip."
One gang member adds: "You're lucky I don't rock [punch] her face. Horrid1 come get your f**king nan."
Police say the five members of 1011 were planning a revenge attack on 12 World when they were arrested in Notting Hill.
They were found with three machetes, a Rambo knife and two baseball bats when officers swooped in on 9 November last year.
UK news in pictures

Show all 50
Investigators spent two years gathering evidence on the gang's music and social media accounts before the arrests.
The 1011 members initially claimed their weapons were props for a drill music video but last month pleaded guilty to conspiracy to commit violent disorder.
They are being sentenced at Kingston Crown Court, where police have also applied for a criminal behaviour order to prevent them making music that "references violence".
They cited tracks such as "No Hook", which includes the lyrics: "Clock me an opp [opposing gang member], wind down the window, back [get] out the spinner [revolver firearm] and burst [shoot] him.
Other lines boast of putting "bullets in numerous guys".
"It is the explicit nature and the aggressive nature of the lyrics that make these videos of concern to us," detective chief superintendent Kevin Southworth, who heads the Met's Trident gang crime command, told The Independent.
"There were a number of different drill videos and social media postings that were clearly and only designed to incite violence and provoke each other."
Melanie Simpson, Bedeau's barrister, described 1011's lyrics as "unsavoury and hard-hitting" but said they were only intended as "one-upmanship" and "a warning".
She rejected prosecutors' depiction of 1011 as a violent gang.
"It's a group of friends that make music and make money through that music," she told the court.
"Yes, the lyrics are hard-hitting but they are typical of that genre of music, of rap, drill, grime and trap."
The court heard 1011's videos had been viewed more than 11 million times on YouTube and they had been presented with certificates from the streaming website when they surpassed five million.
Proescutor David Malone said: "The production quality of some of the videos is very professional but the only focus of the music is gang violence, violence and the proliferation of violence.
"Whether this is a violent gang who makes music or a musical gang that is violent frankly makes very little difference."
Drill, a genre that originated in Chicago and became popular in London around 2012, has come under increasing scrutiny in recent months after it was blamed for rising gun and knife crime in London.
Drill often features lyrics about gang disputes, guns, drugs and stabbings, as well as lines mocking rivals personally, but fans say it also reflects the lives of young people in deprived city estates.
Earlier this year more than 30 drill videos were deleted from YouTube following a request from Scotland Yard, which has launched a dedicated operation against the genre.
It is believed a court order preventing 1011 from making music would be the first of its kind, if granted.
But critics have described it as misguided and predicted it would prove ineffective at cutting gang crime.
Former Met Police commissioner Sir Bernard Hogan-Howe said he was "not convinced" drill was responsible for rising violence.
"If you're not careful, you race off and deal with the wrong problem," he told LBC on Friday. "Clearly, there are more people being murdered. We have to understand what's causing it.
"If it's videos, let's see what we can do about it. I'm not convinced yet."