Gang violence 'out of control' in Feltham prison
Security cameras captured premeditated attacks in the young offenders' institution - with nearly two recorded every day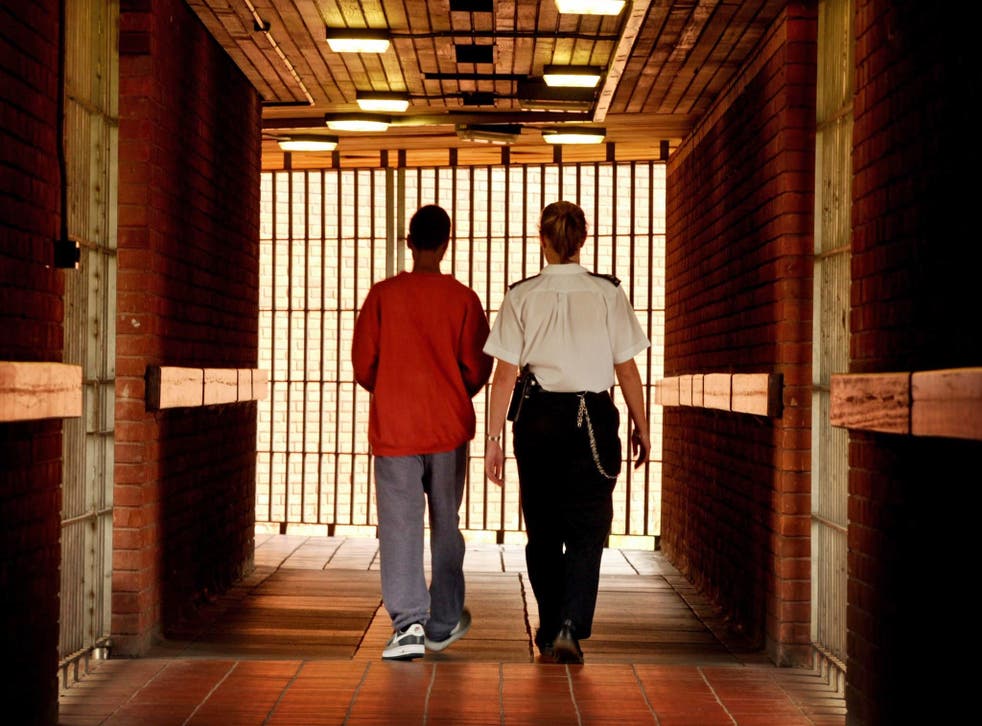 The country's most violent children's prison is in need of urgent reform, according to a damning report which reveals that gang members are able to openly attack rivals without fears of criminal sanction.
Security cameras captured premeditated gang violence in Feltham young offenders' institution with nearly two attacks recorded every day. The report into Feltham – which is split into two separate prisons, one for under-18s and the other for young adults – is just the latest to have raised concerns over the high level of violence at prisons for young people.
The authorities have begun an investigation after inspectors found that warders at Feltham B, for inmates aged 18 to 21, used batons significantly more times than at any other prison.
The Prisons Inspectorate found that gang markings were daubed inside cells and prison officers were forced to move groups around the west London prison to try to prevent disputes escalating.
"It was a very disturbing place," chief prisons inspector Nick Hardwick told The Independent. "If you were a parent with a child in Feltham you would be right to be terrified. It would be very hard not to join a gang in Feltham."
Feltham was named by the Howard League for Penal Reform as the most violent prison in England and Wales, with two other young offenders' prisons taking the next two places. The problems at Feltham are particularly acute as it is the receiving centre for all children and young adult offenders from the capital. Scotland Yard has made tackling gangs a priority, but its focus has meant that some of those disputes are transferred from the streets to the prison system.
"All the gangs in London meet in Feltham," said Michael Spurr, chief executive of the National Offender Management Service. "There are fewer young people in prisons but the ones who are there are troubled, difficult and challenging."
Security camera footage showed that prison officers put themselves in harm's way to break up fights and the inspection report found their actions were proportionate and necessary.
But the report found that 300 acts of violence had been recorded in the children's prison in the six months before the inspection. Some of these were "very serious" showing groups kicking and punching each other in clear view of staff. However, senior prison staff said that cases of "extreme violence" were no longer referred to the police because they were reluctant to pursue them.
Mr Hardwick said he was concerned that punishment for rule-breaking meant that some teenagers were confined in their cells for 22 hours and "came out punching". He said that education and rehabilitation work was hampered because inmates were in fear of attack.
From the autumn, prison authorities will spread young adult offenders on remand around other prisons in the capital to prevent the clustering of gang members in Feltham.
But the Howard League called for more community sentences for those serving time in Feltham. Director of campaigns Andrew Neilson said: "This is the worst inspection report of its kind we have seen in a decade. If you want to see the effects of keeping hundreds of troubled boys cooped up in a prison, you need look no further than Feltham."
The government has begun a consultation into youth detention to focus more on education and training.
CCTV captures 'shocking' attack
The organised ferocity of gang violence inside Feltham was revealed with a brutal attack on a young inmate captured by security cameras.
In scenes described as "jaw-dropping" by Chief Inspector Nick Hardwick, two boys started a mock fight to divert the attention of warders before a mob suddenly launched an attack on the teenager who was watching television on his own.
Unable to fight back, the boy curled himself up in a ball on the floor as the group jumped up and down on his prone body, according to the footage seen by inspectors.
One of the attackers tore off his shirt to make it more difficult for him to be grabbed by guards as he carried out the attack.
Staff said they believed the attack was a gang initiation ritual. "What was really disturbing was this group's lack of concern about the consequences for the victim and the lack of concern for themselves," said Mr Hardwick. "This wasn't a hidden assault around a corner, this was in full view of staff. It was very shocking to watch."
Staff at the prison had become adept at moving groups around the facility to ensure that rival groups were kept apart.
Paul Peachey
Register for free to continue reading
Registration is a free and easy way to support our truly independent journalism
By registering, you will also enjoy limited access to Premium articles, exclusive newsletters, commenting, and virtual events with our leading journalists
Already have an account? sign in