Gateway to terror: British Islamic preacher Anjem Choudary 'sent hundreds to join al-Qa'ida in Syria'
Groups linked to 46-year-old have 'facilitated or encouraged' up to 80 young Muslims from the UK – and 250 to 300 people from across Europe – to join forces fighting Assad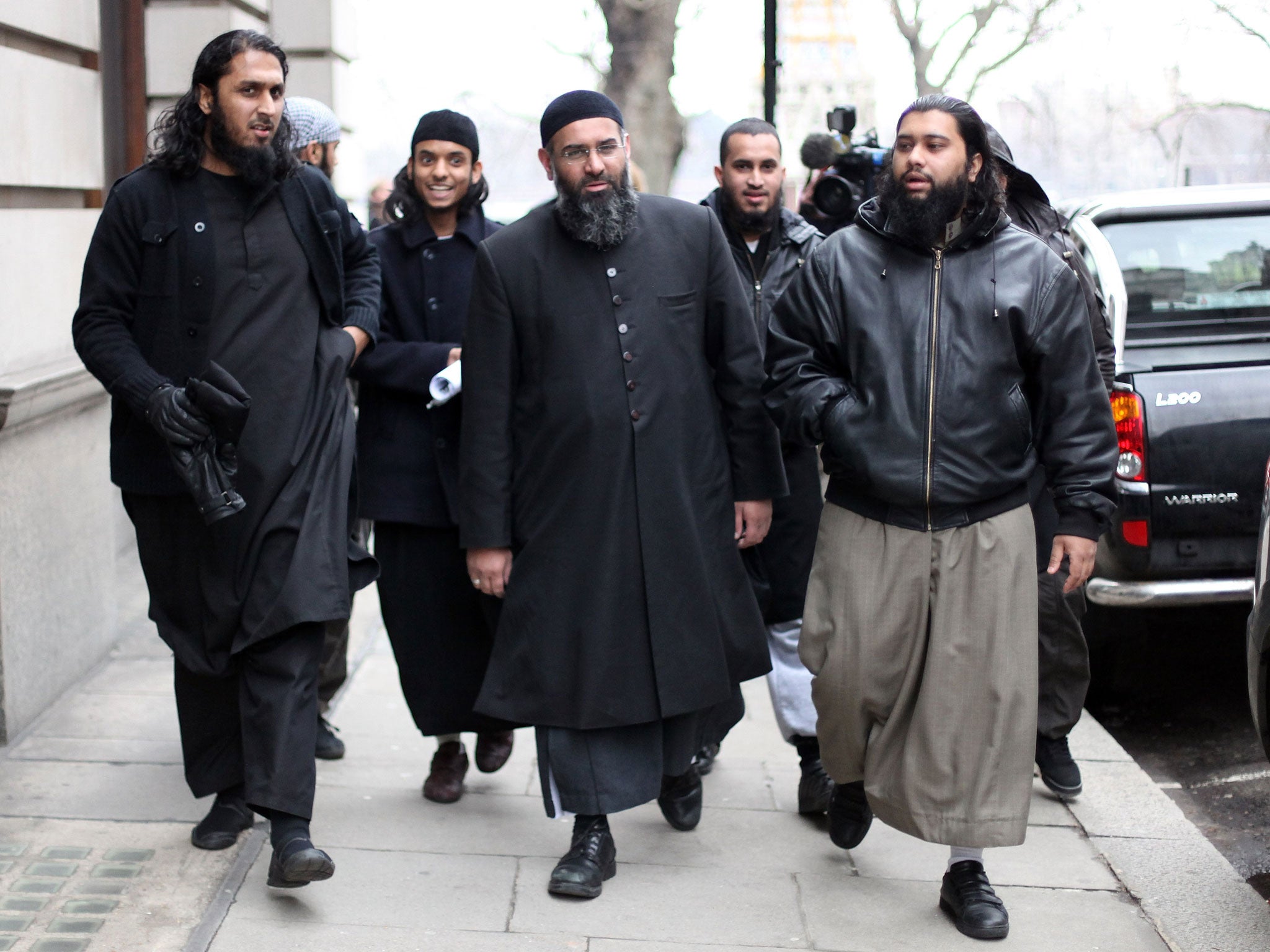 A network of groups led by the Islamist preacher Anjem Choudary has become the "single biggest gateway to terrorism in recent British history", according to a major investigation.
Groups linked to Mr Choudary have "facilitated or encouraged" up to 80 young Muslims from the UK – and 250 to 300 people from across Europe – to join al-Qa'ida-linked forces fighting President Assad in Syria, the Hope Not Hate report suggests.
The investigation also highlights links between Mr Choudary's al-Muhajiroun network and the perpetrators of several major terrorist attacks, including the 7/7 suicide bombings in London.
Mr Choudary is known for his controversial statements and has developed a reputation as a pantomime villain, but Hope Not Hate said he should be considered a "serious player on the international Islamist scene".
Despite two decades of activism, the 46-year-old Briton has only ever been fined £500 for organising an illegal protest outside the Danish embassy in London over cartoons of the Prophet Mohammed. In January 2010, shortly before he become Prime Minister, David Cameron said Mr Choudary needed "to be looked at seriously" because he strays "extremely close to the line of encouraging hatred, extremism and violence". In June, the Metropolitan Police's Assistant Commissioner Cressida Dick told a Commons committee that they were "constantly assessing" whether any of Mr Choudary's "proclamations are breaking the criminal law".
Mr Choudary dismissed the report by Hope Not Hate as "fanciful", protesting that it was "trying to point the finger at us for everything since 9/11". He suggested if this was true, the security services would have taken action against him.
The report stressed there was no evidence he or his associate Omar Bakri Mohamed had "directly instigated any terror plots", but added: "We do believe they have given people the encouragement to take extreme actions". The Syrian-born Mohamed founded the now-banned group al-Muhajiroun, but was refused permission to return to Britain after going to Lebanon.
Hope Not Hate said at least 70 people linked to al-Muhajiroun and its successor organisations had been convicted of terrorism, terrorist-related offences in the UK or died overseas during the last 14 years. The report claimed the 7/7 suicide bombers had links to al-Muhajiroun network.
And it said people associated with the groups had also been convicted of two major terrorist plots: a 2004 plan to use fertiliser-based bombs to blow up Bluewater shopping centre in Kent, London's Ministry of Sound nightclub and the domestic gas network and another that would have seen a bombing campaign over Christmas 2010 targeting Big Ben, the London Eye, the US embassy and other targets.
Hope Not Hate said Mr Choudary's supporters were in Syria "in numbers", pointing to "rumours" within the Islamist world that between 50 to 80 had travelled from the UK. "Al-Muhajiroun supporters from London, Birmingham, Luton and Stoke-on-Trent have all definitely gone," it said.
"While painted by some as a figure of fun, an extremist crackpot whose media stunts are rightly ridiculed, Anjem Choudary has become a serious player on the international Islamist scene," the report said. "Perhaps it is time to start concentrating on his role as a facilitator of terror.
"Al-Muhajiroun has quite simply been the single biggest gateway to terrorism in recent British history."
The report said Mr Choudary had "his own international network of affiliated and partner organisations" that often used the name Sharia4 followed by the name of the country, such as Sharia4Pakistan. This network was "best described as the Global Sharia Network".
Hope Not Hate normally campaigns against far-right extremists, but it said it had broadened its scope to include Islamist extremists because the al-Muhajiroun groups had a "track record of publicly expressing" racism, sexism, homophobia and anti-Semitism.
Ghaffar Hussain, head of research at the counter-extremism think-tank the Quilliam Foundation, said the report was "very thorough and much needed". "Al-Muhajiroun has inspired many terror plots and continues to be a menace," he said. "I hope this report can be followed up by a challenge against the poisonous ideology this group propagates."
A Home Office spokesman said it would not comment "on security matters or what action we might be taking against individuals or organisations".
He added: "We want to ensure we have the right powers to tackle extremists at all levels – the Extremism Taskforce is currently considering whether new measures are required."
Mr Choudary said the idea that his groups were a "gateway to terror" was "fanciful thinking" by Hope Not Hate.
"We're not a gateway to anything," he said. "Hope Not Hate have jumped on the so-called terrorism bandwagon. They are trying to point the finger at us for everything since 9/11."
He questioned how Hope Not Hate had managed to link al-Muhajiroun to the 7/7 attacks and "yet the security services and everyone involved in the case hasn't even bothered to question us about this". "I think the authorities are more adept at understanding what we have been doing for the last 20 to 30 years," he said.
He was vague when asked if any of the 7/7 bombers were linked to al-Muhajiroun or similar groups, saying "I certainly don't remember" them being members.
However he admitted some of those involved in the fertiliser bomb plot and Christmas Day plot were at some point involved in his groups.
Going to Syria to fight Mr Assad's forces, Mr Choudary argued, was "surely a very noble thing to do". "The British and Americans themselves are thinking of supporting the Free Syrian Army," he said.
Asked if he was involved in sending people to fight there, he said "no not really". "I'm not recruiting people to send them abroad … but we are taking about the issues," he said.
Mr Choudary said his problem was only with the UK Government and not its people. "I was born here, I grew up here, I like Britain. What I don't like is the authorities," he said. "I think they probably think I am a terrorist, but who cares what the authorities think."
Terror network: Europe link
The five European countries from where the greatest number of radicalised people travel to fight in Syria are:
France 400
UK 350
Belgium 200
Germany 200
Kosovo 150