Grenfell Tower fire: Police considering manslaughter, corporate manslaughter and misconduct charges, hearing told
Individual charges still being considered, which could see officials jailed for their role in the disaster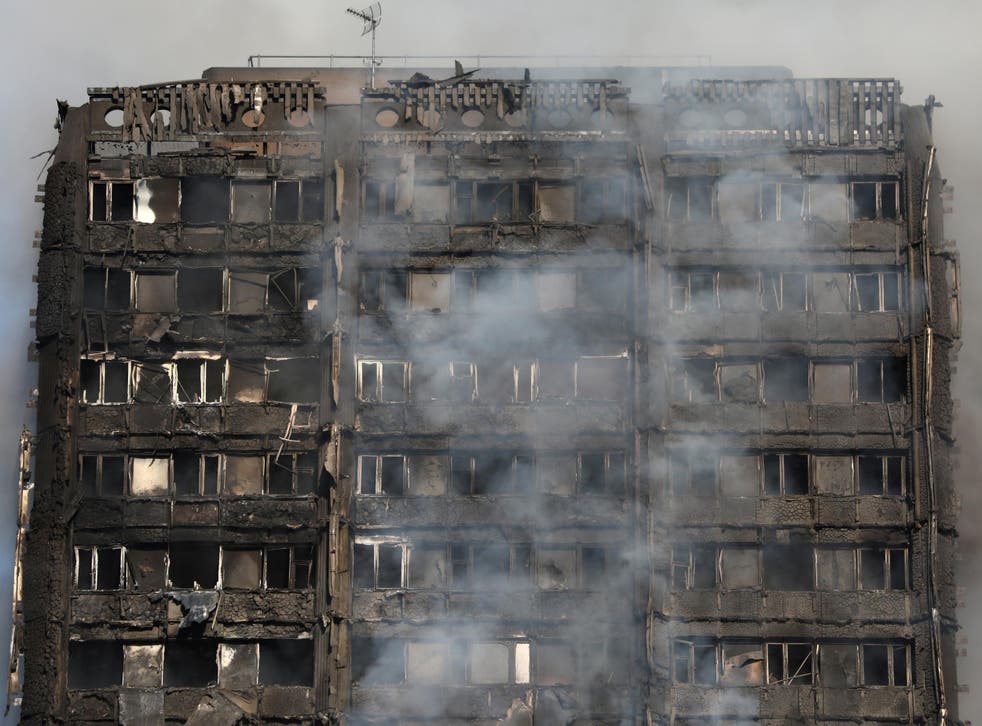 Charges being considered by police investigating the Grenfell Tower fire include manslaughter, corporate manslaughter, misconduct in public office and breaches of fire safety legislation, the public inquiry into the disaster has heard.
The probe into the blaze, which killed 71 people in June, is holding two days of procedural hearings led by chairman Sir Martin Moore-Bick.
Addressing the hearing at Holborn bars, Jeremy Johnson QC said the Metropolitan police was committed to carrying out a "thorough" investigation, which was "desperately needed".
Mr Johnson said individual manslaughter offences were still on the table, meaning officials could be jailed for their role in the disaster.
The list of charges being considered by Scotland Yard has remained the same since September, and significantly, Mr Johnson said all were still being investigated.
Mr Johnson said 187 police officers and civilians were involved in the investigation process. He said 31 million documents were being reviewed, with 2,500 physical exhibits seized.
So far, the force has taken over 2,300 witness statements from more than 1,114 witnesses. They have also identified more than 383 companies involved in the 2016 refurbishment of the tower, Mr Johnson added.
The details emerged on the first day of the procedural hearings, focusing on case management matters such as timeframes, witnesses and the disclosure of evidence.
Richard Millett, counsel to the inquiry, said he hoped those who escaped the blaze or lost loved ones would find "some measure of closure" by providing evidence to the investigation.
Grenfell tower fire

Show all 42
Core participant (CP) status has now been granted to 424 individuals and groups, allowing them access to evidence and the right to suggest lines of questioning, it was heard.
Mr Millett said CPs were made up of 60 families of the deceased, 193 Grenfell Tower residents, four leaseholders, 124 residents from the surrounding walkways, one survivor from neither Grenfell Tower or the walkways and 26 CPs who are organisations, including the council, the council's tenant management organisation and Scotland Yard.
He added that the fire at Grenfell Tower was an "utterly appalling event and the experiences of it are stamped on the memories" of those who lived there or lost loved ones.
Sir Martin, the retired Court of Appeal judge leading the process, hopes to deliver an interim report into the fire's causes and the emergency response by next autumn.
It comes as Labour accuse the council of treating survivors as "consumers".
Jeremy Corbyn said a failure to rehouse most of the Grenfell Tower fire survivors after six months was disgraceful.
"It is a disgrace that the majority of Grenfell residents have still not been given homes and that tower blocks across our country have still not been made safe. We need answers from the government and we need action," he said.