Hacking trial: I don't recall whether Piers Morgan said he hacked phones, claims Rebekah Brooks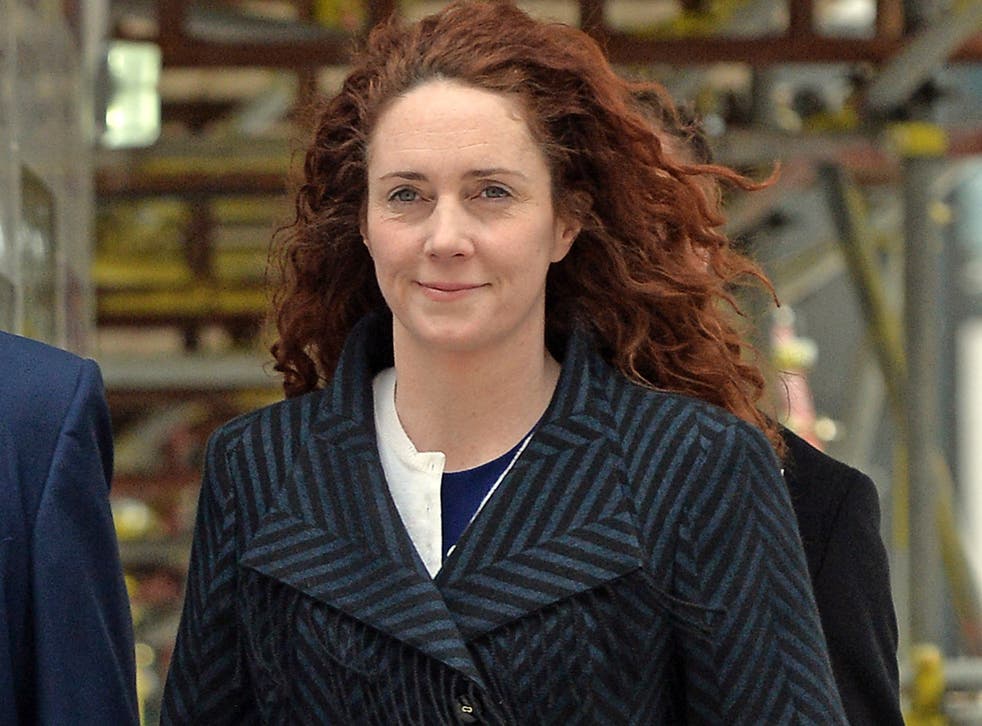 Rebekah Brooks could not remember being told by former Daily Mirror editor Piers Morgan that he had hacked her phone, the Old Bailey has heard.
A witness had earlier claimed that the pair "shared a laugh" about phone hacking at a birthday party for Andy Coulson in 2004. Mrs Brooks, then editor of The Sun, told the court she could recall the dinner party at which the conversation is said to have occurred but did not remember the account given by another guest. Lawyer Ambi Sitham testified in December that she overheard Mr Morgan tell his fierce rival: "I already know what your splash, or your cover, is going to be because I have been listening to your messages."
Mrs Brooks said she remembered that she had been working on The Sun's exclusive leak of the Hutton report into the death of Iraq weapons inspector David Kelly and conceded Mr Morgan may have made the remark during a "heated exchange" over the inquiry.
She said: "I don't remember having a laugh at that dinner because I was working on the Hutton report at that dinner. I don't remember a discussion about phone hacking but I know The Sun had a big story and I was working on that story that night.
"I had got up a couple of times at least, maybe two or three times to take some quite serious calls on it [the Hutton report].
"I was very surprised at the witness's recollection, because if you had sat next to me that night - and I'm not saying she didn't - that was a big preoccupation I had and she didn't seem to remember anything about it."
Referring to Ms Sitham's testimony, prosecutor Andrew Edis QC said: "She may have been right, but you just can't remember it." Mrs Brooks replied: "I don't remember Piers Morgan saying he had hacked my phone, which is what she said she heard. He might have said it, but I can't remember if he said it."
Mrs Brooks told the court she had heard rumours of unscrupulous journalists hacking phones in the early 2000s, but insisted: "My newsroom I felt under my editorship was a clean ship. No evidence ever came to me that one of my journalists was phone hacking."
She said if someone had come up with a story through phone hacking, she may have considered using it if it was in the public interest.
Brooks was also questioned about testimony given by Dom Loehnis, a friend of David Cameron, that they had discussed hacking at a party to celebrate the prime minister's 44th birthday in October 2010. She said she remembered discussing the difficulty Mr Coulson had when he was Mr Cameron's head of communications because of the reports about phone hacking at the time.
Mrs Brooks said: "I remember sitting next to Mr Loehnis and discussing Andy Coulson with him and the issue of Andy Coulson being the spokesperson and being part of the story. It did not strike me as unusual for me to have said to him in the late 1990s this issue [hacking] was live, because I think in the 1990s or mid-1990s that there were stories around about the security flaw."
Mrs Brooks also firmly denied having any knowledge of Milly Dowler's phone being hacked until it was exposed in The Guardian in 2011. Mr Edis said the former editor "must have" been told about the hacked message, especially after former managing editor Stuart Kuttner decided to tell police they had listened to the voicemail.
But she told the court: "Nobody told me about the accessing of Milly Dowler's phone by the News of the World, or anyone working for the News of the World. I found out on July 4, 2011."
Mrs Brooks and Mr Coulson deny all the charges they face. [being involved in a conspiracy to hack phones.]
The trial continues.