Harvey Proctor: Former Tory MP faces second police interview in relation to murder allegation
Proctor, who has not been arrested, was previously interviewed in March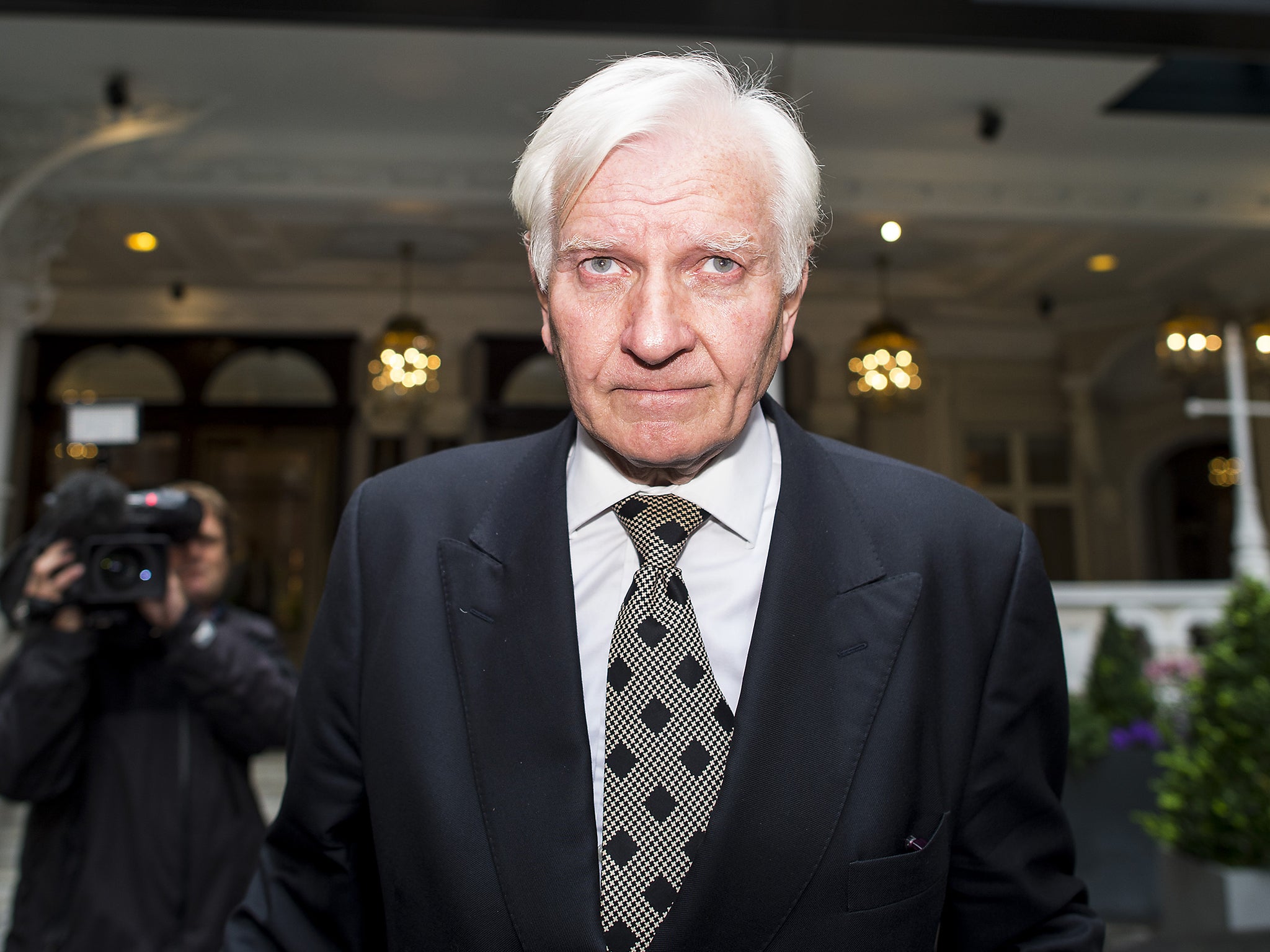 The former Tory MP Harvey Proctor will be interviewed for a second time on Monday by detectives from Operation Midland, in relation to an allegation of murder, The Independent on Sunday can reveal. He was interviewed in March following claims that he was present when underage boys were sexually abused and murdered at parties in Dolphin Square, in central London, and elsewhere. He has not been arrested.
The former MP, 68, vigorously denied the claims in an article he wrote for The IoS in May, saying he doubted the existence of any alleged sex ring in Westminster. In 1987 Proctor was convicted of gross indecency with underage males. He resigned from Parliament soon after, and has led an essentially private existence since then. He believes the 1987 conviction has led to his name being linked to current allegations.
In the IoS article, he denied ever having sexual relations with anyone under 16, and pointed out that the acts for which he was convicted would not be unlawful if committed today. He said he had never attended sex parties at Dolphin Square or with MPs, and had not murdered anyone. "Everything I have done has been consensual", he wrote, expressing shock that anyone might think otherwise. He has demanded that any evidence against him be produced, or his name cleared.
Mr Proctor, evidently angered by the continuing insinuations against him and the need to attend a second police interview, has written a lengthy statement setting out his position, which he plans to read at a press conference on Tuesday, The IoS can reveal.
The statement is expected to catalogue what has been alleged, restate his firm denials of what has been alleged, and tell how he believes those wrongly accused of abuse can be protected by the law. "If someone faces allegations, of course the police should investigate," he told The IoS. "But they have to produce some evidence. When people hear what has been claimed about what I am supposed to have done, they will find it both astonishing, totally far-fetched and hair-raising. The police of course have an obligation to look into any claims, particularly given previous shortcomings. On Tuesday I will be open, frank and honest."
Mr Proctor, who says he will take questions from the media regardless of what happens at his police interview, says his statement will be critical of the weight apparently attached to the evidence of a particular witness, but is also intended to be helpful.
In his IoS article published in May, he expressed surprise that a senior police officer could tell the media that someone's evidence was credible "before an investigation has been completed or a prosecution launched".
A friend of Mr Proctor's who has seen a draft of his statement said last night: "I think people will find what he has to say is very powerful. People will wonder how anyone can begin to believe this stuff. I think people will find it hair-raising that things can have got so far. He will be frank and forthright, but his statement won't just reflect his anger, although there is plenty he could complain about.
"He has thought long and hard about all this and the injustice that has faced so many of the accused, and is seeking to be constructive. I think people will be genuinely horrified. He certainly doesn't want to diminish the terrible things done to abused children, but what he was convicted of has nothing to do with that. I'm afraid the police will have questions to answer."
The news follows criticism of the police over their handling of investigations into allegations against the disc jockey Paul Gambaccini, Sir Cliff Richard, the late Lord Brittan and the former Prime Minister Sir Edward Heath.