Hate-crime reports rise by almost a third in year as Home Office figures illustrate EU-referendum spike
Police figures also show huge rise in reports following terror attacks 
Lizzie Dearden
Home Affairs Correspondent
Tuesday 17 October 2017 11:46 BST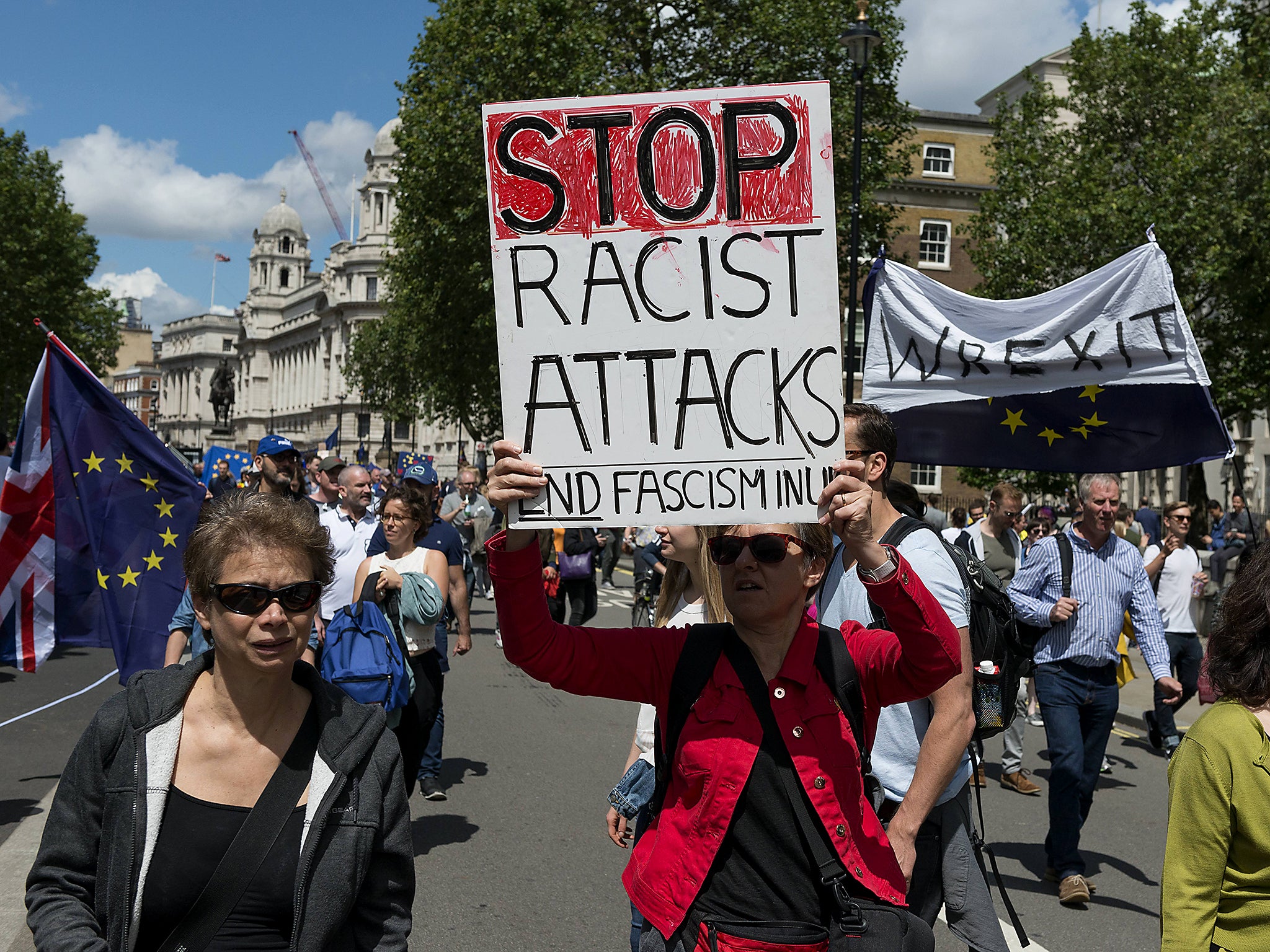 Hate crimes have rocketed by almost a third in the UK in the past year, with unprecedented spikes around the EU referendum and terror attacks recorded by police.
New figures released by the Home Office confirm victims' reports of a dramatic increase in incidents motivated by attackers' hostility towards their race, nationality, religion or other factors.
Data from police forces across England and Wales showed there were almost 80,400 hate crimes recorded in the 2016-17 financial year.
The figure is a 29 per cent rise from the previous year – the largest annual increase since records began six years ago.
"The increase over the last year is thought to reflect both a genuine rise in hate crime around the time of the EU referendum and also due to ongoing improvements in crime recording by the police," a Home Office spokesperson said.
"There were a number of spikes in racially or religiously aggravated offences. These were in June 2016 [EU referendum result], March 2017 [Westminster Bridge attack], May 2017 [Manchester Arena bombing] and June 2017 [London Bridge and Finsbury Park mosque attacks]."
The size of the increase was unprecedented but follows a pattern seen with previous world events, which saw smaller hate-crime spikes in the UK following the 2014 Israel-Gaza conflict, and the Charlie Hebdo shooting and Paris attacks in 2015.
Mike Ainsworth, director of London services at Stop Hate UK, said that while reporting had improved there had also been a real-world increase in hate crime.
"The rise is too great to simply be accounted for by a greater level of efficiency," he told The Independent.
"This is undoubtedly about a belief that grew that this is acceptable behaviour, and that is deeply worrying.
"As an organisation we are aware of the damage these attacks do to social cohesion."
Stop Hate UK is among the groups collating reports, with research so far showing that public transport is a key area and that young women wearing religious clothes are frequent targets.
Mr Ainsworth said the trend could be reversed by "good moral leadership", adding: "This is not something inevitable that we can do nothing about. Individual politicians and the mainstream media have a role to play."
Fiyaz Mughal, founder of Tell Mama, a charity that records Islamophobic crime, said more hate-crime incidents were taking place.
"What we cannot get away from is that there is, sadly, a small section of individuals in our country that are activated by a traumatic crisis to target other people," he told The Independent.
"These things don't happen in isolation – these are things people are already thinking."
Mr Mughal described most Islamophobic hate crimes on the street as "opportunistic" but that intolerance was more evident online, where offenders feel they can act "without checks from the physical world".
The vast majority of crimes are racially motivated, standing at 78 per cent, followed by sexual orientation, religion, disability and transgender hate crimes, although police said many were driven by more than one category.
Hate crime is defined as "any criminal offence which is perceived, by the victim or any other person, to be motivated by hostility or prejudice towards someone based on a personal characteristic".
Nationality or xenophobia is not a specific category for data collection but guidance released by the College of Policing said crimes driven by a victim's perceived national or ethnic origin should be recorded as race hate, as should attacks targeting asylum seekers and refugees.
"Anecdotal evidence suggests that there was an increase in these types of offences around the time of the EU referendum," the Home Office said. "Around this time there was a clear spike in hate crime."
The period saw numerous physical and verbal attacks on European citizens, including a student who was stabbed in the neck after an attacker heard him speaking Polish.
Maike Bohn, a founding member of the3million EU citizens' group, said it had received reports of hate crime and wider discrimination.
"Some of it is very subtle and some of it is people being yelled at on a bus," she told The Independent.
"I would never compare what's happening to fellow EU citizens to what's happening to other minorities – they are the main victims.
"But what is clear to me that during the referendum and afterwards everything has been lumped together – refugees, Muslims, people who are 'not us coming here'.
"That's been the rhetoric of Vote Leave and the current Government has allowed this to happen."
Ms Bohn said change had to "come from the top" to ensure that people do not feel discriminatory views are acceptable.
"Government rhetoric used very early led a lot of people to the conclusion it's absolutely fine to tell an EU nurse to 'go home'," she added.
Polish ambassador calls on government to condemn Brexit-related hate crimes
"I don't see that Britain hasn't changed, but some people have become emboldened and that worries me."
A damning report released in August accused the Government of fuelling "toxic" anti-immigrant sentiment just as it emerged that ministers have for years vastly overestimated the number of foreign students staying in Britain.
The inquiry from a cross-party group of politicians said Theresa May's discredited target of cutting net migration to under 100,000 was particularly to blame for "stoking anxiety" that has accompanied unprecedented hate crime following the Brexit vote.
Calling on fellow politicians to tone down their language, the group warned that rhetoric used during the EU referendum led some people to feel "they could act on racist attitudes which had previously gone unexpressed".
Every type of hate crime rose in 2016-17, with the steepest rise in disability-related offences, followed by transgender, religion, race, sexual orientation.
They were mainly public order offences, which include making threats, insults and provoking violence, followed by violence against the person, criminal damage including vandalism, and arson.
The huge increase in hate crime reported to police contrasted with a drop in prosecutions in the same period.
Separate figures released by the Crown Prosecution Service (CPS) overnight showed that a total of 14,480 hate crime prosecutions were completed across England and Wales in 2016-2017, down by almost 1,000 from the previous financial year.
They also showed a small increase in the number of hate-crime cases referred by police year-on-year, which did not recover the gulf left by an almost 10 per cent drop the year before.
Brexit racism and the fightback
Show all 9
Alison Saunders, the Director of Public Prosecutions, said: "The drop in referrals recorded last year has impacted on the number of completed prosecutions in 2016-17 and we are working with the police at a local and national level to understand the reasons for the overall fall in referrals in the past two years."
The CPS hailed an increase in the use of powers to increase prison sentences for offenders but campaigners called the annual statistics "unacceptable".
The Campaign Against Antisemitism called the number of prosecutions "paltry" in comparison with the record number of crimes being reported by the Jewish community in Britain.
Kamran Mallick, the chief executive of Disability Rights UK, urged the victims of hate crime to come forward and be supported by authorities.
Many disabled people experience daily instances of disability-related hate, this may be thought of as low-level crime by the police and other relevant authorities," he said.
"However, it has a cumulative impact that leads to isolation and withdrawal from society. Disabled people can have poor experiences when reporting a hate crime, and the police must do more to respond."
The reports came during National Hate Crime Awareness Week, with conferences and events across the country bringing together police, local authorities and community groups to tackle the issue.
Amber Rudd, the Home Secretary, said: "There is absolutely no place for hate crime in our society and this Government is taking action to tackle it.
"I am heartened that more victims are more confident to come forward and report incidents of hate crime, and that police identification and recording of all crime is improving.
"But no one in Britain should have to suffer violent prejudice, and indications that there was a genuine rise in the number of offences immediately following each of this year's terror attacks is undoubtedly concerning."