Hillsborough families call not guilty verdict 'disgrace' as David Duckenfield walks free
'96 people were unlawfully killed and yet not one person is held accountable'
Lizzie Dearden
Home Affairs Correspondent
Thursday 28 November 2019 21:07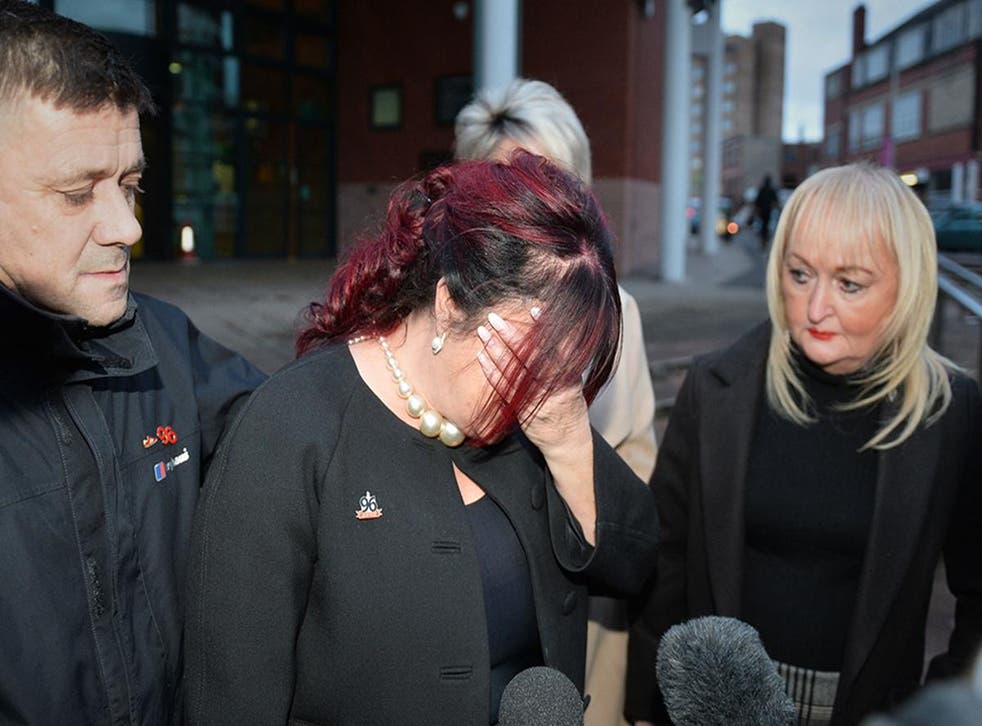 Families of the Hillsborough victims have branded the acquittal of David Duckenfield a "disgrace to this nation".
After spending decades campaigning for prosecutions over the 1989 disaster, which left 96 people dead, the second trial of the match commander ended in a not guilty verdict on Thursday.
It marks the end of legal proceedings against Mr Duckenfield, which were sparked by inquests that found the victims had been unlawfully killed.
Margaret Aspinall, chair of the Hillsborough Family Support Group, said she did not blame police officers or prosecutors in the case but added: "I blame a system that's so morally wrong within this country, that it's a disgrace to this nation.
"When 96 people, they say 95, we say 96, are unlawfully killed and yet not one person is accountable
"The question I'd like to ask all of you and people within the system is who put 96 people in their graves, who is accountable? What a disgrace this has been today, and what a shame on this country of ours."
Hillsborough families react to inquest conclusions

Show all 10
Relatives of the victims could be seen crying and in distress as Ms Aspinall spoke emotionally at the Cunard Building in Liverpool.
Describing herself as "really angry", she said the victims and their loved ones "deserve something form this country that was morally right".
Ms Aspinall said some evidence from previous inquiries and reports had been withheld from Mr Duckenfield's trial and retrial, adding: "I think it's an absolute bloody disgrace and things need to change."
Steve Kelly, whose brother Michael killed at Hillsborough, said he believed Mr Duckenfield would have been convicted in a 2000 private prosecution if evidence published 12 years later by the independent panel report had been available.
"I believe the die was cast many years ago so today's decision is no surprise," he added.
"Now, sadly, the decision we have we will have to get on with our lives, forever cheated. I am and will be forever grateful for others who have supported the campaign for truth, justice and accountability for the 96."
Speaking outside Preston Crown Court, Jenni Hicks, whose teenage daughters Sarah and Vikki died in the crush, said the format of a criminal trial was "not the forum" to consider responsibility for Hillsborough.
"It's just not the forum, there's got to be something else for this because all they kept saying was 'hindsight, in retrospect'," she added.
"They have got to change the system on this. If you have got an issue 30 years later an ordinary crown court is not the forum for this type of trial.
"We can't take this anywhere, we have been told. There's nowhere else to go with it. We have got to live the rest of our lives knowing our loved ones were unlawfully killed and nobody will be accountable for that unlawful killing. That can't be right."
Hillsborough disaster: Timeline of the day
Christine Burke, the daughter of victim Henry Burke, had addressed the judge in court after the verdicts were delivered.
"With all due respect, my lord, 96 people were found unlawfully killed to a criminal standard [at the inquests]," she said, breaking down into tears.
"I would like to know who is responsible for my father's death because someone is."
Speaking outside court later, Ms Burke added: "Ninety-six people cannot just die and nobody is held responsible. It's outrageous."
She said the Hillsborough families had spent "26 fighting the establishment" before being granted the inquests that sparked Mr Duckenfield's trial.
"There are many families who have gone to the grave who have never seen their children's inquests. It's disgraceful and this has killed them. It's so wrong," Ms Burke said.
"All we want is our truth. Unless you have the truth you are not set free."
The Crown Prosecution Service (CPS) confirmed that the acquittal marks the end of proceedings against Mr Duckenfield.
The retired South Yorkshire Police chief superintendent led the policing operation at the FA Cup semi-final between Liverpool and Nottingham Forest.
The court heard how Mr Duckenfield had ordered the opening of exit gates at the Leppings Lane end of Hillsborough stadium at 2.52pm, eight minutes before kick-off.
He was responding to calls from other police officers after the area outside the turnstiles became dangerously overcrowded as Liverpool fans tried to enter the stadium.
Exit gate C was opened, causing 2,000 fans to quickly enter, with many heading for a tunnel straight ahead that led to the central pens where the crush happened.
Witness statements heard at the trial described trapped people screaming for help and to be let out, but police did not open gates at the front of the pens.
Director of legal services Sue Hemming acknowledged the "unimaginable suffering to the families" of those killed.
"They were let down with the most catastrophic consequences imaginable," she added. "I know how important these proceedings have been to everyone, even though they came far too late."
Ms Hemming said the not guilty verdict did not affect the 2016 inquest jury's finding of unlawful killing, or their conclusion that Liverpool fans were in no way responsible for the disaster.
"This was a complex and harrowing case and presenting evidence about events of 30 years ago has not been straightforward," she added.
"We are acutely aware of how disappointing the verdict is for families who have waited anxiously for today, however we respect the decision of the jury."
Support free-thinking journalism and attend Independent events
Ian Lewis, a solicitor representing Mr Duckenfield, said he was "relieved" to be acquitted.
"His thoughts and sympathies remain with the families of those who lost their loved ones. He understands the public interest in this case, but would ask that his privacy and that of his family is respected," he added.
The first jury to consider the case, which initially went to trial in January, failed to reach a verdict on charges against Mr Duckenfield in April.
But they found Sheffield Wednesday's former secretary Mr Mackrell guilty of failing to discharge his health and safety duties. He was fined £6,500.
Additional reporting by PA
Register for free to continue reading
Registration is a free and easy way to support our truly independent journalism
By registering, you will also enjoy limited access to Premium articles, exclusive newsletters, commenting, and virtual events with our leading journalists
Already have an account? sign in