Hillsborough match commander David Duckenfield 'underfunded' for legal battle against CPS, lawyer claims
Manslaughter case on hold while courts consider lifting previous stay on prosecution
Lizzie Dearden
Home Affairs Correspondent
Friday 24 November 2017 17:41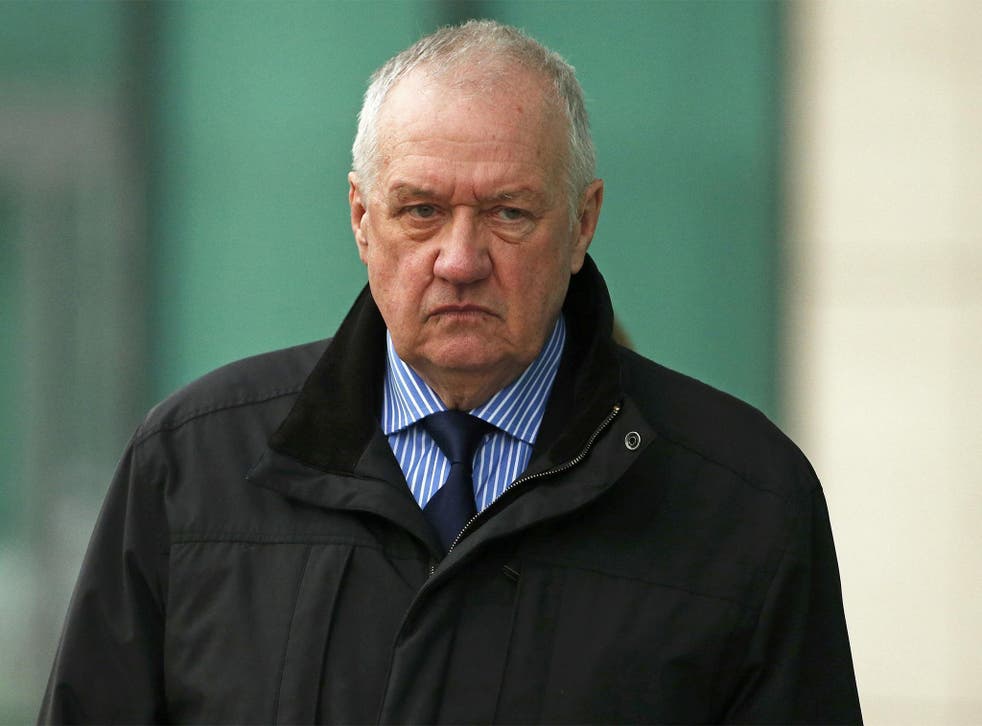 The police officer in charge during the disaster at Hillsborough Stadium does not have the funding to fight a legal dispute over whether he can be prosecuted, his lawyers have claimed as the criminal case remains at a stalemate.
David Duckenfield faces being charged with the gross negligence manslaughter of 95 men, women and children who died in a crush at the FA Cup semi-final between Liverpool and Nottingham Forest in 1989.
Their families celebrated the Crown Prosecution Service's (CPS) decision to pursue charges against six people, including Mr Duckenfield, in relation to the disaster, but a legal dispute has put the case on hold.
It cannot proceed until the High Court grants permission to lift a stay on further prosecution that was imposed after an attempted private prosecution by the victim's families in 2000.
The South Yorkshire Police and Crime Commissioner (PCC) rejected a request to pay Mr Duckenfield's latest legal costs earlier this month, saying he had already been given "significant financial support" amounting to £7.6m while fighting the private prosecution and during the Hillsborough Inquests.
Alan Billings said he had now been asked to meet the cost of both Mr Duckenfield's opposition to the CPS's application and defending any future charges.
Ex-police chief faces charge over Hillsborough disaster
Mr Billings cited Home Office guidance stating that police officers should be supported financially in legal proceedings "if they act in good faith and exercise their judgement reasonably", and if the move would have a positive impact on force efficiency and morale.
The PCC, who has refused an additional request to reconsider his decision from the Police Superintendents' Association of England and Wales, said he had to consider whether providing more money "would be appropriate".
Representatives of Mr Duckenfield, who was South Yorkshire Police's match commander during the disaster and later retired on health grounds with a full police pension, are currently acting for free.
Barrister John Dye told a case management hearing at Preston Crown Court that agencies were "passing the buck" on legal support for the 73-year-old former officer.
"In a nutshell the position is this – we are unfunded," he told Justice William Davis on Friday.
Mr Dye said the High Court application involved "serious, complex and novel legal arguments in relation to the lifting of the stay".
He told the judge: "Our position is, the funding is going to take a while to be resolved, whether legally-aided or by way of insurers. Everybody seems to want to pass the buck in this case."
The application for the stay to be lifted is currently due to be heard in January, when the lawyer claimed Mr Duckenfield could be "unrepresented".
Hillsborough Disaster 1989

Show all 8
Mr Dye said a "number of avenues are being explored in relation to appealing the decisions of various bodies", including a potential judicial review of the PCC's decision.
"I think that once criminal proceedings begin – if they ever begin – we will be funded by somebody, but it is this High Court application that we are not funded for," he added.
The judge said there should be a further case management hearing early next month in a bid to resolve the funding problem.
A total of six people face charges relating to the Hillsborough disaster, with future trials scheduled to be held at Preston Crown Court.
A previous hearing heard that they will attempt to block any prosecution as an "abuse of process" on the grounds of delays and publicity that could prejudice the case.
No pleas have been formally entered but Mr Duckenfield, former chief constable Norman Bettison, retired officers Donald Denton and Alan Foster, Sheffield Wednesday club secretary Graham Mackrell and solicitor Peter Metcalf have indicated through their lawyers that they will plead not guilty.
Additional reporting by PA
Register for free to continue reading
Registration is a free and easy way to support our truly independent journalism
By registering, you will also enjoy limited access to Premium articles, exclusive newsletters, commenting, and virtual events with our leading journalists
Already have an account? sign in