Hillsborough disaster: Five more former police officers could be charged over deaths of 96 Liverpool fans
Crown Prosecution Service has already decided to charge six people over the deaths of 95
Lizzie Dearden
Home Affairs Correspondent
Thursday 22 February 2018 19:30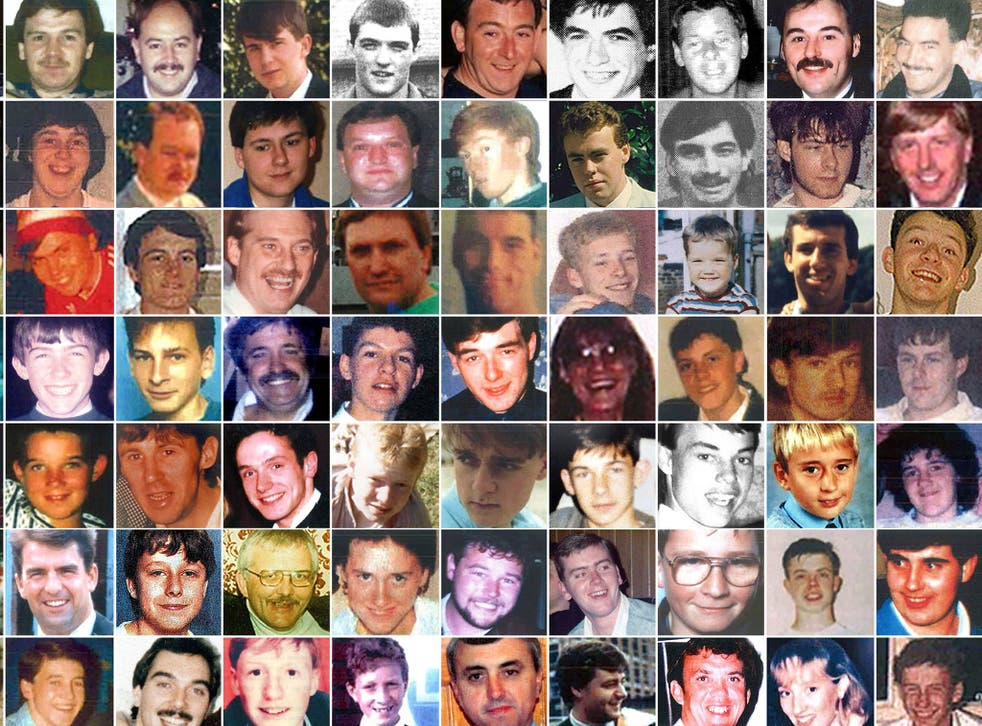 A further five police officers could face criminal charges over the Hillsborough disaster, investigators have announced.
The Crown Prosecution Service (CPS) is reviewing evidence from West Midlands Police on two officers who were found to have a case to answer by the Independent Office for Police Conduct (IOPC).
Prosecutors are expected to announce their decision over the coming three weeks, while the IOPC could also pass them files on another three suspects who were South Yorkshire Police officers at the time of the disaster.
The CPS has already decided to charge six people over the deaths of 95 men, women and children killed in a crush at the FA Cup semi-final between Liverpool and Nottingham Forest in 1989.
No prosecution was brought for the 96th victim, Tony Bland, who suffered severe brain damage and died in 1993 after the statute of limitations had expired.
Families hailed the "beginning of the end" of their long struggle for justice and five of the suspects have appeared in court, but a legal dispute has put the case against match commander David Duckenfield on hold.
It cannot proceed until a court grants permission to lift a stay on further prosecution that was imposed after an attempted private prosecution by the victim's families in 2000.
Hillsborough Disaster 1989

Show all 8
The application will be heard at Preston Combined Court next week, while the CPS continues to examine around 61,000 pages of evidence on the Hillsborough disaster and alleged cover-up of emergency service failures that followed.
The original inquests into the deaths of the 95 victims returned a verdict of accidental death but the findings were quashed and in April 2016, a jury found they had been unlawfully killed.
No pleas have been formally entered but Mr Duckenfield, former chief constable Norman Bettison, retired officers Donald Denton and Alan Foster, Sheffield Wednesday club secretary Graham Mackrell and solicitor Peter Metcalf have indicated through their lawyers that they will plead not guilty.
Register for free to continue reading
Registration is a free and easy way to support our truly independent journalism
By registering, you will also enjoy limited access to Premium articles, exclusive newsletters, commenting, and virtual events with our leading journalists
Already have an account? sign in