Hillsborough trial: Potential jurors asked if they are Liverpool, Everton, Forest or Wednesday fans as court case begins
David Duckenfield in court charged with manslaughter of 95 supporters
Lizzie Dearden
Home Affairs Correspondent, in Preston
Monday 14 January 2019 16:59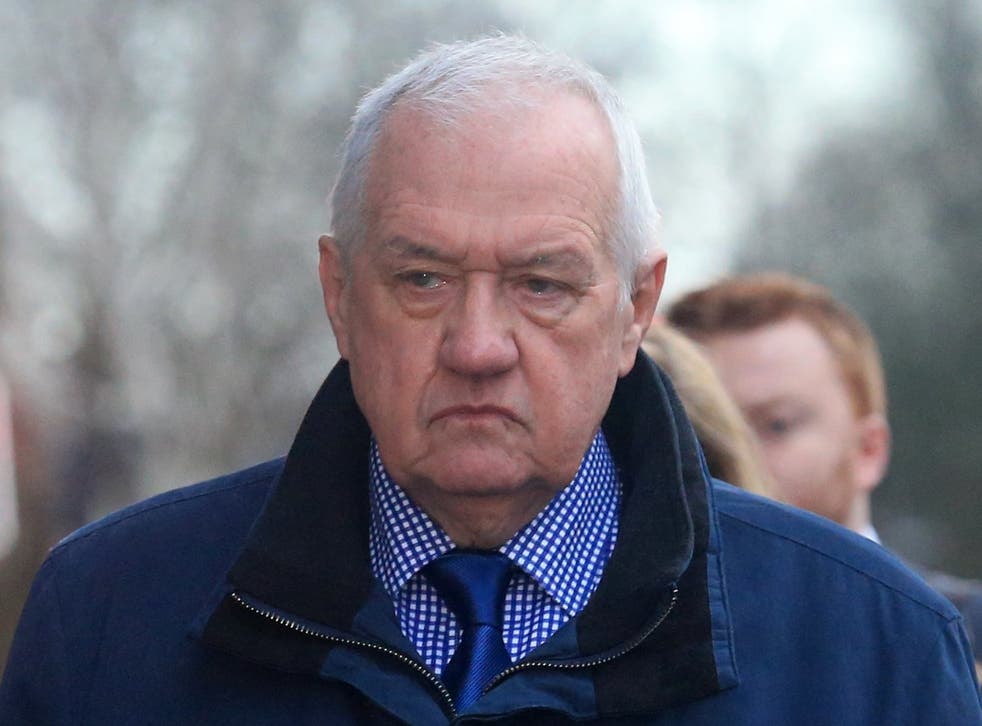 Potential jurors in the trial of Hillsborough match commander David Duckenfield have been asked if they are supporters of Liverpool, Everton, Sheffield Wednesday or Nottingham Forest football clubs.
Mr Duckenfield, a former South Yorkshire Police chief superintendent, appeared before Preston Crown Court on the opening day of the trial charged with the gross negligence manslaughter of 95 Liverpool fans who died as a result of the crush on 15 April 1989.
The 100 potential jurors brought in for consideration were handed a questionnaire asking for any reasons why they cannot sit on the jury, including potential links to the disaster, victims, police or criminal justice agencies.
They were also asked whether they or any close family members or friends were fans of Liverpool, Everton, Sheffield Wednesday or Nottingham Forest football clubs.
Everton are Liverpool's neighbouring Merseyside club. Nottingham Forest were Liverpool's opponents on the day, while Hillsborough is Sheffield Wednesday's ground.
While answering yes to this question would not automatically disqualify them from being on the jury, they would then be asked to provide further information before a decision was made.
Mr Justice Openshaw told potential jurors: "We must try to have a representative cross-section of our society. I must find jurors who can justly and fairly try this case."
He invited all the potential jurors to present reasons why they could not serve on the jury for the duration of the trial, but warned: "Don't go out and book a holiday this afternoon, it's happened before."
The judge, who also told them not to look up anything about the disaster on the internet, said the trial may last up to four months and is expected to finish by 10 May.
Mr Duckenfield is on trial alongside former Sheffield Wednesday club secretary Graham Mackrell, who is charged with two health and safety offences.
Ninety-six men, women and children died as a result of a crush at the FA Cup semi-final between Liverpool and Nottingham Forest in 1989.
UK news in pictures

Show all 50
The victims, Liverpool fans, had been in pens at the Leppings Lane end of Sheffield Wednesday's Hillsborough football ground.
There can be no prosecution over the death of the 96th victim, Tony Bland, as he died more than a year and a day after his injuries were caused.
Mr Duckenfield, 74, arrived at court shortly after 9am, accompanied by his solicitor and a number of family members.
He previously pleaded not guilty to manslaughter, and Mr Mackrell, 69, denies contravening the Hillsborough stadium's safety certificate, by failing to agree the methods of admission for the match.
Mr Mackrell also pleads not guilty to failing to discharge a duty under the Health and Safety Act by not taking reasonable care in respect of arrangements for admission and drawing up contingency plans.
Some relatives of the victims are in Preston to attend the trial, while others will watch a live video stream at the Cunard building in Liverpool.
By Monday afternoon, Judge Openshaw had whittled down the list of potential jurors to 32 after excusing 68 people.
"I'm giving you an opportunity to reflect on your position overnight," he told those remaining. "Don't start researching the case on the internet."
Jury selection is to continue on Tuesday, with the prosecution expected to open its case in the afternoon.
Register for free to continue reading
Registration is a free and easy way to support our truly independent journalism
By registering, you will also enjoy limited access to Premium articles, exclusive newsletters, commenting, and virtual events with our leading journalists
Already have an account? sign in