Historic child sex abuse inquiry: Harvey Proctor calls for resignations at the Met after being questioned by investigators
Former Conservative MP accuses Scotland Yard of 'trashing human rights and using methods that nobody in this country would genuinely regard to be reasonable or fair'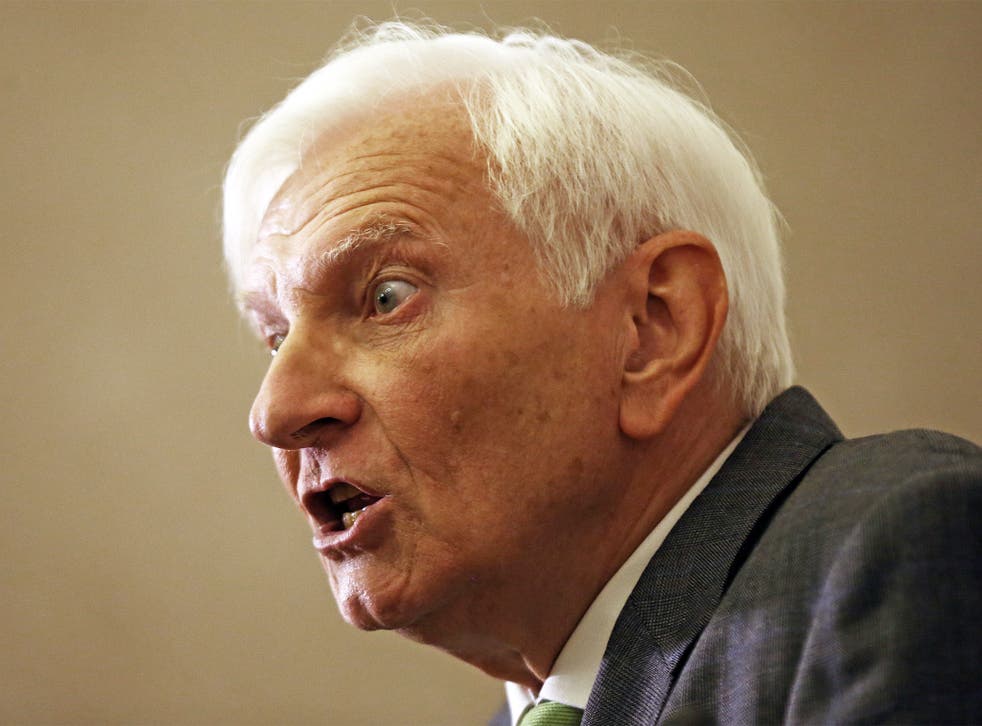 Former Conservative MP Harvey Proctor, who was questioned by police investigating allegations of historic child sex abuse and of murder, is demanding the resignation of Sir Bernard Hogan-Howe, Metropolitan Police Commissioner, and several senior officers. Speaking during the launch of his autobiography on Tuesday, he accused the Met Police of "trashing human rights and using methods that nobody in this country would genuinely regard to be reasonable or fair."
For the past year the 69-year-old has been one of a number of individuals investigated by police after allegations were made of a paedophile network based in Westminster which had murdered three boys.
The investigation into historic child abuse, Operation Midland, was prompted by claims from a witness identified as Nick (not his real name) which police initially described as "credible and true."
During the past year Mr Proctor has had his home raided by officers and has been interviewed under caution twice.
He has repeatedly denied allegations of being part of a paedophile ring that, it was claimed, sexually abused boys and murdered three of them more than 30 years ago.
And last week the former MP learnt that he would face no further action, with Operation Midland closed down without any charges or arrests.
"'Common sense was swept away in the fantasies that gripped the Yard," claimed Mr Proctor, who stood down as the MP for Billericay, Essex, in 1987, after pleading guilty to four charges of gross indecency with young men.
"I should not have been identified by the police as a potential murderer and abuser of children," he said.
The former MP dismissed the allegations as "a figment of one man's imagination, bolstered by a political glitterati and investigated by policemen who have watched too much Miss Marple and Midsomer Murders, and when they established the truth – some time ago I think – they were too afraid of each other and the media to pull the plug."
He told how his life had been ruined by the allegations and added: "Nothing the police do or say, no weasel words of regret, can remove that indelible stain."
Sir Bernard Hogan-Howe, and several senior police officers involved in Operation Midland - Assistant Commissioner Patricia Gallan, Deputy Assistant Commissioner Steve Rodhouse, and Superintendent Kenny McDonald - should "remove themselves from police service."
Their resignations would enable other innocent people to "rest assured that something similar cannot and will not happen to them," he claimed.
Responding to the comments, a Scotland Yard spokesperson said: "The MPS will not be expanding on statements previously issued in relation to Operation Midland."
Register for free to continue reading
Registration is a free and easy way to support our truly independent journalism
By registering, you will also enjoy limited access to Premium articles, exclusive newsletters, commenting, and virtual events with our leading journalists
Already have an account? sign in
Register for free to continue reading
Registration is a free and easy way to support our truly independent journalism
By registering, you will also enjoy limited access to Premium articles, exclusive newsletters, commenting, and virtual events with our leading journalists
Already have an account? sign in