Ingrid Loyau-Kennett, the mother-of-two hailed as a hero for confronting Woolwich attackers, thought: 'better me than a child'
Mother of two Ingrid Loyau-Kennett spoke with the two alleged killers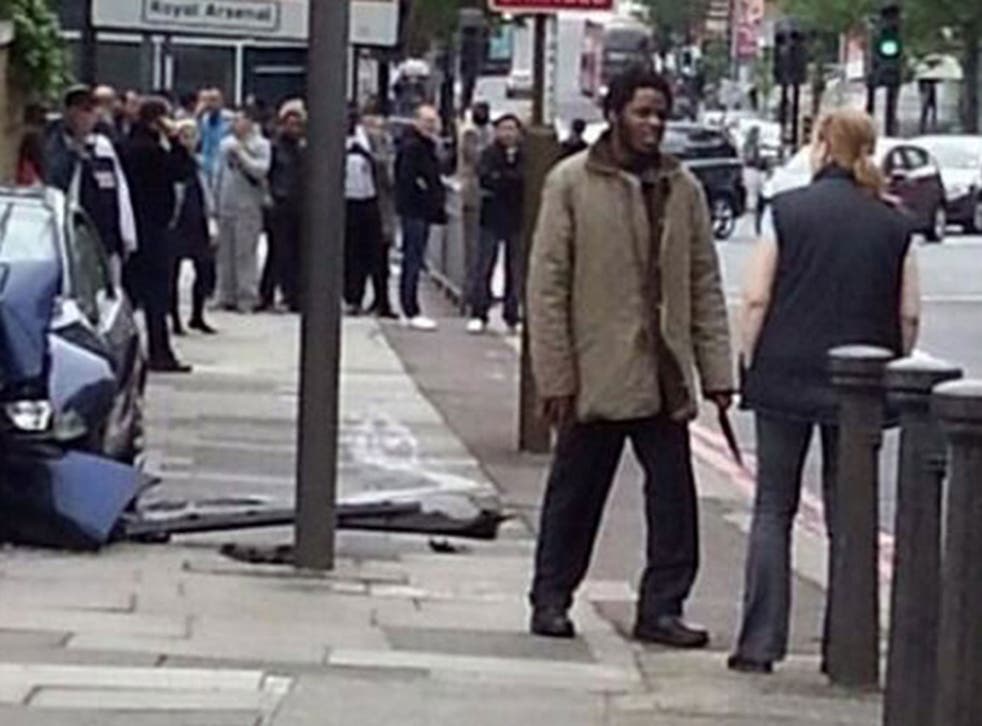 A mother-of-two hailed as a hero after confronting two alleged knife attackers in Woolwich has said she was not afraid as "better me than a child".
Ingrid Loyau-Kennett, 48, of Helston, was one of the first people on the scene after she jumped off a bus heading through Woolwich in south-east London when she spotted the stricken soldier lying bloodied in the road.
She has today been hailed as a hero for her actions in confronting the alleged attackers.
Ms Loyau-Kennett told ITV Daybreak she initially thought the victim had been injured in a car crash after spotting a badly damaged vehicle on a pavement at the scene.
She said: "I went to the guy and when I approached the body there was a lady cradling him. And then (one of the killers), the most excited one of the two, said, 'Don't go too close to the body'.
"I thought, okay. And because I was down I could see a butcher's knife and an axe - that's what he had - and blood. I thought, what the heck? I thought obviously he was a bit excited and the thing was just to talk to him."
Ms Loyau-Kennett said she tried to reason with the killer in an effort to focus his attention away from other potential victims, as large crowds began to huddle at the scene.
She said: "I know it's big today but for me it was just a regular guy, just a bit upset. He was not on drugs, he was not drunk.
"He said, 'Don't touch, I killed him'. I said, 'Why?' He said: 'He's a British soldier. He killed people. He killed Muslim people in Muslim countries.'
"And I said: okay. So what would you like? I tried to maker him talk about how he felt. He said all the bombs dropping and blindly killing women, children...
"More and more people were starting to come. There were so many people around. I just looked around and I found it so daunting."
However, Ms Loyau-Kennett said her thoughts were to "just carry on" talking to the man, while several woman arriving at the scene tried to shield the victim.
She said: "I wanted him to concentrate on me and make sure he doesn't have a funny idea.
"He (the killer) told me he was a British soldier - he didn't look like a British soldier to me, he wasn't in uniform. But I thought if another one passes by, or is in the area..."
Asked if she was scared, the woman replied: "No - better me than a child.
"Unfortunately there were more and more mothers with children stopping around, so it was even more important I was talking to him and ask him what he wanted."
Woolwich and Greenwich MP Nick Raynsford praised the "extraordinary" bravery of members of the public who approached the killers. The men are currently in separate London hospitals being treated for injuries after they were shot by police at the scene.
The Prime Minister David Cameron praised the bravery of Loyau-Kennet saying: "Confronting extremism is a job for us all. And the fact that our communities will unite in doing this was vividly demonstrated by the brave Cub pack leader Ingrid Loyau-Kennett, who confronted one of the attackers on the streets of Woolwich.
"When told by the attacker he wanted to start a war in London she replied you're going to lose, it is only you versus many.
"She spoke for us all."