Woman who let friend practice Isis-style terror attack at her home is jailed
Khawla Barghouthi failed to alert authorities to UK's first all-female terror plot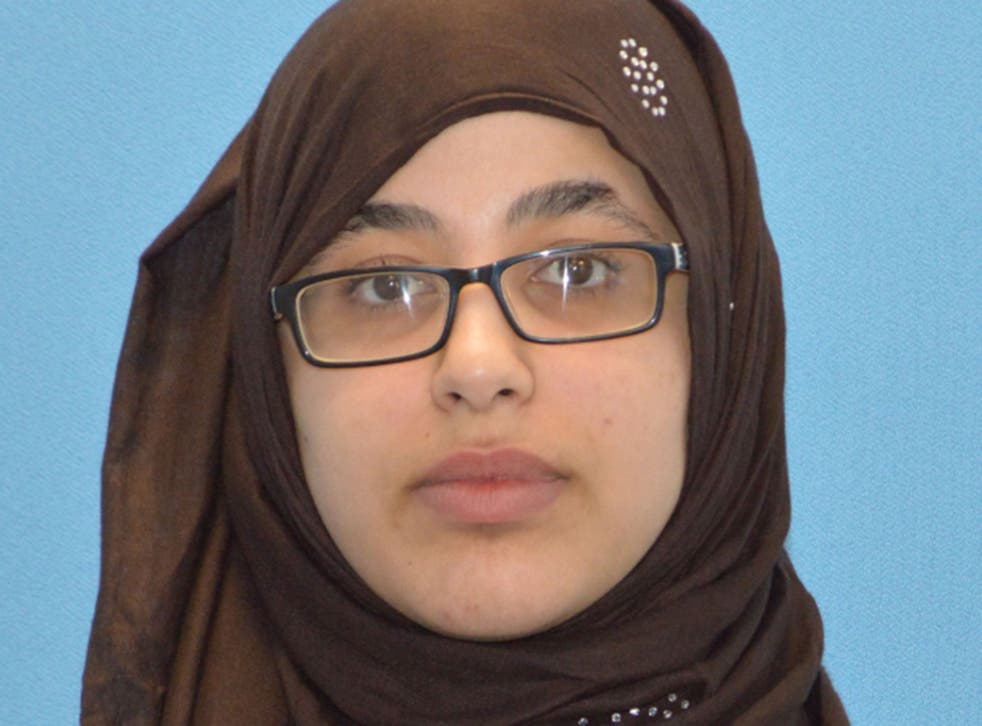 A woman who helped a friend train for a knife attack at her house has been jailed for failing to alert police to the terror plot.
Khawla Barghouthi is one of four members of Britain's first known all-female Isis cell, which planned an atrocity in Westminster before being thwarted by security services.
She was sentenced to two years and four months imprisonment by a judge who said she "failed to disclose information about an imminent attack in which a knife would be used to endanger the life of multiple individuals".
After being released, Barghouthi will face being deported to Tunisia, which she left for Britain with her family a decade ago.
The Old Bailey heard how the 21-year-old was friends with Rizlaine Boular, who was to carry out the attack, and let her practice stabbing victims at her home in northwest London.
Armed police made their move on 27 April last year after listening in on a conversation where the pair laughed and joked about Boular's fears that she might "flop so badly" and cut her arm by accident.
"How are you going to do it? What if they are faster than you?" Barghouthi was recorded saying, before Boular said she hoped "Allah gives me a heart attack" if she got tasered or shot by police.
"Don't worry come here, want to practice on me again?" Barghouthi responded, before the pair started trying different stabbing techniques.
Shortly afterwards, counter-terror police raided her home and arrested her, shooting Boular as she shouted "f*** you".
Boular has been jailed for life and her mother Mina Dich was sentenced to six years and nine months imprisonment for aiding her daughter's plot, which was referred to as a "tea party" in coded phone calls.
They had taken over plans originally started by Boular's teenage sister, Safaa, who was arrested for trying to join Isis in Syria before she could carry out her own plans to attack the British Museum.
​Barghouthi, who is married and was studying at the Open University, claimed that she did not believe the plot was serious.
When questioned on her recorded conversations with Boular, she told the Old Bailey: "I did not believe the person I was with was actually going to go through with anything.
"When I read the transcript I was horrified how it sounds. What I can say, at the time it was extravagant talk and very stupid fooling around."
But Judge Mark Dennis QC said the discussions showed Barghouthi did believe her friend intended to go ahead with the violence and did nothing to put her off, noting that she possessed extremist material herself.
"There was a growing awareness over a number of days of the nature of the attack by Boular," the judge added.
"There is no reason, in my view, to doubt that Boular intended to carry out her violent action, even at the cost of her own life."
Barghouthi previously pleaded guilty to having information about acts of terrorism contrary to section 38 of the Terrorism Act.
UK news in pictures

Show all 50
Deputy Assistant Commissioner Dean Haydon, of the Metropolitan Police, said: "Working with the security services, we tracked their plans and stopped them before they were able to put them into practice.
"All three women [Rizlaine Boular, Safaa Boular and Mina Dich] were filled with hate and toxic ideology and were determined to carry out a terrorist attack. Had they been successful, it could well have resulted in people being killed or seriously injured.
"But thanks to the work of the security services and counter-terrorism police, their plans never came to fruition."
Safaa, who at 18 is Britain's youngest known female terror plotter, will be sentenced at a later date for preparing acts of terrorism.
Friday's hearing came after a Europol report found that the UK suffered the highest number of terrorism deaths, and foiled or successful plots, in Europe in 2017.
If successful, Boular's plot would have been carried out just a month after Isis supporter Khalid Masood killed five people in a car and knife attack on Westminster Bridge and the Houses of Parliament.
Scotland Yard said 16 plots have been thwarted since the atrocity March 2017, including four from the extreme right wing.
The Home Office unveiled its revamped counter-terror strategy earlier this month following criticism over the failure to stop the Manchester and London Bridge attacks, which were carried out by known extremists who had been monitored by MI5.
A report published this week found that officials in the Prevent counter-extremism programme discussed closing the Parsons Green attacker's case 10 days before he tried to bomb a Tube train.
Sajid Javid, the home secretary, said there had been a "step change in the threat from terrorism" in Britain, with the biggest threat coming from Isis and the far right on the rise.
He said the government was working to present "compelling alternatives to the narrative of hate" and on Friday the government announced a £400,000 grant for sports organisations to help challenge extremism.
Register for free to continue reading
Registration is a free and easy way to support our truly independent journalism
By registering, you will also enjoy limited access to Premium articles, exclusive newsletters, commenting, and virtual events with our leading journalists
Already have an account? sign in