UK suffered more terror attack deaths than any other EU country in 2017, report finds
Europol says UK also saw highest number of attempted and successful attacks in Europe 
Lizzie Dearden
Home Affairs Correspondent
Wednesday 20 June 2018 20:31 BST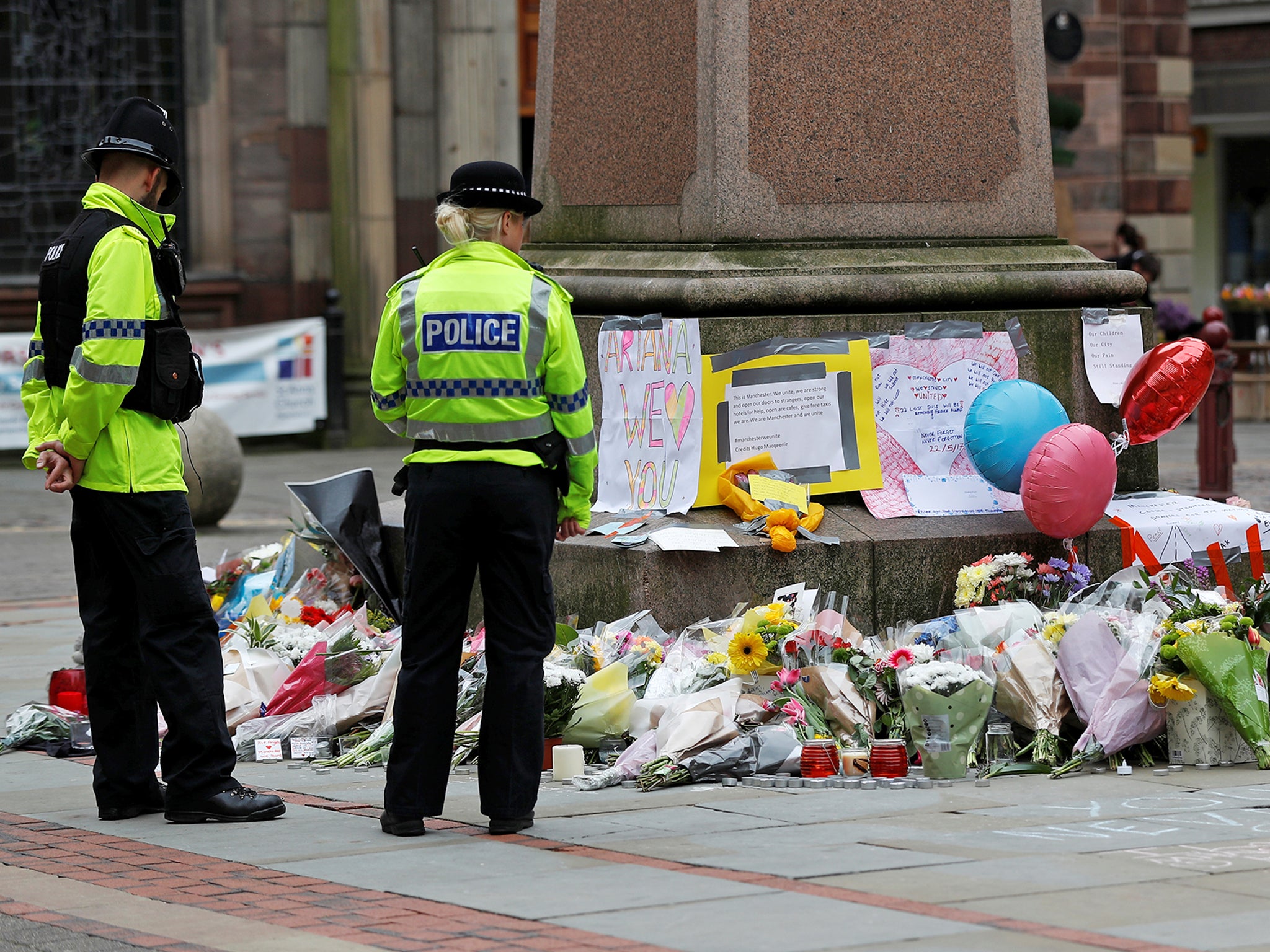 The UK suffered more deaths caused by terror attacks than any other country in Europe in 2017, a report has found as security services thwart one plot a month.
A total of 36 victims lost their lives in the Isis-inspired atrocities in Westminster, Manchester and London Bridge, and the far-right Finsbury Park attack.
The UK's death toll was followed by 16 in Spain, five in Sweden, three in France, two in Finland and one in Germany, while more than 800 people were injured across the EU.
"The numbers in this report are not just statistics," said Europol's executive director, Catherine De Bolle.
"We must never forget that behind every number, there is an innocent victim. It therefore goes without saying that supporting Member States to combat terrorism will remain a top priority for Europol."
Europol's annual terror threat report said Britain experienced the highest number of foiled and completed attacks, with the total standing at 107 including 88 incidents in Northern Ireland.
Scotland Yard said 16 plots have been thwarted since March 2017, including four from the extreme right-wing.
Finsbury Park terror attack: One year on
The Europe-wide figure of 205 attempted and successful atrocities rocketed by 45 per cent from the previous year and officials have warned of the unprecedented pace of fresh plots.
The UK also saw the highest number of terrorists – 125 – prosecuted and the number of arrests has continued to hit new records.
Europol's report noted that terrorists appeared to be increasingly targeting crowds of people to cause mass casualties and an emotional response, as well as symbols of authority or Western lifestyle, like Manchester Arena.
The report said preparation and execution of atrocities has become less sophisticated and jihadist terrorists are often classed as "lone actors", like Westminster attacker Khalid Masood, Manchester bomber Salman Abedi, Finsbury Park attacker Darren Osborne and Parsons Green bomber Ahmed Hassan.
Most attackers in 2017 were home-grown, Europol said, and had been radicalised without joining Isis abroad or making concrete links to terrorist groups, while the number of people travelling to or returning from Syria has dropped sharply.
"Online propaganda and networking via social media are still essential means by which to recruit, radicalise and raise money," the report warned. "The often rudimentary knowledge of Islam makes potential attackers vulnerable to influence and manipulation."
Europol said that although the majority of Isis' former territory in Syria and Iraq has been retaken, the losses do "not imply a reduction of the threat of jihadist terrorism" and it will continue to inspire attacks.
The body also warned of a growing threat from the far-right as movements like the Europe-wide Generation Identity group gain strength, adding: "The violent right-wing extremist spectrum is expanding, partly fuelled by fears of a perceived Islamisation of society and anxiety over migration."
The report was released amid uncertainty over the UK's place in Europol after Brexit. It is the second-largest contributor to the body's information systems and the British government wants its relationship to stay "as close to the status quo as possible", but there are concerns about third-party access restrictions and other conditions in a proposed security treaty.
London Bridge Terror Attack
Show all 16
Jeremy Fleming, the head of GCHQ, said British intelligence agencies would continue "excellent relationships" with their European counterparts.
Speaking on Tuesday, he revealed GCHQ has helped foil terror attacks in at least four other European countries in the last year.
European Commissioner Dimitris Avramopoulos said terrorism will "continue to be a threat for the world, Europe, our citizens, our security and our way of life for the foreseeable future".
"The problem affects all of us equally, and we can only address it with collective action, unity of purpose, and above all trust," he added. "A genuine and effective security union in Europe is the surest way to tighten the screws on terrorists until they no longer have space to commit their atrocities."
The British government published its new counter-terrorism strategy this month and has proposed a series of legal changes to criminalise expressing an opinion supporting a terrorist group and repeatedly viewing terrorist material.
Sajid Javid, the home secretary, said the provisions would allow police and MI5 to disrupt threats earlier, bring laws up to date for modern internet use and allow more effective investigations.
But MPs and peers on the Joint Human Rights Committee questioned whether they could overstep the law and infringe on freedoms at a session on Wednesday.
Max Hill QC, the Independent Reviewer of Terrorism Legislation, said criminalising a statement that is "reckless as to whether a person to whom the expression is directed will be encouraged to support a proscribed organisation" lacks necessary safeguards.
He argued the existing offence of encouraging terrorism in an older law was sufficient and the change could "cross a line".
Corey Stoughton, the advocacy director at Liberty, warned of a "chilling effect" on public debate that could criminalise mere discussion about whether the 88 groups outlawed in Britain should be banned,
"Activity that was not criminal before will be criminal," she told the committee. "There is a confusion between activity that might reasonably lead to a suspicion of criminality and terrorism, and activity that is itself criminal or terrorist."
The committee also heard objections to the proposed criminalisation of viewing terrorist material three or more times online.
Mr Hill said that although police and prosecutors were only likely to use the law to prove a "pattern of behaviour" in cases where no other offence could be proven, there was no timeframe or adequate safeguards.
"There is a risk that the mesh of the net is far too fine and catch far too many people," he added.
"I find a prison sentence of 15 years difficult to countenance when nothing is to be done with the material, it is not passed to a third party, and it is not being collected for a terrorist purpose."
Journalists, academics and people with a "reasonable excuse" to view the material will be protected but Mr Hill questioned the fate of members of the public looking in "curiosity, horror or disgust".
Mr Javid previously denied criticism that the bill was "Orwellian", saying it will "be subject to full parliamentary debate as well as ongoing scrutiny by the intelligence and security and home affairs select committees, and indeed the courts".