Isis supporter who called for terror attacks on Prince George's school jailed for life
Police say Husnain Rashid provided a 'toolkit for terrorists' around the world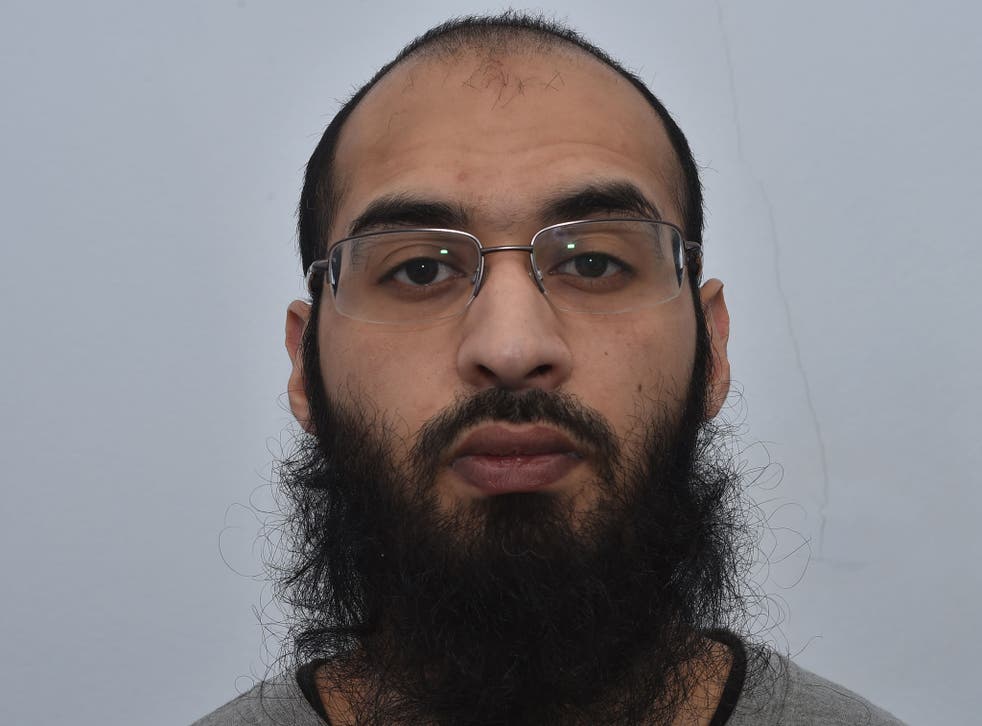 An Isis supporter who created a "toolkit for terrorists" and called for attacks on targets including Prince George, the World Cup and Jewish communities has been jailed for life.
Police said Husnain Rashid attempted to inspire atrocities around the world "on a colossal scale", using encrypted messaging services to send out advice on using poisons, vehicles, weapons, bombs, chemicals and knives.
He sent at least 300,000 messages and posts, including messages to Isis's Amaq "news agency", while holed up in a bedroom in his parents' home.
Woolwich Crown Court heard that the 32-year-old also posted messages glorifying terror attacks and aspired to travel to Syria to fight for Isis himself.
One of his posts included a photograph of Prince George, along with the address of his school, a black silhouette of a jihadi and the message: "Even the royal family will not be left alone."
Judge Andrew Lees said: "The message was clear – you were providing the name and address of Prince George's school, an image of Prince George's school and the instruction or threat that Prince George and other members of the royal family should be viewed as potential targets."
The judge jailed Rashid for life with a minimum term of 25 years for a string of terrorism offences including preparing terrorist acts and encouraging terrorism.
Rashid used several online platforms to spread Isis and al-Qaeda propaganda, as well as his own material.
A magazine he was producing contained suggestions to strike the 2018 World Cup in Russia with vehicles, weapons or bombs.
Rashid, who is said to have taught at the Muhammadi mosque in Nelson, Lancashire, ran a "prolific" Telegram channel named Lone Mujahid.
It included a recipe for ricin from the al-Qaeda magazine Inspire, how to make Molotov cocktails and napalm, and a suggestion of poisoning supermarket ice creams and fruit with cyanide.
Prosecutors said a common theme of his communications was to inspire and instruct "lone wolf" atrocities, creating an online library with the goal of helping others plan an attack.
His list of suggested targets were wide-ranging – including British army bases, shopping centres, Jewish communities and government buildings.
Rashid urged readers to "fight and spill the blood to the apes in your land" and called for them to "start preparing tools and weapons/explosives".
Judge Lees said Rashid's plans were "indiscriminate" and made no distinction between adults and children, or between members of fighting forces and civilians.
"You provided what you regarded as inspiration for suitable targets for lone wolf terror attacks," he added.
"Attacks in Western countries were in your eyes the only suitable acceptable alternative to jihad itself."
Rashid also planned to travel to Turkey and Syria with the intention of fighting for Isis and was in contact with at least one man, who had already made the journey, over how to reach the warzone and gain authorisation to fight.
Investigators believe Rashid was "days away" from leaving Britain by the time he was arrested on 22 November, when he tried and failed to dump his mobile phone.
He provided one British militant who was known online as "Repunzel" with information about methods of shooting down aircraft using lasers and jamming missile systems, the court heard.
UK news in pictures

Show all 50
Detective Superintendent Will Chatterton, the head of Investigations for Counter Terrorism Policing North West, called the case "very significant".
"This guy's sole intention was to provide support, assistance and encouragement to terrorists on a colossal scale," he told The Independent.
"He was in the process of creating a jihadi online magazine containing advice specifically directed at terrorists of a lone wolf nature, using knives, vehicles and products you can buy over the counter.
"He was also managing and creating a large number of encrypted channels that he was populating with a huge amount of terrorist materials, while glorifying past attacks and suggesting new attacks against specific targets and individuals.
"It was his reach around the world that made him so dangerous."
British security services are currently foiling an average of one terror plot every month and the number of arrests for terror offences has hit a new record.
Det Supt Chatterton said Rashid aimed to provide an online "toolkit for terrorists", wherever they were in the world, and named targets as far apart as New York, Vatican City and Australia.
The officer said there is no intelligence that any of his followers have committed an attack "but what makes it dangerous is that this stuff was readily available to like-minded individuals".
"People operate in online spaces under the assumption that encryption will make them anonymous, but this sends out a strong message that we will go after these people and bring them down," he added.
Rashid, of Nelson in Lancashire, admitted three counts of engaging in conduct in preparation of terrorist acts between October 2016 and his arrest in November 2017.
He also admitted one count of encouraging terrorism and was sentenced to a further four-and-a-half years imprisonment, to run concurrently with his life sentence.
Register for free to continue reading
Registration is a free and easy way to support our truly independent journalism
By registering, you will also enjoy limited access to Premium articles, exclusive newsletters, commenting, and virtual events with our leading journalists
Already have an account? sign in