James Sanders: The trader who thought he was untouchable
High-rolling financier caught out by bragging phone call to father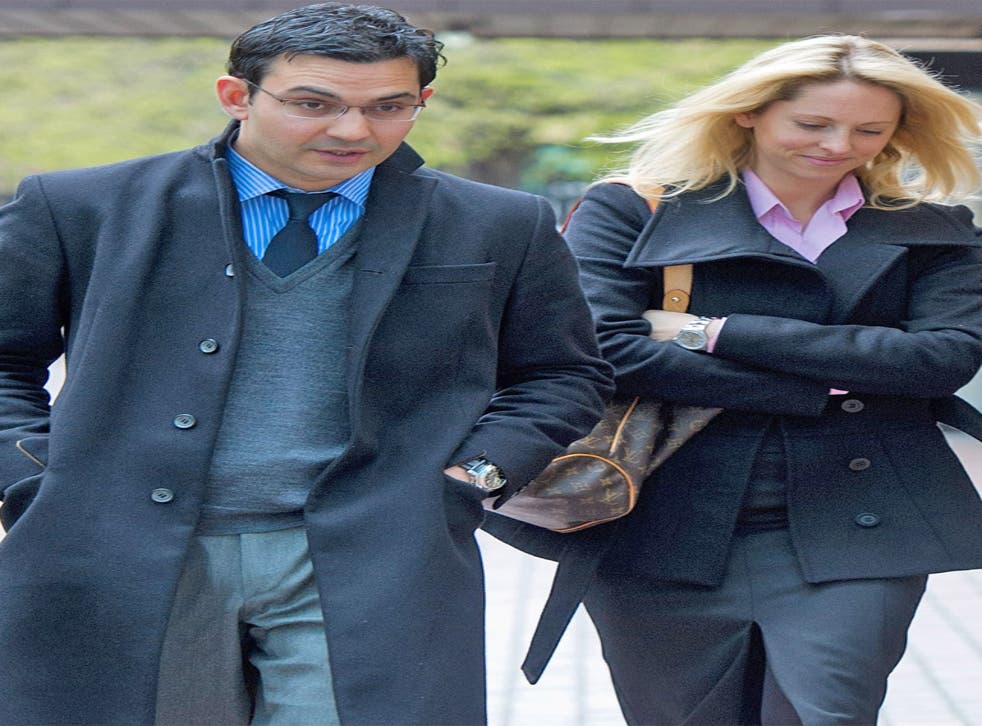 James Sanders, the immaculately dressed City trader, had sketched a lavish future for himself and his wife, in which he spent hundreds of thousands of pounds from illegal share deals on jewellery, luxury cars, fine wine and property.
But an intercepted phone call in which he boasted to his father that he would never be caught for insider trading yesterday saw him jailed for four years after an transatlantic investigation by the Financial Services Authority.
Sanders, 35, held hands with his wife Miranda, 34, and the couple kissed in the dock at Southwark Crown Court as they were sent to prison. Miranda was jailed for 10 months after last month admitting using knowledge of impending US takeovers gleaned from conversations overheard by her sister, who was married to a senior partner at Deloitte in San Francisco.
The information was used to benefit clients of her husband's brokerage Blue Index. Sanders was described as "arrogant" and as considering himself "invincible" as he built up a London property portfolio and gave his wife a £60,000 diamond as a gift.
Investigators, who trawled through 26 million emails and 800,000 phone calls, discovered a scrap of headed notepaper on which Sanders demonstrated his hubris. He wrote "£100,000 car fund" and budgeted "£50,000 miscellaneous – watch, clothes, hols, wine". There were also plans for £150,000 improvements to his London home, one of two £5m Kensington town houses he owned and where he hoped to install a £35,000 wine cellar. He planned to divide his gains between £200,000 in cash and £60,000 in premium bonds.
Sanders' fleet of cars included two Ferraris, Maseratis, an E-type Jaguar, a Porsche and a Bentley. Overall it is estimated that Sanders and his business partner James Swallow made £2m in profits from the tips. The link was traced to Miranda Sanders' sister Annabel McClellan, who was supplying confidential information overheard from her husband Arnold, who was head of mergers and acquisitions for the accountants involved in each of the deals. Blue Index clients are believed to have made around £10.2m, while the business was eventually sold for £8m.
Sanders' counsel Andrew Radcliffe QC told the court that he was now "embarrassed and ashamed by his crimes". The prosecutions are a significant victory for the FSA, which has faced criticism over its failure to tackle insider dealing. Tracey McDermott, acting head of enforcement at the FSA, described how there were whoops of joy after investigators played back a conversation between Sanders and his father Tim. "Is this not insider dealing?" asks Tim. "No, not really. Well ..." his son replies. When his father laughs and says: "Try proving it", James responds: "Yes, exactly!"
The couple saw their sentences reduced by a quarter after admitting a series of offences. James Swallow was jailed for 10 months. Annabel McClellan was ordered to serve 11 months in the US. No charges were brought against Mr McClellan. Ms McDermott said: "As they prepare to spend their first night behind bars they will be reflecting on the consequences of their greed. Others should be in no doubt about our commitment to tackle those who abuse the market."