Julian Assange can still be arrested if he leaves Ecuadorian embassy after judge rules UK warrant still valid
Judge says Wikileaks founder should have the 'courage' to defend himself in court 
Lizzie Dearden
Home Affairs Correspondent
Tuesday 13 February 2018 15:39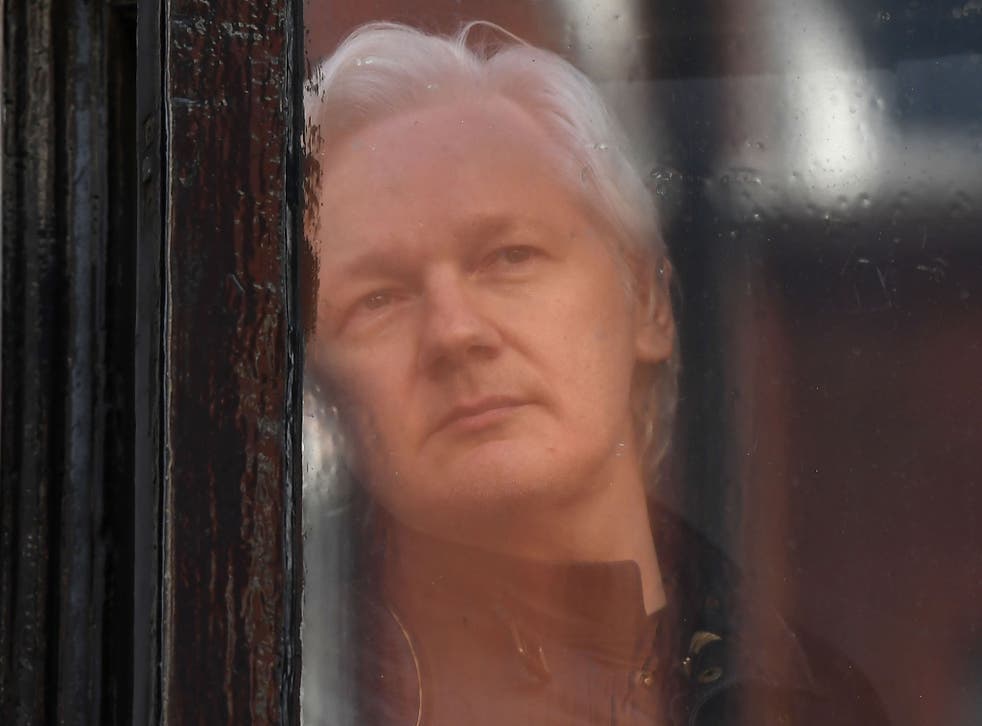 Julian Assange can still be detained police if he leaves the Ecuadorian embassy in London, a judge has ruled after refusing to cancel a long-standing arrest warrant.
The Wikileaks founder's legal team argued that continuing to pursue him for violating bail conditions was not proportionate or in the public interest, but senior district judge Emma Arbuthnot threw out their claim.
She told Westminster Magistrates' Court the activist should have come to court himself but chose to "restrict his own freedom".
Judge Arbuthnot described Mr Assange as a "man who wants to impose his terms on the course of justice, whether this jurisdiction or in Sweden".
"He appears to consider himself above the normal rules of law and wants justice only if it goes in his favour," she added.
"Defendants on bail up and down the country, and requested persons facing extradition, come to court to face the consequences of their own choices. He should have the courage to do so too."
Mr Assange said he was "surprised" by the ruling and accused the judge of making "significant factual errors" as his lawyers vowed to appeal.
Julian Assange in the Ecuadorian embassy - a timeline
Judge Arbuthnot said there was "no evidence" to support Mr Assange's fears of being extradited to the US over Wikileaks' activity, adding: "Mr Assange's failure to surrender [to the court] has impeded the course of justice and has led finally to the case being dropped as it cannot be continued unless he returned to Sweden."
She had considered emails between British and Swedish lawyers, evidence on Mr Assange's health and other submissions presented at a previous hearing last week.
Mark Summers QC told the court his client had "reasonable grounds" for fleeing to the Ecuadorian embassy in 2012, while under bail conditions and a European Arrest Warrant over sexual assault allegations in Sweden.
Arguing the past five-and-a-half years were "adequate, if not severe punishment" for skipping bail, the barrister said Mr Assange suffered from depression and health issues related to his confinement in a small room.
But Judge Arbuthnot found the bail conditions imposed during the Swedish investigation were legal and proportionate, and that conditions inside the Ecuadorian embassy were "nothing like a prison".
While acknowledging that Mr Assange was "suffering physically and mentally", she said his arrest would still be a proportionate response to his failure to attend court and its impact on the course of justice.
"When considering the public interest I have regard to the consequences of his failure to appear, one of which is the drain on resources that policing Mr Assange's choice has caused," she added.
"I must look at the impact on public confidence in the criminal justice system if Mr Assange is allowed to avoid a warrant for his arrest by staying out of reach of the police…it is certainly not against the public interest to proceed."
As the judgement was being handed down, Mr Assange tweeted that the "judge is just defending UK state actions".
His solicitor, Gareth Peirce, said it would be possible to appeal against the decision.
Speaking outside the court, she said: "Whether it is pursued is another question - the history of the case from start to finish is extraordinary.
"Each aspect of it becomes puzzling and troubling as it is scrutinised."
Mr Assange has accused the UK of a "cover-up" to keep him detained, and his lawyer Jennifer Robinson previously claimed the Government had refused to confirm or deny whether there is an extradition request from the US.
The UN called on Swedish and British authorities to free Mr Assange from "arbitrary detention" in a report released in 2016 – which was relied upon by his lawyers – but the judge dismissed its findings as "quite wrong".
"He can leave the embassy whenever he wishes; secondly, he is free to receive, it would seem, an unlimited number of visitors and those visits are not supervised; thirdly, he can choose the food he eats, the time he sleeps and exercises," she said.
"He can sit on the balcony (I accept probably observed by the police and his supporters) to take the air. He is not locked in at night.
"I suspect if one were to ask one of the men incarcerated in Wandsworth Prison whether conditions in the Ecuadorian embassy were akin to a remand in custody, the prisoner would dispute the working group's assertions."
The judge said she had seen evidence of Mr Assange getting sunlight but he tweeted that it amounted to "pulling security to get me safely on the balcony six times in six years for a few minutes".
A small group of supporters stood outside the court after the ruling, holding banners reading "Free Assange'' and "Assange Safe Passage".
Mr Assange's team initially argued that there must be "underlying proceedings" to maintain the arrest warrant but in a previous hearing on 6 February, Judge Arbuthnot concluded: "It is not uncommon for Bail Act offences to be pursued when the substantive proceedings are no longer in existence."
Mr Summers told the court a Crown Prosecution Service (CPS) lawyer had advised Swedish prosecutors that his client should be interviewed in Stockholm rather than London.
Lawyers presented emails obtained under a Freedom of Information request but Judge Arbuthnot said there was insufficient evidence to say whether the CPS lawyer had "acted inappropriately".
As the Swedish investigation continued in December 2010, Mr Assange was jailed in Wandsworth Prison's isolation unit for 10 days and then put under house arrest for 550 days under powers granted by an international arrest warrant.
The Australian activist was still on bail when he fled to the Ecuadorian embassy in 2012, stating fears that the probe could be used to extradite him to the US for Wikileaks' activities.
There is no public record of pending criminal charges against Mr Assange pending in the US, where the Justice Department previously concluded it would be inappropriate to prosecute Wikileaks because it was too similar to a media organization.
But in March 2017, federal prosecutors in Virginia expanded a long-running grand jury investigation into the website and its personnel, including Mr Assange, which is ongoing.
UK news in pictures

Show all 50
Sweden dropped its preliminary investigation for logistical reasons two months later, after Mr Assange had been interviewed by Ecuadorian prosecutors, the European Arrest Warrant to be scrapped.
Sweden's director of public prosecutions, Marianne Ny, said no judgment on guilt or innocence could be made, adding: "The decision to discontinue the investigation is not because we've been able to make a full assessment of the evidence, but because we didn't see possibilities to advance the investigation."
At the time, the Metropolitan Police confirmed its officers were still required to arrest Mr Assange.
"Westminster Magistrates' Court issued a warrant for the arrest of Julian Assange following him failing to surrender to the court on the 29 June 2012," a statement said.
"The Metropolitan Police Service is obliged to execute that warrant should he leave the embassy."
Scotland Yard stood down the 24/7 police presence outside the Ecuadorian Embassy building in 2015 but pledged to make "every effort" to arrest Mr Assange if he left.
The activist, who was never charged, repeatedly said he was "entirely innocent" of the allegations, which stemmed from a meeting with the claimant in August 2010.
The Ecuadorian government has granted Mr Assange citizenship and sent letters on his behalf arguing that public declarations by US officials constituted an "obvious risk".
Mr Assange said a package containing a "threat" and white powder was sent to him at the Ecuadorian embassy last week, although the item was deemed "non-suspicious" by police.
Additional reporting by PA
Register for free to continue reading
Registration is a free and easy way to support our truly independent journalism
By registering, you will also enjoy limited access to Premium articles, exclusive newsletters, commenting, and virtual events with our leading journalists
Already have an account? sign in
Register for free to continue reading
Registration is a free and easy way to support our truly independent journalism
By registering, you will also enjoy limited access to Premium articles, exclusive newsletters, commenting, and virtual events with our leading journalists
Already have an account? sign in