Julian Assange: What is his current legal predicament? How could the Wikileaks Founder leave Ecuador's embassy?
After losing a bid to overturn a UK arrest warrant, it is unclear how the controversial whistleblower will come to leave the Ecuadorian embassy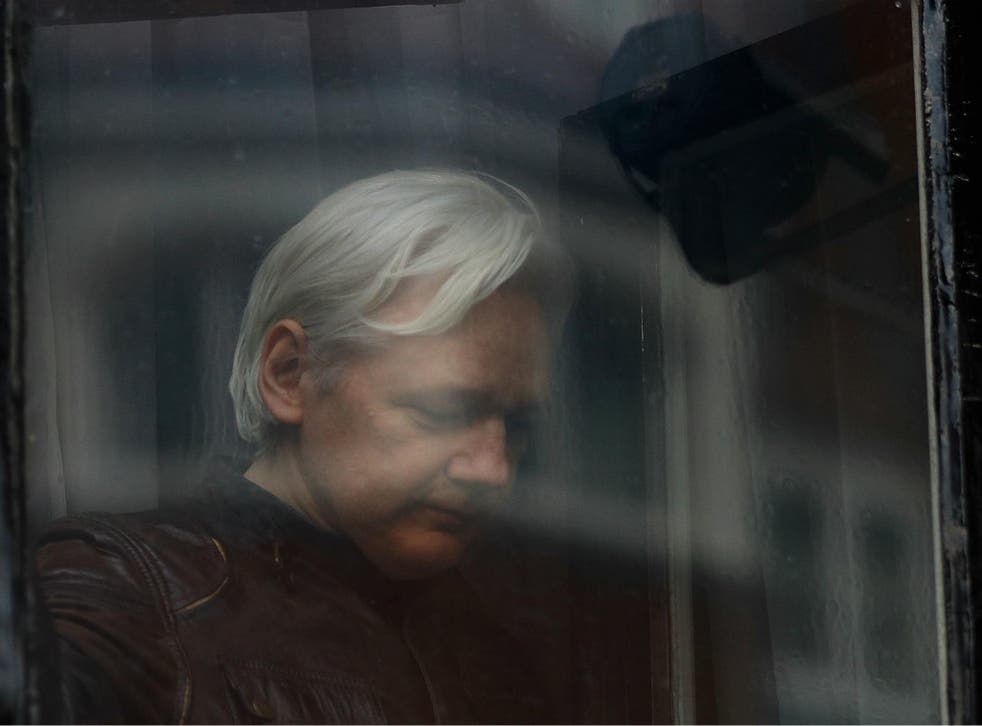 Wikileaks founder Julian Assange has been holed up in the Ecuadorian embassy in London for almost six years, and there is no clear end to the saga after a court said a warrant for his arrest still stands.
Westminster Magistrates' court upheld the UK arrest warrant, saying despite the fact that rape and sexual assault charges Mr Assange was originally wanted for in Sweden had now been dropped, he was still wanted for refusing to surrender to bail "without reasonable cause", which is a criminal offence.
Why hasn't Julian Assange faced justice?
Mr Assange has frequently said he would happily face British and Swedish justice if he is given a guarantee he will not be extradited to the United States.
This demand has never been overtly agreed to by the UK.
It is unclear how strong the appetite to prosecute Mr Assange is in America. In the past, his organisation has been a source of deeply embarrassing revelations for the US.
But Wikileaks' recent activity has benefited the current administration – including the leak of Hillary Clinton's campaign emails obtained by Russian-backed hackers.
The move lead Donald Trump to declare during his presidential bid: "I love Wikileaks."
But since then the tone has changed. Last year US Attorney General Jeff Sessions said Mr Assange's arrest was a "priority", while CIA director Mike Pompeo said: "It's time to call out WikiLeaks for what it really is: a non-state hostile intelligence service often abetted by state actors like Russia."
Despite the strong words, there remains no public criminal case against either Mr Assange or his organisation.
Mr Assange's lawyers maintain the US would seek to extradite and prosecute him.
What is next for the Wikileaks founder?
Following Tuesday's ruling, Jennifer Robinson, a member of Julian Assange and WikiLeaks' legal team since 2010, said: "For more than seven years we have been fighting to end the restrictions placed on Julian Assange's liberty without charge. After today, we will continue to fight to ensure his freedom.
"We will also continue to seek assurances that the UK does not have a US extradition warrant, and will let him leave the country freely and without interference."
She added: "We must confront the real issue in this case: if Julian Assange walks out of the embassy today he risks facing extradition to the US to face prosecution for publishing information in the public interest with Wikileaks.
"The British authorities' failure to provide assurance against that risk is the reason he sought asylum in the embassy in the first place.
"This is and has always been our overriding concern. This is why Ecuador has provided him with protection and why Ecuador has sought mediation with the UK government to resolve the situation.
"The UK Government refuses to confirm or deny whether there is an extradition request or give an assurance against extradition, which means we cannot be confident he can walk out of the embassy without being arrested and extradited to the US."
In the immediate future, questions remain over Mr Assange's health, which along with public interest issues, will be subject to a separate judgment on Tuesday.
What are Wikileaks biggest revelations?
Mr Assange gained international notoriety after his anti-secrecy organisation published classified military documents revealing tens of thousands of civilian deaths at the hands of the US forces in Iraq and Afghanistan.
One of Wikileaks biggest releases of information came in 2010 from US Army intelligence analyst Bradley Manning, who later changed her name to Chelsea.
Ms Manning leaked more than 250,000 diplomatic cables, including military logs that included footage of an Apache gunship crew shooting dead a group of men they thought had a rocket launcher. It turned out to be journalists for Reuters carrying a television camera.
At the time, Ms Clinton, then Secretary of State, said the leaks "tore at the fabric of government" and pledged "aggressive steps to hold responsible those who stole this information".
Wikileaks later released a cache of diplomatic cables from US embassies, including embarrassing and personal assessments of international figures.
More recently the organisation has claimed the UK and the US's CIA worked together to use Samsung televisions as microphones.
Arrest
In August 2010, the first arrest warrant was issued for Mr Assange for two separate allegations – one of rape and one of molestation – after he visited Sweden. He was questioned by police in Stockholm and denied the allegations.
Later that year, an international arrest warrant was issued by Swedish police through Interpol, and in February 2011 a British judge ruled Mr Assange should be extradited to Sweden to face the charges.
After losing an appeal against the decision, Mr Assange entered the Ecuadorian embassy in London demanding asylum, which was subsequently granted.
Scotland Yard stood down the 24/7 police presence outside the Ecuadorian embassy building in 2015 but pledged to make "every effort" to arrest Mr Assange if he left.
World news in pictures

Show all 50
There had been controversy over the escalating cost of the exercise, which was believed to be over £12m.
In May, Sweden's director of public prosecutions said the preliminary rape and sexual assault probe was discontinued for logistical reasons.
"The decision to discontinue the investigation is not because we've been able to make a full assessment of the evidence, but because we didn't see possibilities to advance the investigation," Marianne Ny added, saying no judgment on guilt or innocence could be made.