Kandyce Downer: Foster mother guilty of murdering toddler in her care jailed for life
The mother-of-four murdered the toddler months after being made her legal guardian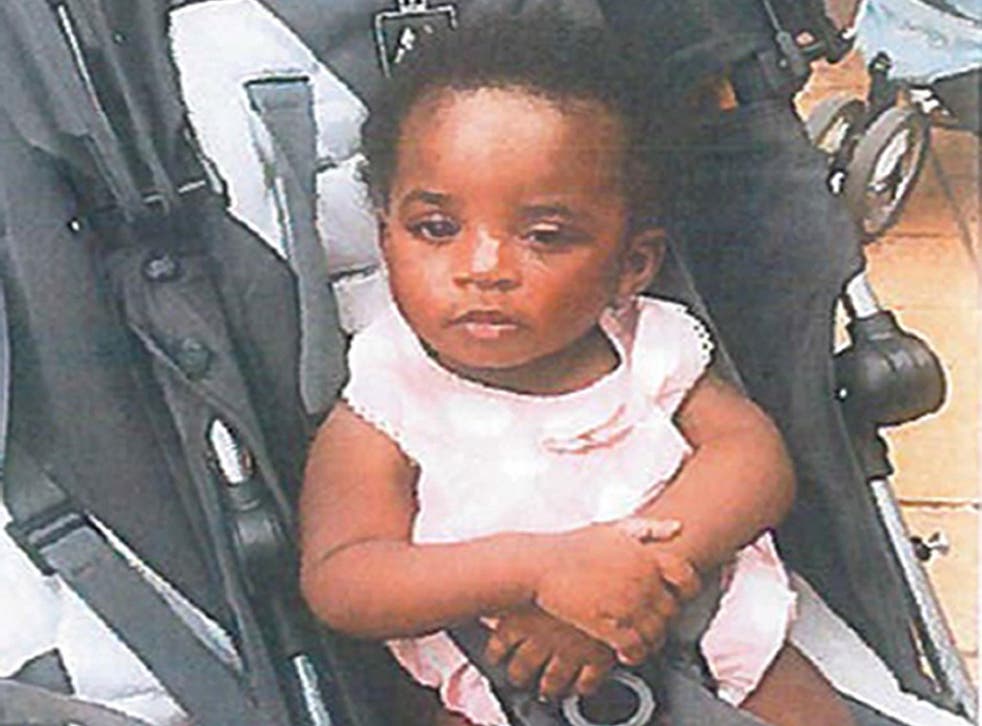 A foster mother who battered an 18-month-old baby to death just months after becoming her guardian has been jailed for life.
Kandyce Downer, 34, was convicted of murdering toddler Keegan Downer on Tuesday at Birmingham Crown Court. She will be jailed for a minimum of 18 years.
The toddler, who was born Shi-Anne, collapsed on 5 September last year at the family home in Birmingham. A post-mortem found she had died from a combination of septicaemia, infection, blunt chest trauma and old head injuries.
Medical evidence also given in court stated that Keegan had sustained 200 injuries on her body, including seven broken ribs, brain and spinal injuries and bruises on her face and body. There were a total of 153 scars found on her, including on her face and neck.
She had also suffered from an untreated spiral leg fracture which had caused a deformity, leaving one leg shorter than the other and putting her in a considerable amount of pain, and a head injury that would have hindered her ability to fight infection.
Mrs Justice Frances Patterson, sentencing Downer to life imprisonment, said: "It is a horrible tale of callous conduct and at no stage have you showed any remorse.
"Why you changed from a loving mother to a brutal attacker of a defenceless child is a mystery."
Keegan was born in March 2014 to a heroin addict and placed into foster care soon after. She was later placed with Downer, a member of her extended family, who became her legal guardian in January 2015.
During the trial the court heard how, on the day of Keegan's death, Downer had driven to a skip near her house to get rid of the toddler's blood stained mattress before calling 999 for help.
Downer denied murder and causing or allowing the death of a child. She also attempted to blame her eldest son, aged 17, for the injuries on Keegan's body during the trial.
The judge told "vicious and unfeeling" Downer she had inflicted terrible injuries on the child, including brain damage which caused the defenceless youngster to regress.
"As a result of the trauma, Keegan's brain was incarcerated in scar tissue which caused persistent pressure on it, preventing the brain from growing, and Keegan would have become backwards in her development.
"She would have regressed from what she could do physically."
She said: "You did not set out with the intention to kill Keegan but the repeated assaults on her made death as an outcome of your conduct increasingly likely passage of time."
Mrs Justice Patterson added that Downer had "hitherto been an exemplary mother" but had caused untold suffering on the little girl in her care.
She said: "The bruising and injuries to Keegan's face, head and frenuli (mouth tissue) would have been evident to her carers.
"These injuries would have been caused by a hard slap, a punch, or forcing a feeding bottle into her mouth."
Concluding her remarks to an unmoving Downer, the judge added: "Keegan suffered considerably in the last days and months of her life."
Speaking outside court after the hearing, a tearful Elaine Downer, Keegan's paternal grandmother, said: "I can't understand how no-one noticed (her injuries) and that shocked me.
"Not meeting your grandchild or to see her grow up or to hear her laugh or to ever get married, it means a lot.
"It's your grandchild because it means more because grandparents always seem to spoil their grandchildren.
"It is terrible, it is a nightmare. I am glad justice was served."
Speaking after Tuesday's verdict, Detective Inspector Harry Harrison, of West Midlands Police, said: "My view of Kandyce Downer is really quite blunt.
"Her treatment of Keegan was barbaric, inhuman and downright evil."
A lessons-learned serious case review is being carried out by Birmingham Safeguarding Children Board (BSCB) into Keegan's contact with health and social services in the run-up to her death.
The board's chairman, Penny Thompson, said: "On behalf of all the agencies who sit on the BSCB I would like to express our deepest sympathy to Shi-Anne's birth family and to those who knew and loved her.
"Following Shi-Anne's tragic death, the board set up an independent inquiry, a serious case review, to establish what lessons could be learned by the agencies involved in this sad case.
"Now that the criminal trial has ended the review can be completed, reflecting on information disclosed during the trial."
The report will be published in the summer.
Additional reporting by PA
Register for free to continue reading
Registration is a free and easy way to support our truly independent journalism
By registering, you will also enjoy limited access to Premium articles, exclusive newsletters, commenting, and virtual events with our leading journalists
Already have an account? sign in
Register for free to continue reading
Registration is a free and easy way to support our truly independent journalism
By registering, you will also enjoy limited access to Premium articles, exclusive newsletters, commenting, and virtual events with our leading journalists
Already have an account? sign in