Law and police chiefs unite on scandal strategy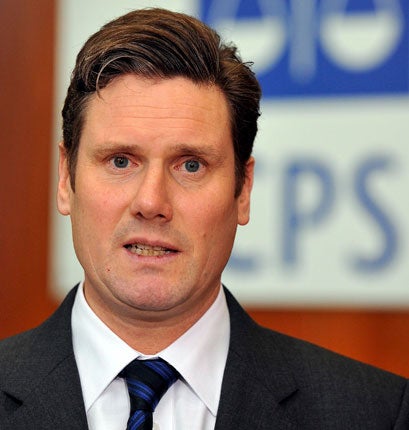 The director of Public Prosecutions and the second-in-command of Britain's largest police force last night attempted to draw a line under a damaging split between them over whether legal advice limited the original investigation into the phone hacking scandal.
In a joint statement, Keir Starmer QC, head of the Crown Prosecution Service, and John Yates, acting deputy commissioner of the Metropolitan Police, said they had both sought to give their "best understanding" of events five years ago and would now "focus together" on the new criminal inquiry into voicemail interception at the News of the World.
The two men had appeared dramatically at odds in recent weeks during testimony to MPs over the decision of police investigating phone hacking by private investigator Glenn Mulcaire and NOTW royal editor Clive Goodman in 2006 to pursue a "handful" of cases despite apparent evidence that the number of victims could reach thousands.
Appearing before the Commons Home Affairs Select Committee last week, Mr Starmer contradicted evidence from Mr Yates by saying that advice given by the CPS to detectives in 2006 "did not limit the scope and extent of the criminal investigation" into phone hacking. The Met has suffered repeated criticism of its original investigation, drawing strongly denied claims that officers had curtailed their inquiries because of the close relationship between the Yard and the NOTW.
In an effort to close the schism between prosecutors and police, Mr Yates and Mr Starmer said: "Neither of us had responsibility for this case at the time it was originally prosecuted. We have, therefore, both sought to interpret, as best we can, the original documentation and the recollections of those involved. The relevant information is now in the public domain. We, and others in our organisations, would now like to focus together on the current investigation."