Leytonstone stabbing: Man charged with attempted murder as extra police are drafted in to protect Tube network
Witnesses claim suspected terrorist cried 'Blood will be spilled' and 'This is for Syria' during the attack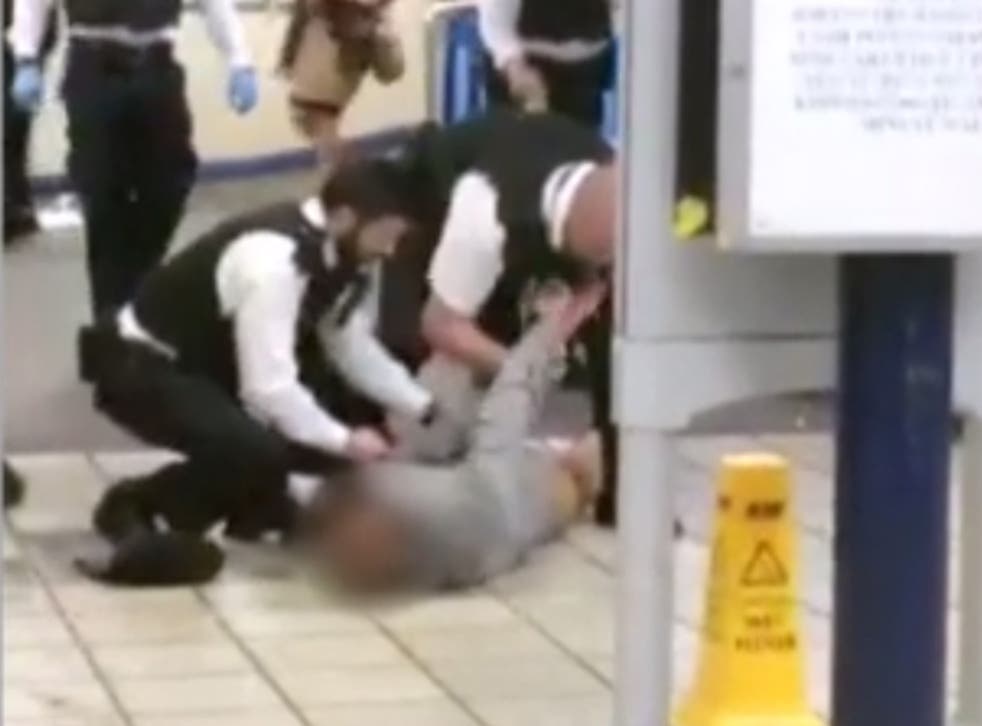 A man arrested after a knife attack at Leytonstone Underground station will appear in court charged with attempted murder.
Muhaydin Mire, 29, of Sansom Road, Leytonstone, will appear in custody at Westminster Magistrates Court today accused of the attempted murder of a 56-year-old man on Saturday, Scotland Yard said.
Witnesses to the attack claimed the man cried "This is for Syria" and "Blood will be spilled". Police, who arrived within minutes of emergency calls, tasered the suspect at the scene.
The victim, a 56-year-old man, suffered "serious" stab wounds and was taken to hospital, but was not believed to be in a life-threatening condition. Another man was injured but did not require medical treatment, while a woman was said to have been threatened but not hurt.
Following the attack, extra uniformed and undercover police, backed by a growing force of armed officers, have been drafted in to protect London's underground network
One former commander said it was alarming that armed officers were not at the scene of the attack.
In pictures: Leytonstone stabbing

Show all 5
John O'Connor, a former commander of London's elite police unit, the Flying Squad, said: "It is alarming. We should have thought about this years ago. We still rely on the first people on the scene having to deal with a situation, whoever they are, whether a uniform officer or firearms officer."
Assistant Chief Constable Mark Newton, of British Transport Police, said in a statement that the force wanted to "reassure the public that we are taking measures to ensure their safety whilst using the rail network". Only last week, British Transport Police launched extra patrols designed to "identify and deter terrorism" and it has also been gradually increasing the number of its armed officers.
And Mr Newton added: "Following the incident [at Leytonstone], we are now deploying still more officers in this role. They involve both uniformed and plain-clothed officers, supported by other resources, such as armed officers, police dogs, a network of CCTV cameras, and the thousands of rail staff we work alongside."
Video shows moment Leytonstone suspect is tasered
Mobile phone videos of the attack appeared to show a man with a knife confronting several people in the station before attacking the victim and slashing his throat. A large pool of blood could be seen on the station floor as terrified passengers, including children, fled in tears.
David Pethers, 33, a lift engineer who lives in the area, told the Mirror newspaper he had confronted the knife man. He suffered a minor cut to the neck, he said. "There was the fella on the lying on the floor covered in blood and the maniac was waving a knife around. I thought the victim was dead," he said.
"Me and another fella tried to attack him. I was throwing punches, I was trying to hit him with my shopping. I was throwing a punch and as I was going to hit him he slashed out with a knife."
Shortly after police arrived, they could be heard shouting, "Drop it, drop it you fool" in video footage. Officers fired one Taser shot, apparently without effect, and then another. After the second shot, the man went stiff and fell to the ground, dropping what appeared to be a knife as a police officer moved in pointing a Taser at him.
As the man was arrested, a passer-by was heard telling him "You ain't no Muslim, bruv".
And this message was echoed by the Leytonstone Masjid Committee, from the local mosque, which said in a statement that it "strongly condemns any sort of violence". It stressed that "Islam does not allow and does not have any place for any violence".
Video shows Leytonstone suspect arrested
Commander Richard Walton, who leads the Metropolitan Police's Counter Terrorism Command (SO15), described the attack as "unprovoked".
"As a result of information received at the time from people who were at the scene and subsequent investigations carried out by the Counter Terrorism Command, I am treating this as a terrorist incident," he said, appealing for people who had filmed the incident to contact police.
"I would continue to urge the public to remain calm, but alert and vigilant. The threat from terrorism remains at severe, which means that a terrorist attack is highly likely."
A local MP, Iain Duncan Smith, told the BBC's Andrew Marr Show that it "grieves me to think that this kind of incident took place there".
"We cannot let these sort of people dominate our space. Our values, freedom of expression, freedom of belief, freedom of association, none of that should be curtailed," he added. "At the end of the day that is why they attack us. We have always had to fight fascism. The best way is to show that our values are better."
Additional reporting by Independent staff
Register for free to continue reading
Registration is a free and easy way to support our truly independent journalism
By registering, you will also enjoy limited access to Premium articles, exclusive newsletters, commenting, and virtual events with our leading journalists
Already have an account? sign in
Register for free to continue reading
Registration is a free and easy way to support our truly independent journalism
By registering, you will also enjoy limited access to Premium articles, exclusive newsletters, commenting, and virtual events with our leading journalists
Already have an account? sign in