'Hero' Muslim man helps catch gang attacking people 'because they were white Christians' in Liverpool
Edris Nosrati says he was glad to risk his life to defend victims from late-night rampage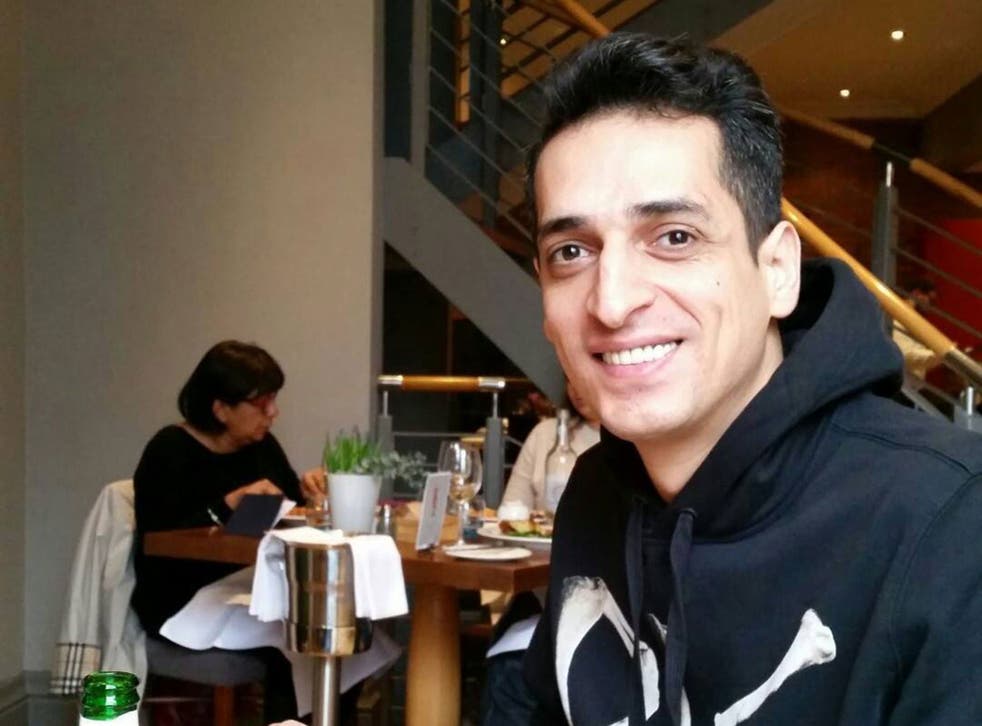 A takeaway owner has told how he feared for his life when he chased down a gang of men rampaging through Liverpool and attacking anyone who said they were Christian.
Edris Nosrati was on his way home from a night out with friends when he saw the trio attacking a white man walking with his girlfriend.
"I wanted to defend him so I went up and asked 'why are you doing this?'" the 35-year-old told The Independent.
"Then they asked if I was a Muslim. I said it doesn't matter but the man said 'just give me an answer'.
"When I said I was a Muslim, he told me to say a 'Muslim word'."
Mr Nosrati replied with the Shahada, an Arabic phrase affirming belief in the oneness of God and the Prophet Mohammed as his messenger.
Terrorists have previously demanded the declaration from hostages before mass executions and attacks, and the demand made Mr Nosrati fear he was dealing with Isis supporters.
"They were asking people 'are you a Muslim or a Christian?' and if they said they were a Christian they started punching them straight away," he said.
"I've never seen anything like that before."
UK news in pictures

Show all 50
The gang told Mr Nosrati, who moved to the UK from Iran eight years ago, that their attacks were "none of your business" and continued their rampage.
Alarmed, he followed behind the trio and called the police as they targeted another man, punching him in the face and filming the attack on a phone.
Mr Nosrati called the police at 3.30am and narrated the unfolding rampage while following from a distance.
After watching helpless as they targeted about six people, the police arrived but one of the attackers who had been filming the assaults on his phone attempted to evade officers.
Mr Nosrati said the man, since identified as 19-year-old Faruq Patel, appeared "really relaxed playing with his mobile" but appeared to be deleting incriminating videos.
"I decided to go in and do something by myself," Mr Nosrati said, describing how he launched himself at Faruq in an attempt to grab the phone.
"He punched me in the face but eventually I got him in a headlock and down on the floor.
"Finally I got the mobile and gave it to the police."
The evidence and Mr Nosrati's testimony was instrumental in prosecuting the attackers, who were jailed for religiously and racially aggravated assault and affray at Liverpool Crown Court on Wednesday.
Amin Mohmed, 24, of Perendale Rise in Bolton, was sentenced to 42 weeks imprisonment and Mohammed Patel, 20, of Eastbank Street in Bolton was handed the same term in a young offenders' institution.
George the Poet releases powerful video on hate crime on anniversary of Jo Cox murder
Faruq, of Crumpsall Street in Bolton, was sentenced to 18 weeks in a young offenders' institution.
The judge, Recorder Louise Brandon, said the question about Mohammed "confirmed those targeted that night were targeted because they were white and non-Muslim", the Liverpool Echo reported.
She described the rampage on 20 March 2016 as a "disgraceful and sustained campaign of violence carried out on the streets of this city".
Merseyside Police said only two of their victims had come forward - Paul Lynch, a local councillor whose terrified girlfriend attempted to protect him, and Gary Bohanna.
Detective Inspector Mark Drew said the "horrendous and unprovoked assaults" targeted people who were simply going about their business in the busy Renshaw Street area of Liverpool.
"I am sure the local community would agree that this type of behaviour has no place in Merseyside and I believe the sentences imposed by the court reflect how serious this matter has been treated," he added.
"Any offences targeting people because of their race, disability, religion, sexual orientation or gender identity will not be tolerated."
Mr Nosrati said he was happy with the sentences and to have "risked my life" to ensure the men were brought to justice.
"They were absolutely wrong… absolute idiots," he added.
"It doesn't matter if you're Muslim, Jewish, Christian or whatever – horrible people are horrible people."
Members of the public have been visiting and phoning the takeaway he runs, King Taco, to thank him for his intervention.
While most calls have been positive, praising Mr Nosrati as a "hero", other well-wishers have expressed concern that he could be targeted with retaliatory attacks – but he says he has no regrets.
"I felt I was responsible as a human to look after other humans," he said.
"The victims live in my community and if someone is going something nasty like that I'll do what I can.
"I think I did the right thing - and the attackers learned a good lesson."