London acid attacks: 17-year-old Derryck John pleads guilty to throwing corrosive liquid at six victims in 90 minutes
Victim raises concern over courts' sentencing powers as consultation on new acid laws continues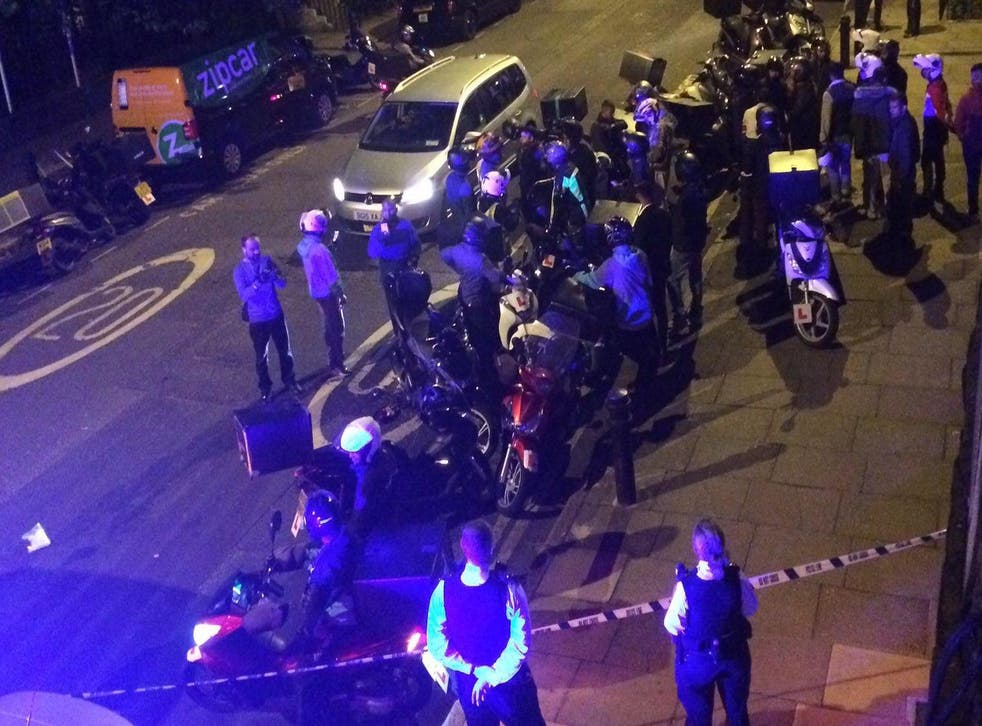 A 17-year-old boy has pleaded guilty to launching a spate of acid attacks in attempts to steal mopeds in London.
Derryck John, who previously could not be named because of his age, doused six delivery riders with corrosive liquid in just 90 minutes in a rampage through London on 13 July.
One of his victims was left with life-changing injuries and others bear long-term mental and physical scars from their ordeal.
John, from Croydon, managed to steal two of the six mopeds he targeted from their owners before being arrested at 3am the following morning.
He pleaded guilty to six counts of throwing a corrosive liquid with intent to "disable, burn, maim, disfigure or cause grievous bodily harm", two counts of robbery and four counts of attempted robbery at Wood Green Crown Court.
The defendant originally denied the charges and had been due to stand trial, but changed his plea on the first day of the hearing.
Men on mopeds hurl acid at five victims in 90-minute London rampage, say police
An indictment lists another unidentified person, who is believed to have been on the same moped as the defendant, as involved in the attacks.
In a note read to the court by judge Noel Lucas QC, John said the guilty pleas were entered "on the basis that the acid was thrown to incapacitate the victims" and that "the other male involved was much older than me".
"I really didn't appreciate the damage that would be done," the boy added.
"I'm terrified of the sentence that I will receive and I'm very sorry for what I did and realise I will receive a significant sentence of imprisonment."
Reporting restrictions had banned John's identity being released because of his age until Monday's hearing.
But Judge Lucas told the court there was an "overwhelming, huge public interest" in naming the teenager following his guilty pleas.
The substance used is thought to have had a PH of one or two – making it the strongest acid available – the court heard.
John did not enter a plea on a further charge of robbery on 25 June and his mother sobbed and shouted as she left court.
His first victim was Jabed Hussain, who was working for UberEats at the time and credits his "melted" helmet for deflecting the acid and saving his life.
He told The Independent he was concerned that the courts' powers will be insufficient to punish the 17-year-old when he is sentenced on 9 March.
"I just want to see the time in prison he gets," Mr Hussain added. "A lot of these criminals are under 18 so are we going to let them do whatever they want to? That makes me angry."
The guilty plea came a day after the Government announced major retailers had signed a voluntary commitment to stop selling corrosive products to under-18s in shops or online.
But Mr Hussain claimed attackers will seek other ways of obtaining the substances, adding: "They'll get it from the kitchen, they're going to get it from the garage. They will try something else.
"I don't know what the Government are doing. They are cutting a lot of police, there are long waits for ambulances and for doctors…I think acid attacks are getting worse now."
Mr Hussain has been unable to return to work since the attack, where he sustained damage to his lungs by accidentally inhaling water tainted with acid as his face was rinsed off.
He joined hundreds of delivery drivers protesting to demand improved safety measures earlier this year and has met with MPs and police on the issue.
Mr Hussain is calling for more high-visibility police patrols and a boost in frontline policing, as officer numbers remain at their lowest level since 1985 despite a 13 per cent rise in recorded crime.
UK news in pictures

Show all 50
Figures collated by the National Police Chiefs' Council (NPCC) found more than 400 acid or corrosive substance attacks were carried out in England and Wales in the six months up to April 2017.
Assistant Chief Constable Rachel Kearton, its lead on corrosive attacks, revealed last month that the UK now has one of the highest rates of acid attacks per capita in the world – and the number is rising.
"It appears that in 2017 we will again exceed previous records for the number of attacks [but] I strongly feel that this is an under-reported crime at this time," she said at the time.
Investigators have warned corrosive substances are being used as an alternative weapon by gang members and robbers, who have also used them on pedestrians to steal phones.
But delivery drivers are being overwhelmingly targeted by assailants attempting to steal their scooters, who have also deployed weapons including knives and hammers.
The Government has responded by proposing stricter controls on the sale of acid and a law making it illegal to carry the fluid in a public place without a good reason.
But the consultations on new laws, including on increasing sentences by classifying acid as a "dangerous weapon", have just finished and the measures have not yet come into effect.
Police are currently carrying out a survey of attacks across England and Wales, with the results due in February, and the Home Office has commissioned separate research seeing convicted attackers interviewed to learn more about their motivations.
Additional reporting by PA