London acid attacks: Man likely to go blind after two separate incidents within half an hour, say police
'This was an innocent man going about his work as a delivery driver, who may never see again'
Lizzie Dearden
Home Affairs Correspondent
Friday 03 November 2017 12:35 GMT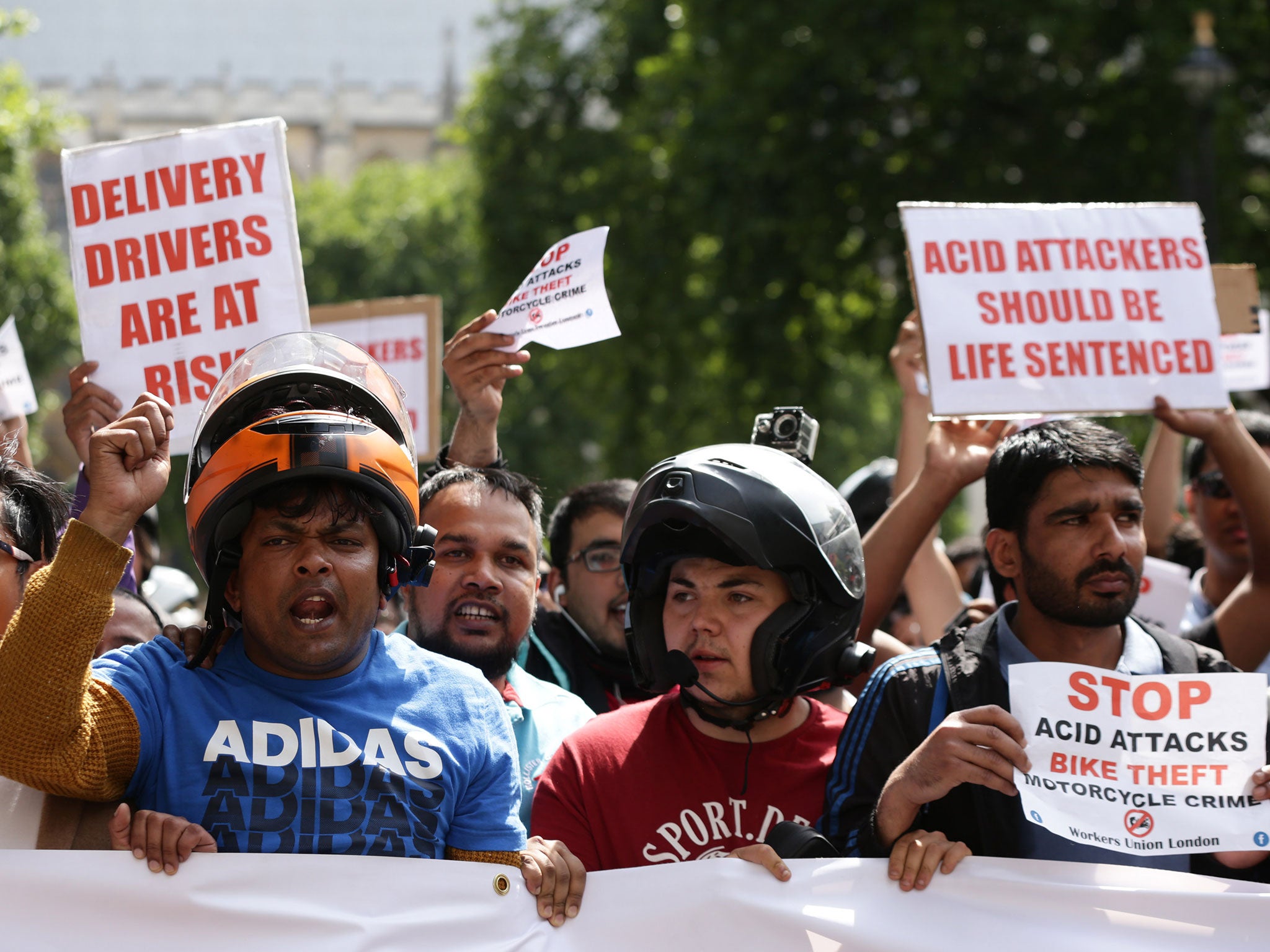 A man is likely to go blind after being severely injured in one of two separate acid attacks launched within half an hour in London.
Police said the fast-food delivery driver was approached by two men riding a scooter in Walthamstow on Thursday evening.
"The men attempted to steal the victim's moped and, during the course of the attempted robbery, police believe a corrosive substance was repeatedly thrown on the victim's face," a spokesperson for the Metropolitan Police said.
"The victim, a 32-year-old man, was treated at the scene and taken to an east London hospital.
"He remains in hospital in a life-threatening condition and is likely to lose the sight in both eyes."
Investigators said the attack happened in Walpole Road at around 6pm, just half an hour before a second corrosive-substance attack.
Hundreds of mopeds block road outside Parliament in protest over acid attacks
Detective chief inspector Gordon Henderson said: "This attack has left a man fighting for his life and with terrible eye injuries.
"This was an innocent man going about his work as a delivery driver, who may never see again. This is not a time to hesitate, if you have any information about this crime I would appeal that you immediately call police.
"Your phone call could save some other innocent person; it is imperative that we arrest those responsible."
Another delivery driver was approached by two men on a scooter who tried to steal his moped, spraying the substance in his face in Tottenham.
The 32-year-old male victim was also treated in hospital but his injuries are not believed to be life-threatening or life-changing.
Delivery drivers have launched protests demanding better protection after being repeatedly targeted in acid attacks sweeping London this year, including five attacks launched in just 90 minutes in July.
Investigators have warned corrosive substances are being used as an alternative weapon by robbers, who have also used them on pedestrians to steal phones.
Acid attacks have contributed to a rise in violent crime across England and Wales in the past year, with recorded offences up by 13 per cent.
The Government has responded with stricter controls on the sale of acid and a law making it illegal to carry acid in a public place without a good reason.
Sulphuric acid, one of the most powerful substances used in the series of attacks, could become a reportable substance under the Poisons Act, meaning anyone wanting to obtain it will need a licence and be subjected to checks.
Anyone buying or selling banned acids in violation of regulations, which prohibits sales to under-18s, can be jailed for up to two years under measures currently undergoing consultation.
A teenage boy has been arrested on suspicion of grievous bodily harm in relation to an attack in Walthamstow.
Police said he has been taken for questioning as they continue to appeal for information.
The possibility of the two latest incidents being linked is an "active line of inquiry" and detectives in Tottenham and Waltham Forest are working together on the case.
Anyone with information is asked to contact police on 101 or contact via Twitter on @MetCC.