London attack: Russell Square stabbing suspect 'didn't say anything' during rampage that left woman dead
A cyclist told how a family of Spanish tourists comforted an injured woman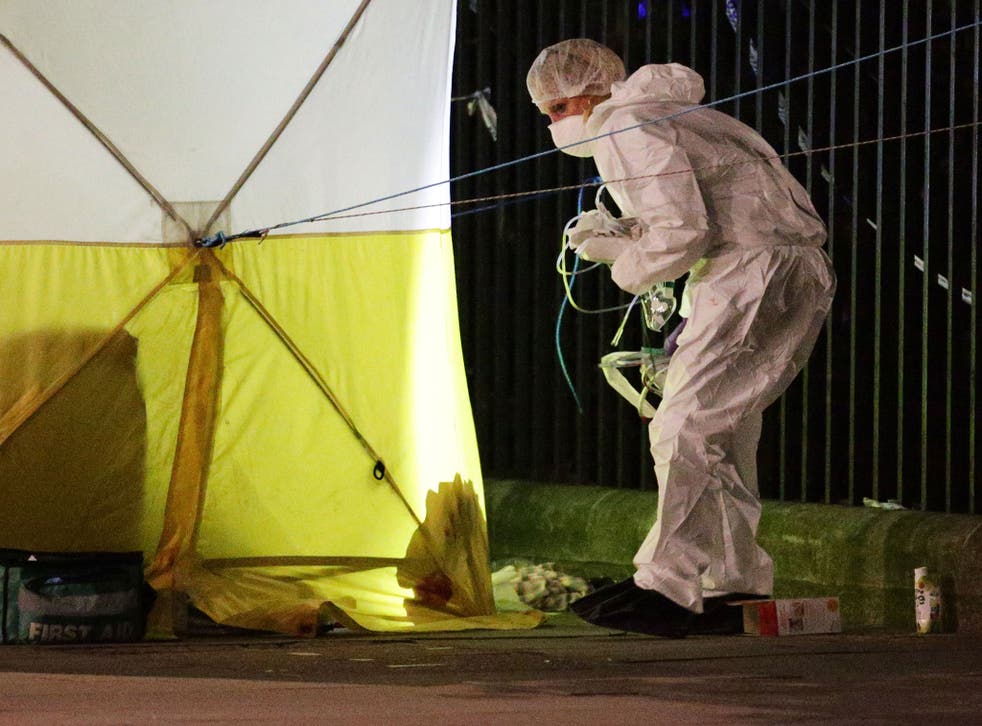 The man who killed a woman and injured five others in a stabbing rampage in Russell Square "didn't say anything" during the attack, witnesses have said.
A cyclist who was passing the scene on Wednesday night told how he was stopped by a family of Spanish tourists asking for help.
Fernando, from Brazil, said he called for an ambulance after seeing an "older woman" slumped against park railings with a stab wound to her back.
Russell Square stabbing: One woman dead and 5 injured in suspected terror attack in central London
The 40-year-old also described seeing an English man with a chest injury and young woman wounded on her upper arm.
"There were three people stabbed. The older woman was slumping against the gates, and it was another two people," he said.
"One of the Spanish family was comforting the older woman.
"I thought they were friends, but then I realised that they were just passing. No-one knew each other."
He added that he had not seen the attacker but said the Spanish family told police the man was wearing black shorts and a white shirt, and was covering his face as he made sweeping, stabbing motions.
Fernando said: "The moment the police arrived, they asked them if the man had been shouting.
"They said that he didn't say anything. They said that when he stabbed the people he didn't shout or scream anything."
In pictures: Russell Square stabbing

Show all 6
A woman believed to be in her 60s was pronounced dead at the scene, police said, while two other men and three women were injured.
Philippa Baglee, who was staying in a hotel nearby, told Sky News she went outside to have a cigarette when she saw the aftermath of the attack.
"I saw someone lying down and people standing round, and a guy with a motorbike helmet balanced on his head parading up and down," she added.
"Then the police and the ambulance came and I went back into the hotel...there was quite a few people there but I thought someone had come off their motorbike."
Another witness, Paul O'Geibheannaigh said he and friends had left a local cinema at around 11pm when he "stumbled into" armed police in Russell Square.
"Then we saw the body lying on the pavement which was quite disconcerting as it wasn't covered at that stage," he told the BBC.
"Then we went for a drink and everyone was shocked in the bar. The police came in and interviewed people but at that stage we had no idea other people were injured, we just knew a woman had been attacked.
"I haven't seen a police presence in this area like that since 7/7, it brought that memory back."
The Metropolitan Police said they received numerous calls starting at 10.30pm describing a "man attacking people with a knife" between Russell Square, Montague Street, Bloomsbury Square and Great Russell Street.
Armed officers attended the scene within approximately five minutes of receiving the first call and discharged a Taser to detain the suspect.
Two of the injured victims remained in hospital on Thursday morning, while three others had been discharged.
Investigators said mental illness was a major line of inquiry but that they were not ruling out any motives at this stage.
A 19-year-old man has been arrested on suspicion of murder following the attack.
Assistant Commissioner Mark Rowley said: "Early indications suggest that mental health was a factor in this horrific attack. However we are keeping an open mind regarding the motive.
"As a precautionary measure, Londoners will notice an increased presence on the streets of officers, including armed officers today. We would urge the public to remain calm, alert and vigilant."
The Metropolitan Police Service's Homicide and Major Crime Command is leading the investigation, supported by officers from the Counter Terrorism Command.
Anyone with information is asked to contact police on 020 8721 4868 or Crimestoppers, anonymously, on 0800 555 111.

Additional reporting by PA