Parsons Green: Homemade bomb 'could have killed everyone in the carriage'
Home Secretary says it was 'good fortune' bomb failed to fully explode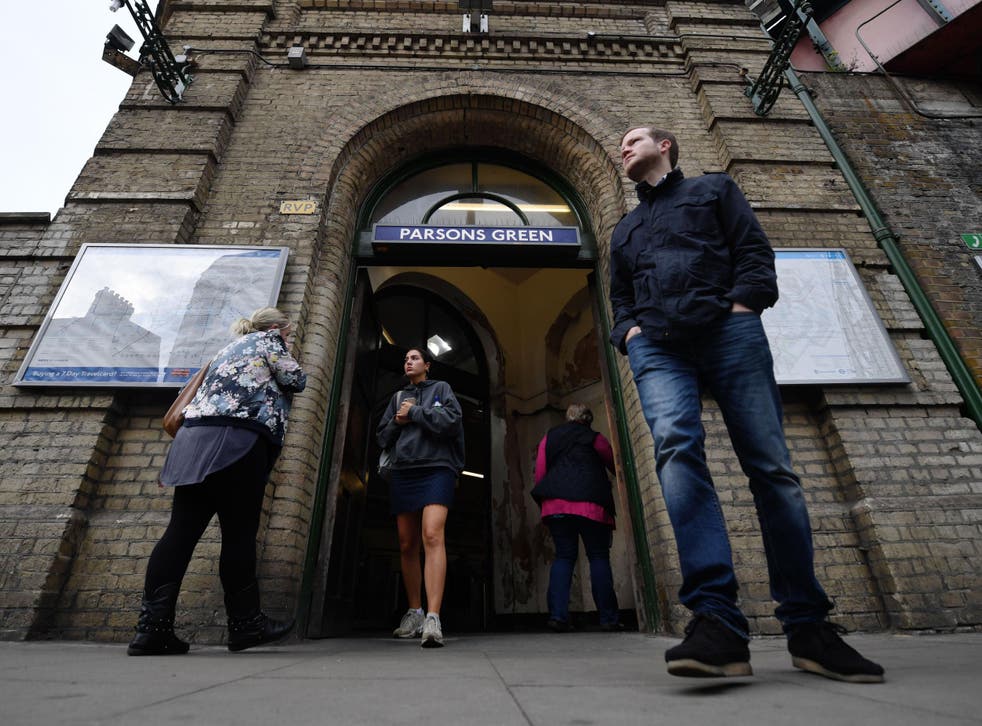 The homemade bomb that failed to fully explode on the London Underground had the potential to kill everyone travelling in the packed carriage, experts have said, as police continue to hunt those responsible.
An 18-year-old man has been arrested in Dover and armed police were searching a home linked to the unnamed suspect in Surrey.
Investigators described the arrest as "very significant" but did not give any further information on the man's identity or alleged role, having previously suggested investigators were hunting multiple suspects.
Police said the man was detained in the departure area of Dover's port, prompting concern terrorists behind the attack in Parsons Green could be attempting to flee the UK.
While authorities have released few details about the suspect, a witness who saw the arrest in Dover said the man did not appear to be English. "He was white, not Arabic, but he wasn't English," Daniel Vaselicu, who was waiting in the ferry terminal, said.
The Met's Deputy Assistant Commissioner Neil Basu said detectives investigating the bombing were "keeping an open mind" about whether more plotters were involved, and the terror threat would remain at its highest level.
His comments came as it emerged the Surrey property raided by police was owned by a couple who had fostered dozens of children, and who were honoured by the Queen in 2009.
Amber Rudd, the Home Secretary, said Saturday's arrest was "very significant" after hosting a second meeting of the Cobra emergency committee.
"Police have made good progress," she added. "There is no doubt that this was a serious IED and it was good fortune it did so little damage, although we are of course sympathetic to the people affected by it.
"We will have to make sure we take all the steps we can to ensure that the materials this man was able to collect become more and more difficult to combine together."
Ms Rudd said 26 people were injured by what witnesses described as a "fireball" that erupted from the device, with other victims wounded in the ensuing stampede at Parsons Green.
The station reopened on Saturday amid high security in London, after the national terror threat level was raised to critical.
Armed police search home linked to teenage Parsons Green Tube bombing suspect in Surrey
The security minister, Ben Wallace, said the bomb contained the same powerful explosive used to kill 22 people in the Manchester Arena attack but "didn't go off" as intended.
"We are trying to track down who did it, whether it's a bomber or bombers," he added.
Major-General Chip Chapman, the former head of counter-terrorism in the Ministry of Defence, said the density of rush-hour crowds meant lives would have been lost in a full blast.
"You could have had everyone in that carriage killed," he told The Independent.
"There's a fair chance that no one would have got out of there alive or without life-changing injuries."
Maj-Gen Chapman said shrapnel would have increased the toll, but that part of the device appeared to have failed, adding: "One of the things in the chain didn't work and that is a great thing, or it would have been a horrendous scene of carnage and destruction."
Officials confirmed the bomb contained Isis's favoured explosive, triacetone triperoxide (TATP), known as the "mother of Satan".
The extremely volatile chemical can be made in under a day using chemicals widely available on the high street, and has become a hallmark of Isis attacks including those Manchester, Paris and Brussels.
Commuters described a "fireball" bursting from the device in Parsons Green and a strong chemical smell, with wires and fairy lights seen trailing from a flaming plastic bucket.
Terror attack at Parson's Green – in pictures

Show all 23
Dr Sidney Alford, an explosives engineer, said TATP could have been the main charge or an "initiator" meant to detonate another type of explosive.
"If that bucket were anything like half full it should have killed most of the people in the carriage and I wouldn't have liked to be in the next one," he told The Independent.
"That's a seriously large bomb. The blast would have gone straight through the floor and blown the roof off, even without projectile objects in it."
Both al-Qaeda and Isis have issued detailed instructions on making improvised explosive devices online, with forensics experts working to establish the origin of the latest bomb.
The Independent was able to access a terrorist manual on creating a device similar to that in Parsons Green – as well as the Boston bombings and other massacres – in less than five minutes on Saturday morning.
A claim of responsibility issued by Isis appeared to suggest more than one device had been manufactured by the terror cell, although the group's statements have been inaccurate in the past.
"The soldiers of the caliphate were able to plant several explosive devices and detonate one of them amid a gathering of crusaders in a metro station in London," a statement said.
"It resulted in wounding nearly 30 crusaders and what is coming is more devastating and more bitter, Allah willing."
Authorities urged the public to remain "alert but not alarmed" as soldiers and armed police were deployed to patrol key sites.
The UK's terror threat level has been raised to "critical", meaning further attacks are considered imminent by the security services.
Maj-Gen Chapman said all precautions would be taken until investigators are confident all members of the potential terror cell have been detained.
"There's absolutely no way that this is a lone-wolf attack," he added.
"There's an incomplete network and we will stay at critical until we're absolutely sure all the components of that network or their support have been found."
Investigators were believed to have identified the person who placed the bomb on the District Line train during Friday morning's rush hour using CCTV footage.
MI5 agents are involved in the ongoing investigation but authorities have not confirmed speculation by Donald Trump that the suspects were previously known for extremism.
Scotland Yard said it could not release any further information on the 18-year-old suspect for "strong investigative reasons".
He was arrested under the Terrorism Act but there was no immediate indication of his alleged role in the attempted bombing.
Hours later, residents in the Cavendish Road area of Sunbury-on-Thames were evacuated "as a precaution" from their homes during searches of a home linked to the man.