What it's really like to be assaulted on the London Underground
Sian Lewis speaks to women about sexual harassment in their day-to-day lives and finds that abuse on the Tube is as pervasive as it is abhorrent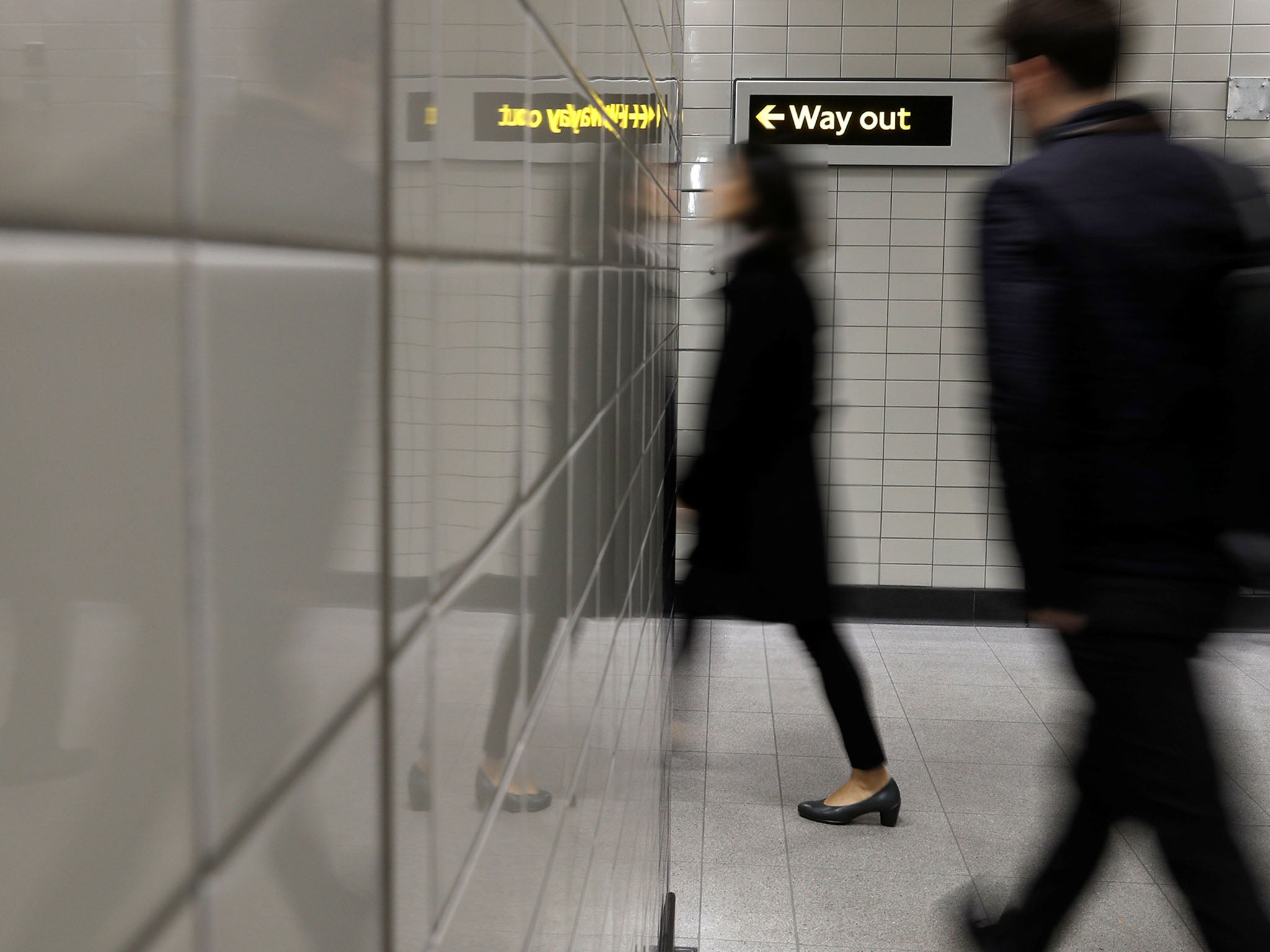 Sexual harassment is rife in public spaces, and as an integral part of daily life, public transport is no exception. As global as it is endemic, women are forced to negotiate the risk and reality of sexual harassment as they get from A to B on a daily basis.
On the London Underground, the extent of the issue became apparent in 2013 after a Transport for London (TfL) survey revealed that 15 per cent of Londoners had experienced some form of unwanted sexual attention on public transport in the city. A large proportion of these incidents happened on the Underground.
In my research, I spoke to women who had experienced sexual harassment on the Tube. The unique nature of the space of the Underground and the way people interact with each other when they're using it mean that the abuse manifests itself in particular ways.
As Eliza, who has lived in London and used the Tube her whole life said: "On the Tube you're simultaneously in close proximity with so many people and yet you're completely anonymous. Everyone is in their own world … and I think some people take advantage of that."
Groping or "frotteuring" (rubbing up against another person) are the most common offences, and generally happen in the morning and evening rush hours. Masturbation and indecent exposures are more likely on quieter, off-peak trains.
The women I spoke to also described being "upskirted" – having someone take a photo up their skirt – and having indecent images randomly sent to them via the airdrop function on their phones. They said they had been followed, ejaculated on, had to deflect drunken come-ons and put up with verbal and physical aggression.
Taylor, a 33-year-old project manager in Canary Wharf, east London, called her experience "insidious". On a late-evening Tube, she described how a man came and sat next to her: "He just pulled my hand in to his lap and held it there … I just froze … I was looking around trying to make eye contact with someone to say, 'Get this guy off me'. The longer I left it, the more I felt like I couldn't move.
"It lasted 15 minutes. I was so ashamed and confused by my own reaction."
When I asked her if she had reported the incident, she shook her head and said: "I had a hard time even explaining it to my boyfriend. How would I go about talking to the police? There's no way they'd take that seriously."
The TfL survey showed that only one in 10 people made reports after experiencing a sexual offence on the Underground.
Due to the nature of the environment and the type of incidents that occur, reporting and policing sexual harassment on the Tube comes with its own set of difficulties. Unlike most acts of sexual violence, offences on the Underground are committed by strangers. The police therefore have to rely on CCTV, Oyster-card data, and, most importantly, information from victims when looking into a case. In a fast-paced, densely packed, transitory environment, that can be extremely challenging.
Anonymity
Ruth, who commuted on the Waterloo and City line, described how she wasn't even sure who assaulted her: "I felt someone's hand touch me … between my legs … The carriage was packed full of men in suits, I couldn't tell where the hand was coming from and no one looked suspicious.
"So at first I thought maybe I was imagining it, or it was an accident. Then the fingers moved from side to side … What was I going to do? If I'd said who's touching me, no one would admit it. It would be so embarrassing.
"The Tube arrived, the doors opened and everybody got off."
That kind of uncertainty and ambiguity often affects women's reactions – both while an incident is happening and afterwards – making them reluctant to come forward. They also report a fear of being victim-blamed, and thinking the incident was not serious enough to bother the police with, demonstrating the pervasive normalisation of sexual harassment.
Furthermore, some women said they didn't report simply because they wanted to avoid their day being further disrupted, which, considering the energy that often already goes into avoiding and negotiating sexual assault, is as valid a reason as any.
However as Rach stated, perhaps the onus should not be on women to report in the first place: "Everyone said to me, report it, you should report it. But I didn't want to, I didn't want to have to relive it again … It's not my responsibility and I shouldn't be made to feel guilty."
In an attempt to overcome some of these barriers and to put less pressure on victims, the British Transport Police has taken various measures. There is now a number you can text to report incidents, and undercover officers who are specially trained to spot this kind of behaviour are patrolling the Underground network.
The recent proliferation in reporting and public story-sharing has led to an increased awareness that women are forced to negotiate this behaviour on a regular, often daily, basis, in all kinds of places. Perhaps we should use this momentum to transfer the pressure and obligation to combat sexually invasive behaviour away from those who have already been victimised and instead collectively challenge issues of normalisation and bystander apathy that allow these incidents to occur on such a pervasive level.
Sian Lewis is a doctoral researcher and feminist urban sociologist at Loughborough University. This article originally appeared in The Conversation (theconversation.com)