Man who beat wife with cricket bat is jailed despite judge saying victim was 'not vulnerable'
Mustafa Bashir jailed as judge says there is 'not a shred of evidence' for claim he was about to sign a contract to become a professional cricketer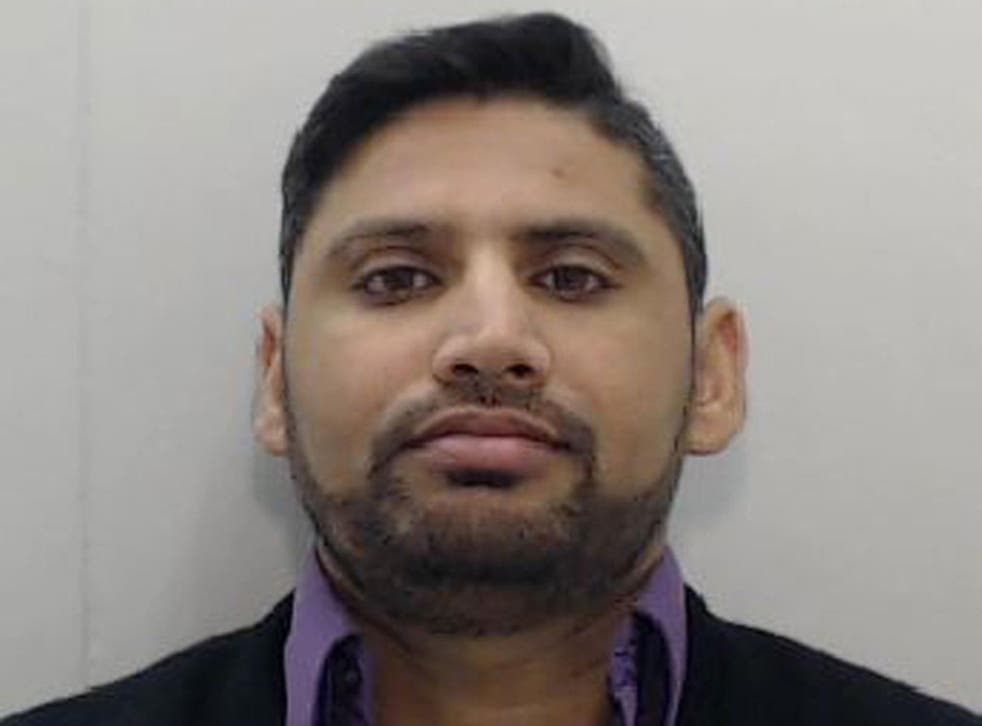 A man who was controversially spared jail after he was found guilty of pouring bleach down his ex-wife's throat and beating her with a cricket bat, has been imprisoned after new evidence came to light.
Judge Richard Mansell QC was criticised after he gave Mustafa Bashir a suspended sentence last month at Manchester Crown Court.
In his summation, he said that Bashir's ex-wife Fakhara Karim was "plainly an intelligent woman" with "a network of friends" and a degree, so he was "not convinced she [was] a vulnerable person".
Judge Mansell was told at the time that if Bashir was spared custody he would be employed as a professional player by Leicestershire County Cricket Club and was "about to sign the contract" when he was arrested for beating his wife.
Bashir had produced a letter, purportedly from his agent, to back his claim, so the judge gave him a suspended sentence.
However, the club later said this claim was "wholly false" and they were "appalled" that he "could have invented a job offer from the club in order, it would seem, to evade a prison sentence".
Judge Mansell had ordered the case back to court under the "Slip rule" which allows judges to re-sentence if new information comes to light.
Bashir later denied telling probation officers or his lawyers that he had a job offer to play professional cricket and instead it was suggested there had been a "series of misunderstandings".
He had, in fact, only played as a semi-professional in the Bolton Cricket League and on two occasions had net session practice with Leicestershire.
Judge Mansell had asked to produce evidence of any job offer but said the defendant had produced only a "handful of emails" and "not a shred of evidence" to support his claims.
As a result, he ordered him to spend his 18-month sentence behind bars, reversing his initial sentence that had sparked outrage among domestic violence groups.
He also stressed he was not now re-sentencing him as a punishment for "lying to the court" but added: "You may well face investigation into whether you have committed quite separate offences of perverting the course of justice."
Judge Mansell added there had been "widespread misreporting of my remarks and widespread misunderstanding of why I made them".
He said he had made clear he regarded her as "plainly vulnerable", but in a different way to a woman who may have come to the UK from a foreign country, without friends, who does not speak the language and is effectively trapped in a violent relationship.
He added: "I am concerned that the misreporting and misunderstanding of my remarks may have given Miss Karim the impression that I did not believe her account as to the effect these offences have had on her, that I did not consider her to be vulnerable."
After the initial judgement Ms Karim,33, had also said she was "disappointed" by the conclusions drawn by the judge as he did not believe her when she said she was "suffering for life".
UK news in pictures

Show all 50
In a statement she said: "Before I met Mustafa Bashir I was a confident, active and humorous person. I looked after myself and liked dressing up. After the abuse my confidence was very low and I hid myself away from family and friends.
"He didn't like me socialising and I couldn't accept my friends' requests to go out. Once we split it took months for me to get my self-belief back and I am not back to the person I was before."
Several domestic violence charities said the ruling sent out a "dangerous message" which discourage other victims from coming forward.
They said it was a "complete fallacy" that domestic violence only affected certain women.
The court heard how Bashir had beaten her with a cricket bat during a jealous rage and on a separate occasion held her by the neck while he poured bleach down her throat and forced her to take tablets, ordering her to kill herself.
Ms Karim told the court he had also subjected her to emotional abuse including berating her for wearing westernised clothes and calling her friends "English slag girls".
Bashir admitted assault occasioning actual bodily harm, assault by beating, destroying or damaging property and using a destructive substance with intent to maim.